Jan 31, 2017; Ames, IA, USA; West Virginia Mountaineers guard Daxter Miles Jr. (4) drives between Iowa State Cyclones guard Matt Thomas (21) and guard Deonte Burton (30) at James H. Hilton Coliseum. West Virginia defeated Iowa State 85-72. Mandatory Credit: Rachel Mummey-USA TODAY Sports
AMES — The scene at the end was not pretty. It wasn't that Hilton wasn't loud, but that the Cyclone Nation's cathedral wasn't even half-full.
There is no shame in losing to the 7th ranked program in America. That is especially the case when a program like West Virginia shoots 11 points better from 3-point range (including three ridiculous banks) than it normally does.
But when you play in front of one of the country's top home court advantages, crumbling down the stretch and losing 85-72 is a real kick to the stones – not to mention this program's NCAA Tournament security.
The 13 point loss is largest margin of defeat for Cyclones in Hilton since January, 2010 against Kansas.

— Brent Blum (@brentblum) February 1, 2017
When I went back and re-watched the second half in the wee hours of Wednesday morning, it became pretty clear as to why Iowa State went down though. Contrary to what many of the experts on Twitter believe, it wasn't that one team cared more than the other. Down the stretch, Iowa State didn't make any shots!
Pardon me for such brilliant analysis.
Iowa State was 5-for-20 from the field in the final 10 minutes of the game. That is beyond bad. I counted at least five missed layups in the second half and more than five uncontested threes that anybody with a basketball IQ at all would label a "good shot."
All the while, Monte Morris and Naz Mitrou-Long combined to go 8-of-27 from the field. Woof.
Question: Have you ever seen a team miss more layups in a season than this group of Cyclones?
It's tough, if not impossible, to beat West Virginia when you shoot 28 percent in the second half. That's even more difficult when the opposition goes 17-of-20 from the free throw.
What's the answer?
Your guess is as good as mine, but West Virginia is at the very least one of the top 15 best teams in college basketball. Iowa State obviously is not.
MORE MUSINGS
Why not get Matt Thomas more looks in the second half?
It's a fair question that a lot of fans asked me and Twitter and one that needs to be discussed. Thomas, who led Iowa State with 19 points on 6-of-8 shooting, is 16-for-22 (72.7 percent) from 3-point range in his last three games. Those are video game numbers, bro.
Schematically, there has to be a way to get him more shots. But I also know Matt and he isn't the most aggressive player on the court. He isn't a "create your own shot" type of guy. He has to want to shoot as well. There were multiple times in the second half where Thomas passed up quality looks for an open teammate.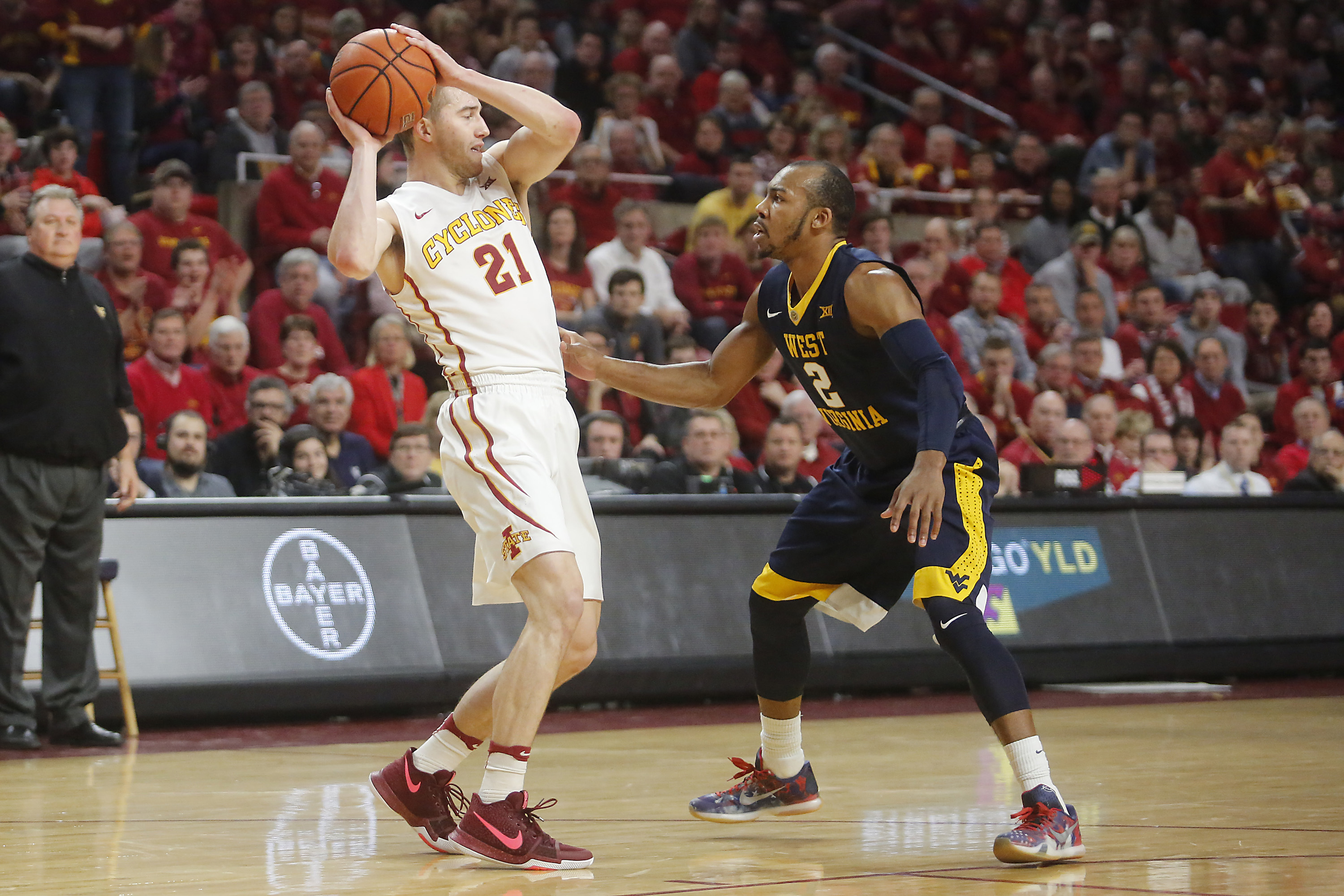 The ongoing Deonte Burton conundrum
I don't even know where to start.
On one hand, Burton had a career-high 10 assists to go with his 11 points and five rebounds.
Burton also had five turnovers. Still, that isn't even horrible when you consider how much he was being used to break West Virginia's press (in 33 minutes of action).
If you were coaching Burton, what would you do?
Steve Prohm is in a brutal spot with No. 30 being such an important part of this team. Burton is infuriating for fans to watch. It has to be the same for Prohm as a coach. But he has also singlehandedly led this team to multiple victories this year.
Naz is really struggling
After going 2-of-7 from long range on Tuesday, Naz Mitrou-Long is 10-of-36 from three over Iowa State's last five contests.
Final thoughts
A trip to Allen Fieldhouse is just what the doctor ordered.
NOT.
In all seriousness, Iowa State is in a brutal stretch right now and after losing at Vanderbilt last weekend, West Virginia at home was a game that it really needed to have.
So allow me to go back to how I began this piece: Even at home, there is no shame in losing to the No. 7 team in the country. But getting blown out like Iowa State did in the final 10 minutes is another story and is cause for concern.
At this point, you just hope that one disheartening loss doesn't allow this old ship to take on even more water.