Jan 16, 2017; Ames, IA, USA; Iowa State Cyclones head coach Steve Prohm talks to Iowa State Cyclones guard Monte Morris (11) and guard Nick Weiler-Babb (1) and guard Deonte Burton (30) and guard Nazareth Mitrou-Long (15) and forward Darrell Bowie (10) during their game against the Kansas Jayhawksat James H. Hilton Coliseum. The Jayhawks beat the Cyclones 76-72. Mandatory Credit: Reese Strickland-USA TODAY Sports
Here is why I find it important to re-watch Iowa State sporting events in the privacy of my own home after the fact: I already know what the outcome is, so all emotion is removed from the situation.
I recently took another look at Iowa State's 76-72 loss to Kansas from Monday and came away with the following five observations.
Five takeaways
1 – For multiple reasons – many things Iowa State did and did not do – it really is incredible that the game was that close.
This is why I am still somewhat on the optimistic side when I look at the rest of this season.
— Iowa State turned Kansas over 18 times and somehow only got 15 points off of it. Convert on half of those turnovers (you should convert on at least 2/3 of them) and you probably win.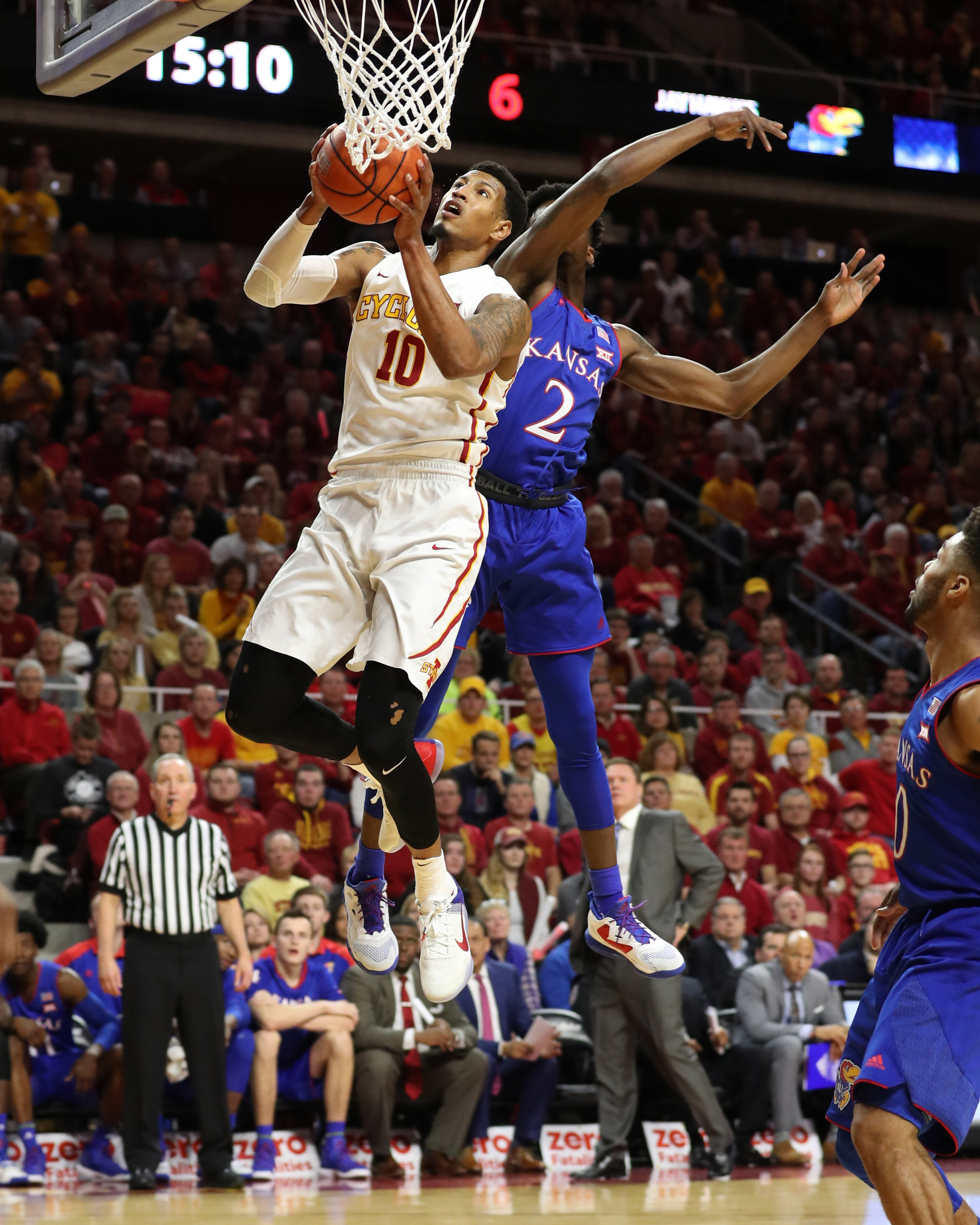 — If for instance, Darrell Bowie (who looked like he didn't even belong on the court) goes 2-for-6 instead of 0-for-6, you might win. (For what it's worth, two times when Bowie went to the basket in an out of control fashion, Matt Thomas was wide open for a kick and corner three). It's also worth noting that Bowie was an efficient 6-for-10 for 13 points in 31 minutes in the win at Oklahoma State. Getting legitimate minutes from a guy like that is so important for a team that doesn't have much of a margin for error. Against Kansas, you cannot have a guy in that position play as poorly as he did.
Those are just a few of examples. There are so many little things that Iowa State missed on that in addition to the incredible differential in rebounding and Kansas' dominance in the paint, cost Iowa State this basketball game.
2 – I walked away from Hilton on Monday night curious about Matt Thomas only taking five shots shots (he went 2-for-5 with only six points).
Did Thomas, who has a history of being hesitant with his shot, pass up a bunch of decent looks or were guys failing to find him?
Conclusion: I mentioned Bowie above, but Deonte Burton especially failed to find Matt probably a half-dozen times.
This brings me to…
3 – Deonte Burton scored 21 points but it took him 21 shots to do so.
Deonte is as frustrating of a player as I have ever covered because he will be two different guys in one game. Coaching Deonte will take years off of a man's life.
Poor Steve Prohm.
Having said that, we all know that Iowa State's ceiling is twice as high with Deonte on the floor than off. The issue though is that if it's "bad" Deonte, the floor can drop pretty quickly too.
My conclusion is that too many times the offense runs though No. 30. In the half court, the offense has to run though Monte Morris every minute he is on the floor.
Period.
The issue is getting Deonte to buy into that. We have seen him do it (Texas) but can that be the case consistently?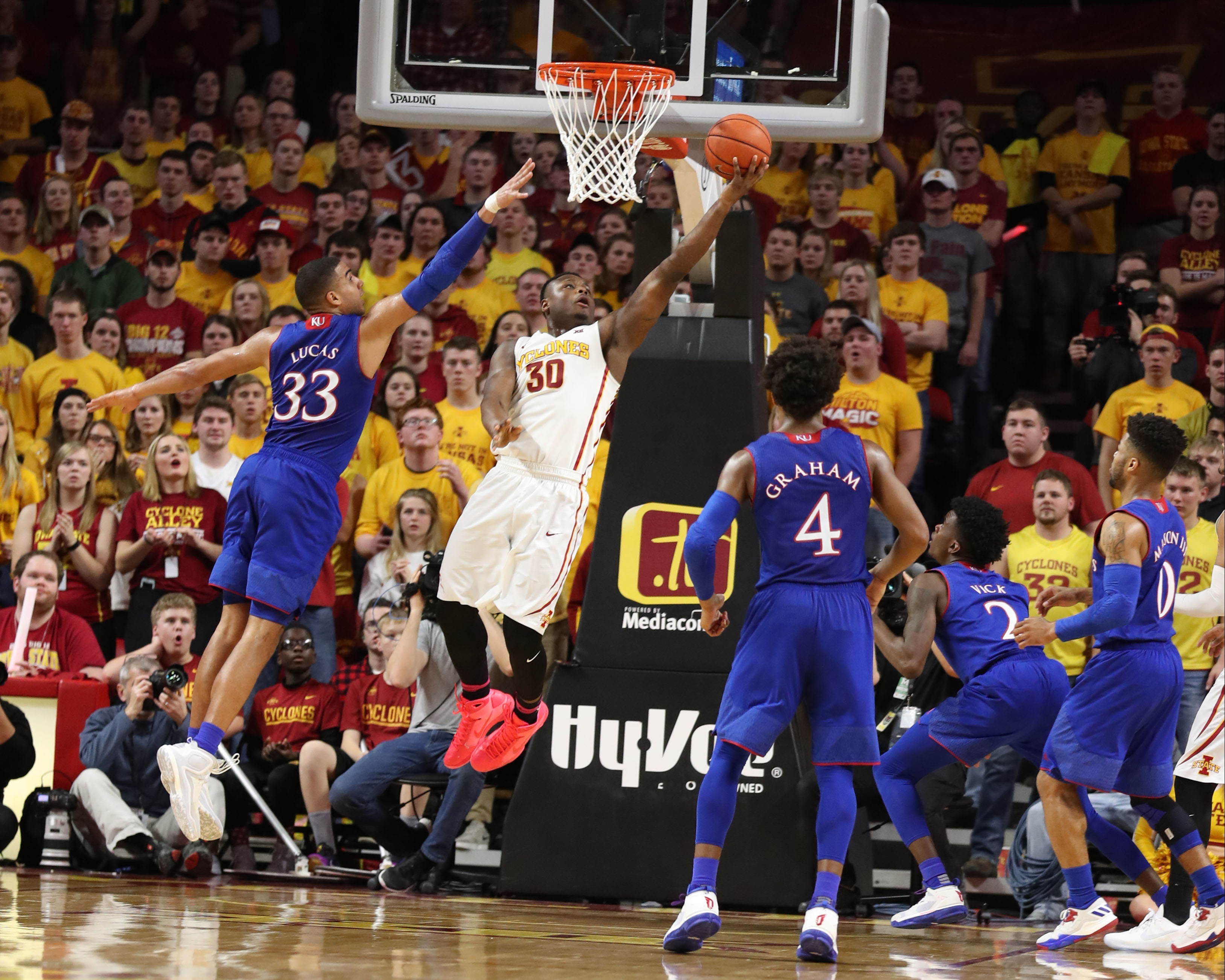 4 – Is it worth giving Merrill Holden another shot?
This is an odd case…
At 3.5 points and only 2.2 rebounds per game, Holden clearly has not produced the way that the coaches thought that he would. The Louisiana Tech transfer was brought in to run the floor, rebound and block shots.
He has not played significant minutes since Texas Tech.
Still, you just got out-rebounded 41-24 and have given up 54 and 52 points in the paint in back to back games.
Maybe he is angry and the couple of week's "off" have made an impact?
I don't know. It probably won't, but I can't say it isn't worth trying at this point.
5 – Just a couple of things to keep in mind, and this is what makes this season so frustrating.
The Iowa game was a bad loss but besides that, four of Iowa State's losses were to the second, fourth, sixth and 20th ranked teams in America by a title of nine points. This is why Iowa State is still ranked 23rd on KenPom.com.
I know that size and rebounding are major problems. Of course they are! That was never going to be a strength of this team's.
Perhaps this group will never get over the hump. I don't know.
But I do know that when games against really good teams are THAT close, you also aren't that far off.
We will see. I do feel better about the rest of the season after re-watching that game though.
Monte and Naz were spectacular and as long as you have great guards in college basketball, you're going to have a puncher's chance.