Dec 30, 2016; Ames, IA, USA; Iowa State Cyclones head coach Steve Prohm yells from the sidelines against the Texas Tech Red Raiders at James H. Hilton Coliseum. The Cyclones won 63-56. Mandatory Credit: Reese Strickland-USA TODAY Sports
After back-to-back losses to Vanderbilt and West Virginia, Iowa State is staring its first three-game losing streak of the Steve Prohm era square in the eyes.
It just so happens those eyes belong to Big 12-leading Kansas Jayhawks and Allen Fieldhouse.
The No. 3 Jayhawks (20-2, 8-1 Big 12) are riding high after back-to-back wins over No. 4 Kentucky and No. 2 Baylor, but off-court issues have filled the headlines in Lawrence.
Could this be a perfect opportunity for Iowa State (13-8, 5-4 Big 12) to pick up its first win at Phog Allen since 2005?
Here are three points and a few notes that could play a role in Saturday's 1 p.m. tip on ESPN:
Matt Thomas is playing his best ball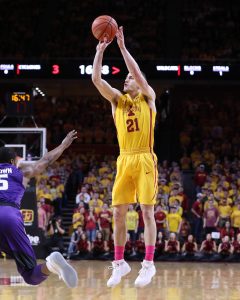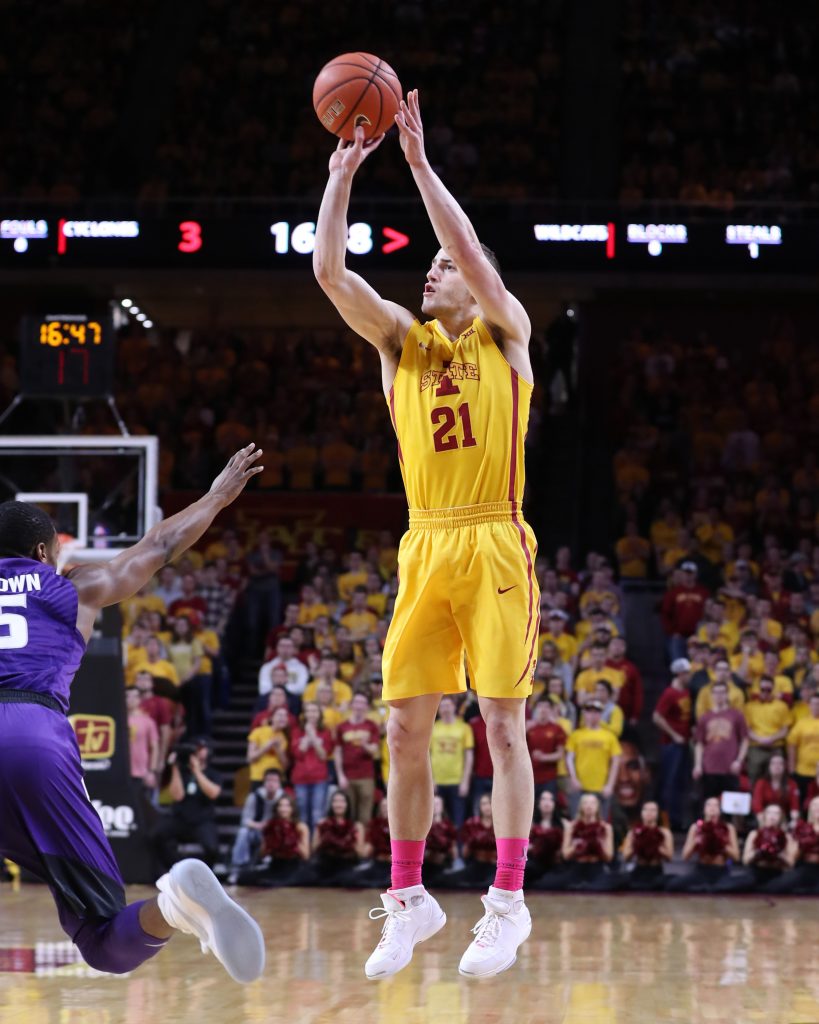 Iowa State's senior sharpshooter has been playing the best basketball of his college career during the Cyclones' last three games. Thomas is averaging 19.3 points and is 16-of-22 from 3-point range during that stretch.
He's shooting 71 percent from the field this season and 49 percent from deep in conference play. He is putting up those numbers despite battling bone spurs in his foot.
"I thought he was probably our best player the other night against West Virginia," Prohm said on Thursday. "Just under control, making good plays, decisions and then making shots. He's taking and making shots. We're doing a good job of finding him. He's averaged five threes a game in the last three games and that's really good. We need to do a good job of getting up the floor and getting him shots in transition. Also, in the half-court we've got to do a good job moving to where we can get him some shots there as well."
Thomas' hot performances, including a team-high 19 points against the Mountaineers, have led many people to call for him to take more shots in Iowa State's offense. According to Prohm, getting him those extra shots comes down to make the right plays within the team's offense.
"At one time I charted a game he only took five shots, I think maybe the Kansas game," Prohm said. "If he had made the right play, how many shots would he have had? It would've been 12. That's what he needs to be taking, 10 or so shots a game."
Speaking of Iowa State's offense…
Prohm tightening the reigns
The idea of making the right plays offensively and getting more ball reversal has been one of Iowa State's head coach's biggest talking points throughout the whole season. When the Cyclones are moving the ball, they're tough to guard and really fun to watch.
When they aren't, and dribbling takes over possessions, they get stagnant and fall into deep ruts.
Iowa State's offensive issues don't start or stop with any single coach or player. That's why fixing those issues requires everybody on the team buying into the task at hand.
"We've said it too long now so it just needs to change," Prohm said. "We're going to do today, all we're going to do is stay in the half-court and run half-court offense for an hour. It's everybody. It's when things break down are we just trying to go one-on-one? Are we playing our principles and our rules of reversing the ball, chasing ball-screen, trying to get the defense to shift? Are we getting in offense every time or are we just trying to drive guys and make a play and shoot quick? That's got to stop."
The Cyclones' offense currently sits at No. 46 in adjusted efficiency on KenPom, which is obviously a far cry from what Iowa State fans are used to. Those long stretches in which the offense goes stagnant have played a big role in the team's offensive regression this season.
It seemed on Thursday like that regression might have finally hit a breaking point with Prohm. So much in fact he said he will have to get uncomfortable with his players moving forward.
What's that mean?
"I think it's, 'We're going to stay in here right now and run motion,' not traditional motion, what I call motion," Prohm said. "'And we're going to run it until it looks the way I want it to look. Not the way anybody else in America wants it to look but the way I want it to look. The offense that I want to see.' That's what I mean."
Without Bowie
The Cyclones will be entering Allen Fieldhouse without one of their front court options off the bench. Senior forward Darrell Bowie has been suspended for Saturday's game after Prohm said he "didn't meet program standards."
Bowie, who is averaging 6.3 points and 4.5 rebounds per game this season, scored a combined one point and grabbed eight rebounds in the last eight games he's played. Three of those games came after he was replaced in the starting lineup by Merrill Holden.
Luckily, Kansas is dealing with front court issues of their own and will be without sophomore forward Carlton Bragg, who is suspended indefinitely.
It will be interesting to see how Holden, who didn't play in the first game between the two teams, is able to battle in the lane after the way the Cyclones were owned down-low by the Jayhawks in Hilton Coliseum. Bowie's suspension could also open the door for freshman Solomon Young to see some more extended run in a hostile environment.
At the end of the day, having an effective Bowie makes Iowa State a better team, but he played one minute in the loss to West Virginia. His suspension isn't something the Cyclones absolutely can't overcome.
A few notes
*** Thomas is four points shy of becoming the 34th Cyclone to score 1,000 career points, joining teammates Monté Morris and Nazareth Mitrou-Long. The group would be the first trio of Cyclone teammates to all have 1,000 points concurrently since Fred Hoiberg, Julius Michalik and Loren Meyer (1992-95).
*** Junior guard Donovan Jackson is averaging 10 points, shooting 51 percent from the field and 54 percent from 3-point range in games in which he makes a 3-pointer.
*** Kansas averages 83.8 points per game, the highest scoring average of the Bill Self era in Lawrence.