Photo courtesy of Iowa State Athletics Communications. 
A wrestler's life is filled with takedowns, unbearable body twists and awkward pins. The athletes who decide to put on a singlet, strap up head gear and tie their shoelaces tight, learn how to endure physical pain.
Iowa State 184-pound wrestler, Pat Downey, thrives in this grueling environment. The redshirt junior feels at peace when he is on the mat.
However, Downey has experienced a wealth of injuries during his wrestling career — from head to toe. Downey says he has a high tolerance for the pain that he endures. Downey has wrestled through his share of it.
On Nov. 13, 2016, the tranquility he experiences while on the mat was disrupted when Downey felt an unfamiliar pain.
First, he heard a pop in his ribs. Intolerable pain accompanied it and confirmed the worst.
An MRI showed that Downey suffered a broken rib. Despite the injury, Downey still pinned his opponent at the Harold Nichols Open. After that, Downey's tournament run was over.
For Downey, not being able to wrestle is like being displaced from your home. Besides his actual house, Downey lives on the wrestling mat. When he can't compete and train, Downey goes to a dark place. He gets depressed.
He is at Iowa State to wrestle.
While Downey's mind goes to a place he nor anyone would want to be, he reflects on the trials he has endured to get to where he is today.
The Trials
Downey's wrestling career has been filled with twists and turns. His Division I career began at the University of Nebraska. That chapter in his life was short, but also impactful.
In early 2014, it appeared that Downey's Division I career was over. Or so he thought.
At the time, Downey was a 21-year-old freshman. He got caught up in all the perks that come with being 21, drinking and partying.
One night before Nebraska was set to open up its season, Downey decided to go out on the town. The end result of that night would be the beginning of the end of Downey's career in Lincoln.
That night, Downey got in a fight and broke his thumb.
Forced to wear a cast, Downey couldn't wrestle. Nothing seemed to matter to him since he couldn't be on the mat. He started skipping class, practice and film sessions. Nebraska coach Mark Manning ultimately dismissed Downey from the program due to his behavior.
"Here I am, getting kicked out for the second semester, transferring, at the time I didn't know where, so I was a little lost," Downey said. "I was confused. I didn't know if I was going to lose that whole year of eligibility. I didn't know if I was going to pick up by another program because, obviously, I can wrestle but who wants to pick up somebody that is injured and who can't come in. I'm also dealing with the whole release situation and the legalities of things. It was just really confusing, kind of up-in-the-air time, limbo, lost feeling."
Downey has several random tattoos. He has one on the back of his neck and upper back, one on his left and right side, one in the middle of his upper-chest and one on each of his shins. He also has a tattoo on the left and right side of his collarbone along with another one the outside of his left shoulder. However, the tattoo that holds the most significance is probably the tattoo located on the outside of his right shoulder.
From afar it seems like a poor representation of the Pringles Chip logo. But up close you see a man's face. The face has one eye, the left one, a black full, curvy mustache and black hair that curls on the left and right side.
It's the National Bohemian Beer logo.
Why would someone have a tattoo that would be a random beer logo to the common man?
This logo is significant to Downey because it exemplifies where he was raised: Baltimore.
Downey grew up in East Baltimore, which at the time, was a nice place to live, unlike today. Growing up, Downey was, to his recollection, the only white kid in his neighborhood. He was singled out and individualized. The other kids in his neighborhood told him he couldn't play football or basketball as well as them and that Downey couldn't ride bikes with them.
Due to that sort of treatment by his peers, it raised Downey's competitive levels and made him have a chip on his shoulder.
Downey won the final 69 matches of his high school career, winning state titles as a sophomore and junior — one at Loch Raven and the other at North County. College letters started to fill up Downey's mailbox. Until 2009.
November, 2009, was the first moment in a string of incidents that left Downey facing assault charges.
Downey was first charged with second-degree assault for beating up a Towson University student outside M&T Bank Stadium. Seven months later, he was charged with first-degree assault after he and one of his buddies fought two Navy football players at an 18-year-or-older club in Baltimore. Then in September 2010, he was charged with assault and robbery.
The last charge halted his blossoming wrestling career. While the September charges were dropped, Downey pled guilty to beating the Towson student. He spent six days in jail in October 2011 for that charge and when he was taken into custody, his mom burst into tears.
Baltimore is classified as one of the most crime-ridden cities in the country. Downey admits he did himself no favors hanging out with the wrong crowd. Now when he returns home for breaks, he doesn't notify any of his friends. He keeps to himself while he spends time with his family.
Baltimore isn't a hotbed for wrestling recruits. Typically, athletes are recruited for football, lacrosse or basketball. So it was rare that Downey earned a full-ride scholarship to wrestle.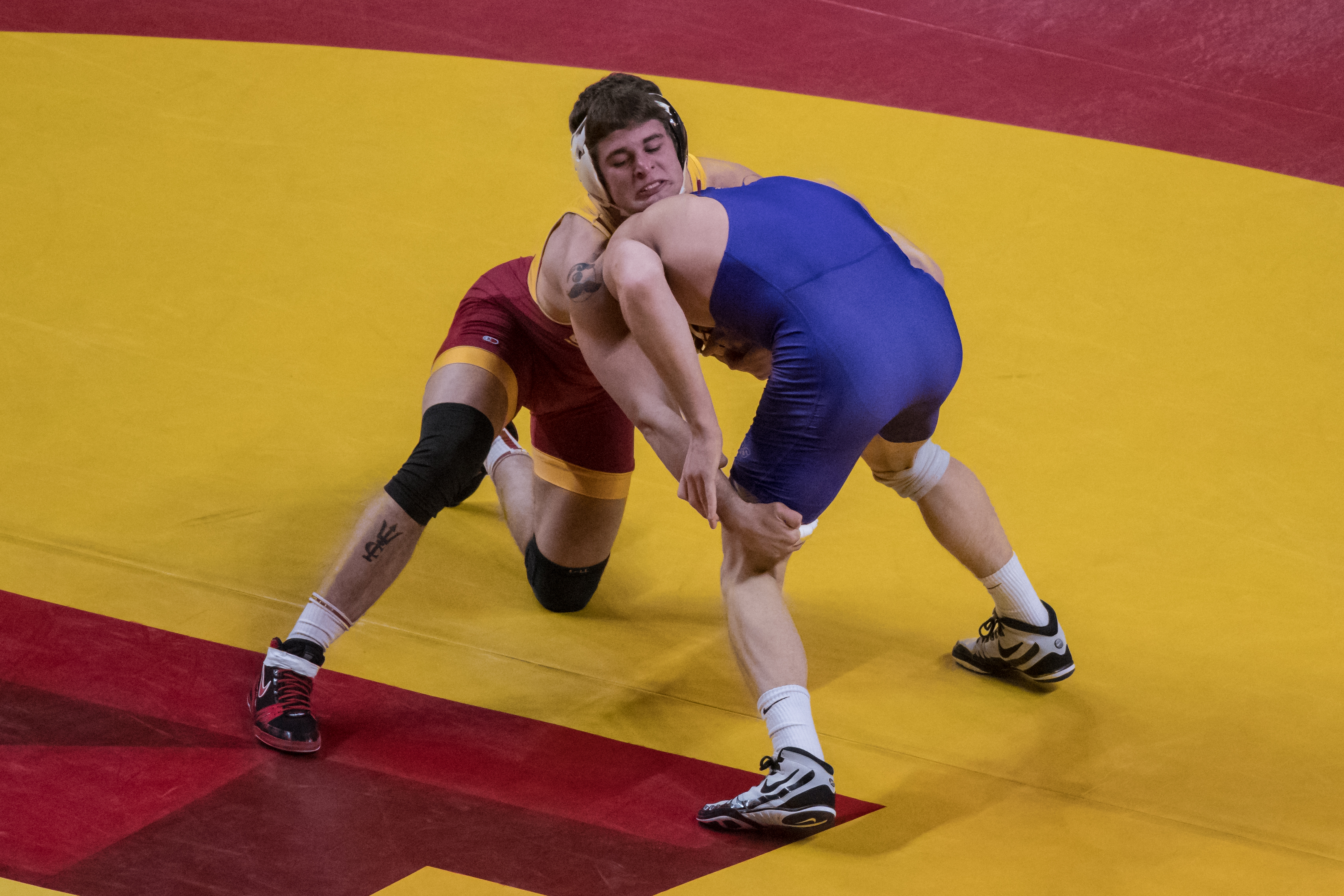 The Redemption
July 23, 2011, Fargo, North Dakota was the date and location that symbolizes the moment when Downey restored his budding wrestling career.
With the help of former Iowa State coach Bobby Douglas, Downey was able to meet Brandon Slay, who at the time was working at the Olympic Training Center. While conversing with one another, Slay gave Downey an offer he couldn't refuse.
"I basically got told by Coach Slay that if I went to Fargo (which is where the USA Wrestling Junior and Cadet National Championships are held) and proved I can do something at the freestyle level, we have a bed for you to be a residential developmental athlete," Downey said.
Downey did just that. He went to Fargo and left as the 171-pound junior freestyle champion.
Along with Earl Hall, Tanner Hall and Destin McCauley, Downey made it to the U.S. Olympic Training Center located in downtown Colorado Springs. Downey would spend a year and half there and experienced some of the best moments of his life.
Waking up every day and having 10 solid training sessions and working with some of the best wrestling minds in the nation replaced the distractions associated with Baltimore.
In 2012, Downey qualified for the junior world championships in Pattaya, Thailand. He placed second at 84 kilograms or 185 pounds. That finish flashed the potential Downey possesses.
When he returned back to the Olympic Training Center, Downey started to form a friendship with now four-time world and Olympic champion, Jordan Burroughs. They regularly served as training partners. Burroughs helped Downey land at Nebraska.
After getting kicked out of Nebraska, Downey was afforded another shot to wrestle at Iowa Central Community College, located in Fort Dodge, when Luke Moffitt and Troy Bennett got in touch with him.
He enrolled and spent the rest of the year studying. The following year, Downey returned to the mat with a vengeance, as he went undefeated and won an individual NJCAA title and helped Iowa Central win a team championship. That performance gave Downey options, once again, to compete on the Division I level.
Downey's decision came down to two schools: Iowa and Iowa State. Like his reason to originally wrestle for Nebraska, Downey ultimately choose Iowa State due to training partners.
"I have Kyven Gadson and Matt Gibson," Downey said. "It also comes down to coaches. The Paulsons, both guys are around my size. They are both alternate world team members, national champs, they have their accolades. They are youthful. They can still wrestle with me and beat up on me. But KJ (Kevin Jackson) has the accolades you want. He is a world champ, an Olympic champ. I love learning from him and I got a good vibe and good energy when I met him for the first time at the U.S. Open. Everybody here on staff knows the sport and everybody who I train with loves the sport."
Before Downey would have the opportunity to put on the cardinal and gold singlet, he still had to complete one more thing at Iowa Central: obtain his associate's degree. To do so, Downey had to take 19 credits in one semester.
"It was probably the hardest thing of the whole journey, to be honest," Downey said. "Winning the titles and the stuff, you train to do that. The 19 credits in a semester was no easy feat for me. That was just, again, all on me. When I transferred to Iowa Central, I thought I qualified for my Olympic redshirt and then it comes out that if I would have taken the redshirt, I wouldn't have enough credits to ever be D1 eligible again. So that's why I had to take those 19 credits, to satisfy my completion of a degree and to get my associate's degree for the D1 to JUCO transfer rule. I really put myself behind the eight ball by doing that. But I redeemed myself by passing all those credits."
With his associate's degree in hand, Downey was finally cleared to wrestle in Ames.
In his first year with Iowa State, the 2015-16 season, Downey, who is typically a 184-pound wrestler, served as the Cyclones' 197-pound grappler and wrestled to an 11-4 record. He finished third in his weight class at the Big 12 Championship, which earned him an automatic bid to his first Division I NCAA Championship at Madison Square Garden in New York City.
Downey, who was unseeded, took the 197 class by force. He defeated four ranked opponents, claimed All-American honors and finished fifth overall at the NCAA's in the 197-pound bracket. Downey made a name for himself.
"It was like a love hate," Downey said on his first season in Ames. "As a competitor, I want to win. So I fell short of my goal to be a national champion but at the same time, I got back on track. But I still have unfinished business."
Healthy once again
The time Downey missed due to his rib injury hurt him. It damaged him the most when Iowa State traveled to Iowa City to take on Iowa in the annual Cy-Hawk dual. He watched his teammates compete without him in probably the biggest dual of the season for the Cyclones and fans heckled him while on the bench.
The time Downey has missed due to his injury wasn't easy. He did everything to make sure he stayed sane. Downey put in work during the offseason to get into wrestling shape and he didn't want the time he missed to affect his pursuit of a NCAA Championship.
Downey jumped rope, ran and played racquetball to stay in shape. It didn't take him long to return to the mat but thanks to his coaches, teammates, friends and family, he didn't rush his recovery. He gave himself the correct amount of time to heal, even though it killed him inside.
"Wrestling is my life," Downey said. "Every time I get injured, I reflect back on that Nebraska moment of my life."
It took seven weeks for Downey's rib to completely heal.
Since returning from injury, Downey is 3-0. Now as the 2016-17 season winds down and heads into championship season, Downey has his eyes set on the unfinished business, winning the NCAA Championship.
While that is his ultimate goal, Downey is just happy to be wrestling.
"I always thank God for the opportunity to compete," Downey says. "I love it."