Feb 11, 2015; Wichita, KS, USA; Indiana State Sycamores head coach Greg Lansing questions a call by officials during a 74-57 loss to the Wichita State Shockers at Charles Koch Arena. Mandatory Credit: Scott Sewell-USA TODAY Sports
ORLANDO — Thanksgiving Dinner with the family can wait a few hours this year…Tell mom that the fine crew at CycloneFanatic.com said you have Iowa State basketball to watch.
The Cyclones (3-0) will tip off the 2016 Advocare Invitational on Thursday morning at 11:30 (ESPN2) against Indiana State (2-1).
Don't know much about the Sycamores? Here is a quick primer.
1 – Head coach Greg Lansing is an Iowa native 
Lansing, who has begun his seventh season at Indiana State, has never coached against Iowa State. Still, there is a lot of history here.
Lansing, who last March was inducted into the 2016 Iowa High School Athletic Association Basketball Hall of Fame class, graduated from Harlan in 1986 and coached at Roosevelt (Des Moines) in the 90's. Lansing and his father Dave are one of 10 father/son duos to be inducted into the Hall since 1969.
Steve Prohm and Lansing have never met as head coaches.
Thursday will mark the second time in history that these two schools have faced. Iowa State won a November home game vs. the Sycamores in 1992.
2 – Guard Brenton Scott is a stud … and a bit of a chucker
Indiana State's junior guard is the only returning first or second team all-MVC selection from last season. Two years ago, Scott was named the Valley's Freshman of the Year. Scott, a 6-foot-1, 195-pound junior, currently leads the MVC in scoring at 22.3 points per game. Scott has 142 career 3-pointers in only 66 games, which already ranks sixth in Indiana State history.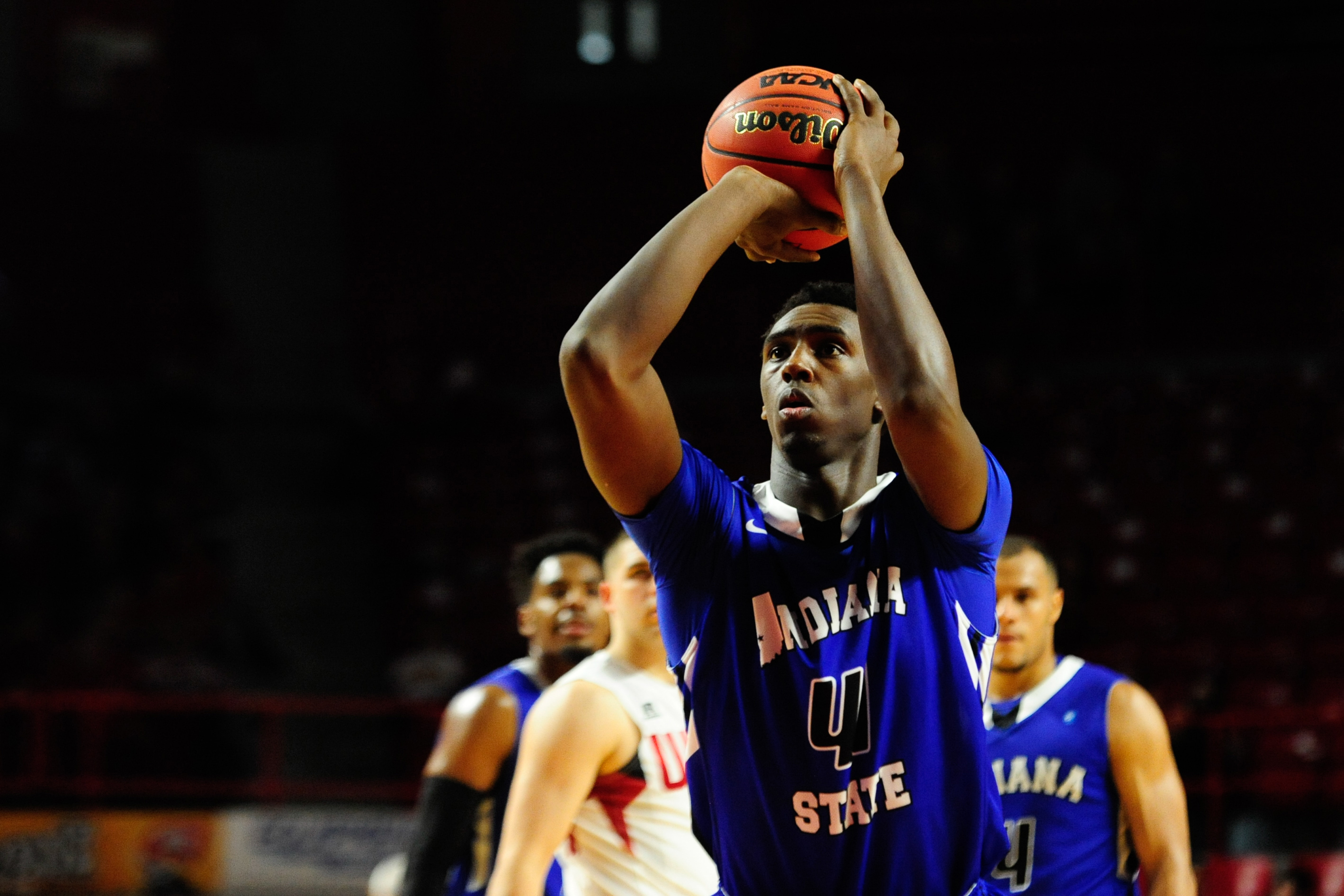 Behind-the-arc, it's been a bit of a rocky start to the season so far for Indiana State's star as he's only hit 7-of-28 3-pointers (25 percent). As a sophomore, Scott made 40 percent of his threes at a 48-for-120 mark.
The entire Indiana State team likes to and is very capable of shooting the three-ball. In their last time out, the Sycamores made 15 (of 22) threes in a 96-55 win over Missouri-St. Louis. Indiana State went 10-for-36 (!!!) in a season opening 80-78 overtime loss to Northern Illinois. The Sycamores struggled to a 6-of-21 3-point shooting night in an 80-74 overtime victory over Ball State.
3 – Experienced, but unproductive posts
Indiana State is without question a guard-oriented team but its posts do have one thing going for them – experience. Starters down low, Matt Van Scyoc (a 6-foot-6, 215-pound senior) and Brandon Murphy (a 6-foot-7, 275-pound junior) start at the four and the five and are the teams second and fourth leading scorers.
Van Scyoc, a Wisconsin native, was an All-State selection beside Iowa State's Matt Thomas back in 2012.
Another upperclassman, 6-foot-9 senior Niels Bunschoten comes off the bench (averaging 6.3 points and 3.0 rebounds) to provide depth in the post.
Surprisingly, a 6-foot-1 senior guard named Everett Clemons is Indiana State's leading rebounder on the season averaging 8.3 a game. Clemons is a constant double-double threat. In an overtime win against Ball State, he was one assist away from a triple-double (11 points, 10 rebounds).
Iowa State on the other hand has absolutely suffocated its first three opponents in the past, outscoring them 190-48 in the paint. 
4 – Five in 12
Since Lansing became coach, Indiana State is 5-for-12 vs. high-major teams. The last time that the Sycamores pulled off a "Power 6" upset was on Nov. 17, 2013 on the road at No. 21 Notre Dame.
In addition to the success vs. high-majors, Lansing's teams have a school-record tying four wins vs. nationally-ranked teams during his time at the helm.
5 – Projected middle-of-the-pack in MVC
The Sycamores finished the 2015-16 season with a record of 15-17 and a sixth place finish in the Missouri Valley. That is exactly where the MVC's Preseason Poll tabbed Indiana State at for this season behind Wichita State, Illinois State, Northern Iowa, Missouri State and Southern Illinois.