Nov 11, 2016; Ames, IA, USA; Savannah State Tigers guard Casey Wells (12) guards Iowa State Cyclones forward Darrell Bowie (10) at James H. Hilton Coliseum. The Cyclones beat the Tigers 113-71. Mandatory Credit: Reese Strickland-USA TODAY Sports
 Darrell Bowie tried to forecast where the next step in his basketball journey would lead him.
He had elected to sit out what would have been his senior season at Northern Illinois to heal from shoulder surgery. He earned his degree in Organizational and Corporate Communications and announced his intention to transfer. He needed a fresh start — and that's when former Iowa State assistant T.J. Otzelberger came calling.
One season of eligibility remained for the versatile 6-8 Milwaukee native and hometown connections played a big part in steering him to Ames.
"I knew (former ISU big man) Jameel (McKay)," said Bowie, who's averaged 8.7 points and 9.7 rebounds off the bench in three games as a Cyclone. "Even Deonte (Burton). Me and Deonte played in a few tournament back in the day with each other, so I know him."
Slowly but steadily, Bowie's role at ISU is becoming more sharply defined. He's a high-energy sixth man (for now) and will be an integral contributor for the No. 21 Cyclones (3-0) as they kick off the Advocare Invitational Thursday at 11:30 a.m. against Indiana State (2-1) in Orlando, Fla.
It's been a long, circuitous and sometimes difficult path to a power-five program for Bowie, who wound through La Jolla (Calif.) Prep before tracing through DeKalb, Ill., and now Ames.
"Once I thought that I was going to transfer, I just really took my time with it," said Bowie, who posted his first double-double as a Cyclone in Sunday's 130-63 pummeling of The Citadel. "And like you said, the Milwaukee connection, coach T.J., he reached out to me. So it just kicked off from there. Then coach Prohm came (to see me) and I'm here at Iowa State."
Bowie laughed after saying this. A happy, knowing laugh. One that shows he's secure in his decision to make Ames his final college destination.
"I love it, man," Bowie said. "They treat you like one of their own. That's one thing I wanted to tell the fans: I really appreciate that. They made this feel like home to me. I feel like Naz (Mitrou-Long) or Monté (Morris) when they say Ames will forever be a home to me. I love Ames."
Now to carve out more minutes, greater productivity.
 Merrill Holden — also a grad transfer — has been starting at the five spot and doing well (8.3 points, 5.3 rebounds), despite occasional foul trouble. Sorting out frontcourt minutes is still a work in progress, but ISU coach Steve Prohm is pleased with how Bowie, Holden and freshman Solomon Young have performed thus far.
"Whether it's three minutes in a row, two minutes, four minutes — play hard," said Prohm, whose team will face an opponent that ranks higher than 275th in KenPom.com's ratings for the first time this season. "We've got about 3 or 4 guys we can rotate there. Next guy come in, effort, intensity focus, and then we may rotate again. But Darrell's been consistent. At the four, five whatever you want to call it — the front court — he continues to rebound if you look at his numbers each and every game. He continues to rebound. He's got activity out there and he's got good energy. He's just got to continue to grow."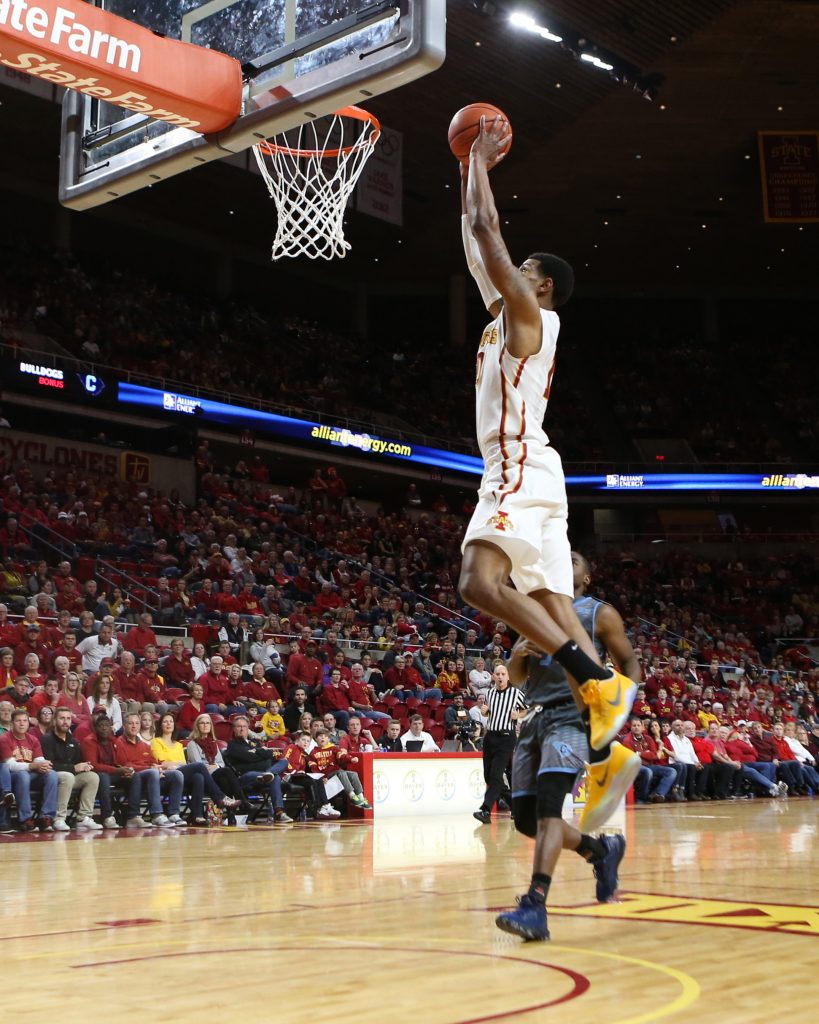 Bowie needed just 18 minutes — his season average — to achieve Sunday's double-double. The big man also sprinkled in a career high-tying four assists. Bowie's grabbed 10 rebounds in two of ISU's first three games, mostly on the defensive end. He runs the floor swiftly and flashes ball skills not always seen from 6-8 players.
"I feel I've just been down a great job of coming in and playing hard," Bowie said. "Playing smart and just seeing how the game is being called and played. Just making adjustments and going on from there. I'm a fifth-year senior now, so I just come in and it's just basketball. When you look at it, it's just basketball."
It's what drives his journey. Two shoulder surgeries now fully behind him, Bowie can focus solely on where it might take him next — at ISU and beyond.
"It's cool," Bowie said about coming off the bench. "I'm adjusting. I'm learning and everything. I'm doing whatever coach asks me to do; whatever he needs me to do. If he wants me to come off the bench and just go get rebounds, I'll do that. If he wants to come in off the bench and just get stops, I'l do that. If he needs me to score, I'll do that. So I'm just doing whatever coach needs me to do to stay on the floor."