Sep 10, 2016; Iowa City, IA, USA; Iowa State Cyclones wide receiver Allen Lazard (5) runs away from Iowa Hawkeyes defensive back Greg Mabin (13) at Kinnick Stadium. Mandatory Credit: Reese Strickland-USA TODAY Sports
 AMES — Call it a paradigm shift.
Or at least a change in timing and transport.
Saturday represents many things to the beleaguered 2016 Iowa State football team — but chief among them is a fresh start.
Big 12 play begins at 11 a.m. in Fort Worth, Texas, and the foe — uber-fast and unranked TCU — will be ornery after dropping a 41-38 overtime decision to Arkansas a week ago.
A recipe for disaster?
Maybe. Maybe not. Best to be jacked for the long-distance (and long-odds) opportunity.
"This is like a true on-the-road game," said Cyclones star receiver Allen Lazard, who hopes to again post big numbers after his 0-2 team jets into the heart of Texas. "Last week, it was only a two hour drive. Now we're actually getting on a plane. We've got to fly down to Dallas and kind of get that whole new routine. It kind of gives us a whole new fresh start. With a morning kickoff — personally I like 11 o'clock kickoffs way better than 7 because you don't have to wait all day. You kind of just get going."
Lazard's one of a handful of ISU players to be going in the right direction in terms of production.
He's totaled more than 100 yards receiving in consecutive games (129 vs. UNI, 111 vs. Iowa). If he posts similarly stellar numbers against the Horned Frogs, he'll join Jim Doran and Tracy Henderson as the only Cyclones receivers in program history to go for 100 or more in three straight contests.
"I'm kind of just taking what the defense gives me," said Lazard, the Big 12's leading receiver in terms of yardage. "I'm not trying to to do too much out there, I'm just going out there and trying to have fun and get as open as possible so the quarterback can throw me the ball."
Which quarterback?
Probably Joel Lanning, though backup Jacob Park could see time as either a change of pace play caller, or the main guy if Lanning struggles.
"Both of them are great competitors," Lazard said. "Both have a great arm. Both come from winning high schools. They have a lot of intangibles they have in common, so either way, with both of them, I'll be happy."
Team-wide intangibles must take root in order to trump the penalties and miscues that have become a fixture during the Cyclones' 0-2 start.
ISU — a 24.5-point underdog —  has been whistled for 19 infractions in its first two games and needs to not only execute far more crisply, but also show signs that the losing culture of the past three seasons is beginning to recede into the memory banks.
"You have to know, 'Why is it happening?'" Cyclones coach Matt Campbell said. "For any growth to occur you have to fix the mistakes. I'm the same guy every day. I know what my plan is. I know that our work ethic needs to be."
And it's obviously not remotely there yet, from a results standpoint.
So ISU's coaches and players have been drilling extra hard this week, demanding deeper focus, commanding heightened attention to detail.
"We'll be ready for this game," said preseason All-American running back Mike Warren, who's been limited to 58 yards in 19 carries so far. "We've been working hard in practice and it's been a different tempo."
What won't be different: Another skilled quarterback on the opposite side
of the ball. TCU play caller Kenny Hill is a highlight reel ready to happen — though he can overextend himself in the passing game, as his 3-to-3 touchdown-to-interception ratio attests.
ISU has forced one turnover this season, while coughing up five.
How to change that nettlesome set of numbers? Alter the circumstances. Don't be caught on your heels. Defend aggressively.
"When you're playing man coverage, your job is to guard the receiver," Cyclones cornerback Brian Peavy said. "Like you said, luck — sometimes the quarterback makes mistakes and that's one thing. We need to apply more pressure to the quarterback and make him make more mistakes."
That's step one of Campbell's reclamation project: Force the other team to walk on eggshells versus the other way around.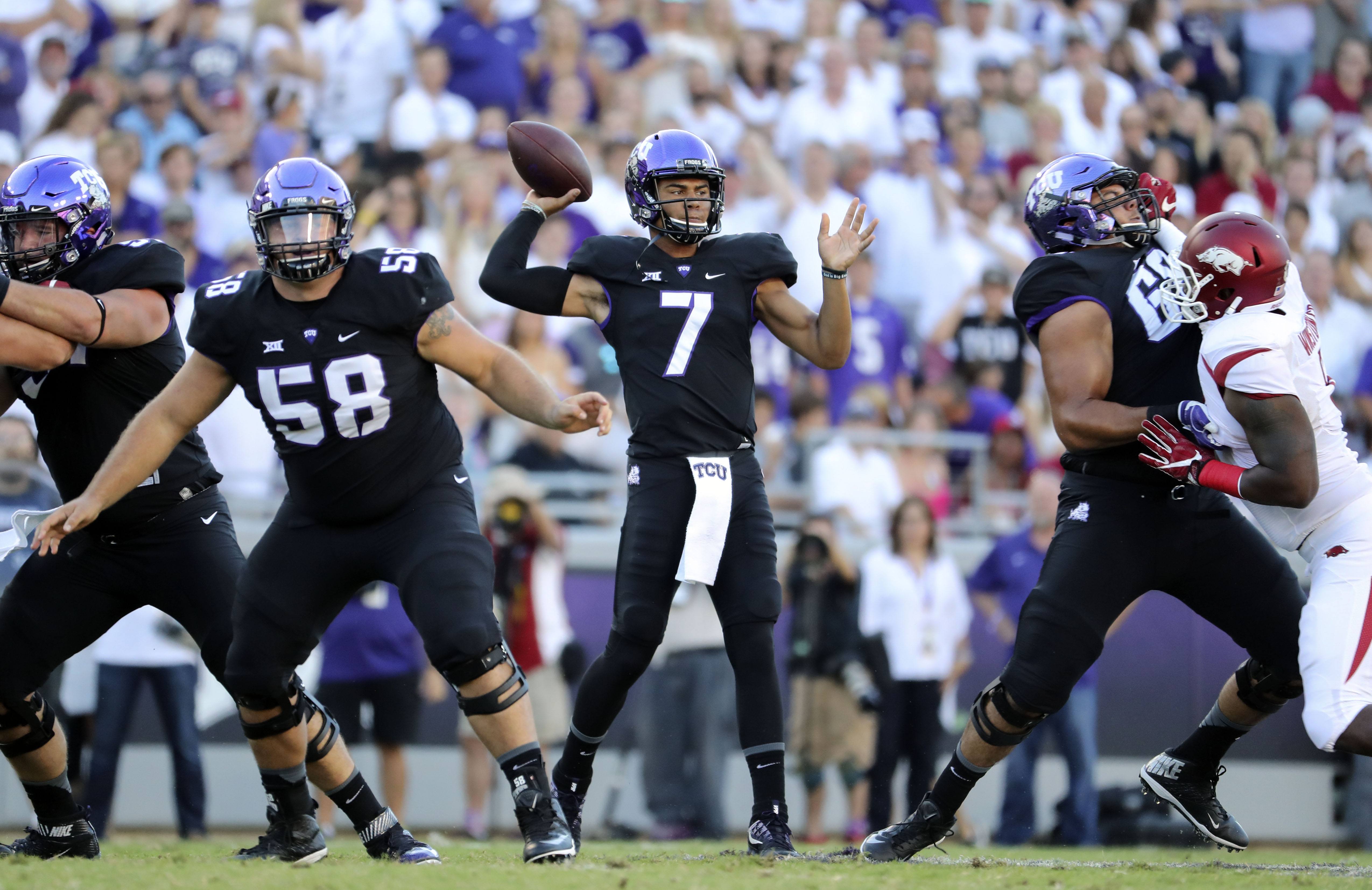 And making a strong move toward that switch Saturday not only would amount to a major upset. It also would halt an alarming early-bird trend.
The Cyclones have lost 17 of their past 18 games that kicked off at 11 a.m. — and that lone triumph since the 2011 season (38-13 over Kansas in 2015) came at home.
Ouch? Nah. Get better. Crush history. Continue the long trudge back to Big 12 relevance by simply going to work with an upbeat attitude — knowing that change will come if it's framed by the proper mindset.
"Stepping up, for me, I think is really just attention to detail," Warren said. "Do the little things right, because we haven't done those things well lately. It starts with the basics. You've got to start with fundamentals, technique, and you've got to do all the little things right before you can accomplish bigger things."