Over the next several weeks leading up to the start of Iowa State football camp, I'll be breaking down the Cyclones' roster position-by-position. This series will go hand-in-hand with The Seniors podcast where we kicked things off by talking quarterbacks earlier this week.
I'll break each position into several different categories detailing the starter, the backup, a guy for the future and if necessary, another name to watch.
The quarterback position figures to be one of the groups with the fewest questions for the Cyclones heading into the 2016-17 season. They have a mostly proven starter, a couple solid backup options and a freshman that is expected to play a big role in the future of Iowa State football.
With all that said, here's my breakdown of the Iowa State quarterbacks.
The Guy – Joel Lanning
I don't know that anyone could've anticipated things going as well for Joel Lanning last season as they did. He showed glimpses of what he could do during spot duty in the team's first six games of the season, but it was after he became the starter that he really made his mark.
The 6-foot-2-inch sophomore replaced Sam Richardson as the starter for the season's last five games and finished the year with 1,247 yards,10 touchdowns and four interceptions on 55 percent passing.
During the first start of his career, he threw for 188 yards and a touchdown while running for 64 yards in Iowa State's 24-0 win over Texas. He added a new swagger to the offense combined with his gunslinging ability and desire to run defenders over.
Heading into his junior season, he'll need to improve the consistency of his throws and his accuracy, but he has a lot of tools to be one of the top quarterbacks in the conference. He has a unique ability to sling the ball at a high-rate while coupling that talent with a bruising running style.
He'll be in uncharted territory as he holds the starting job from day one of fall camp and he'll have to pick up his third college system in three years, but big things could be on the horizon for the junior signal caller.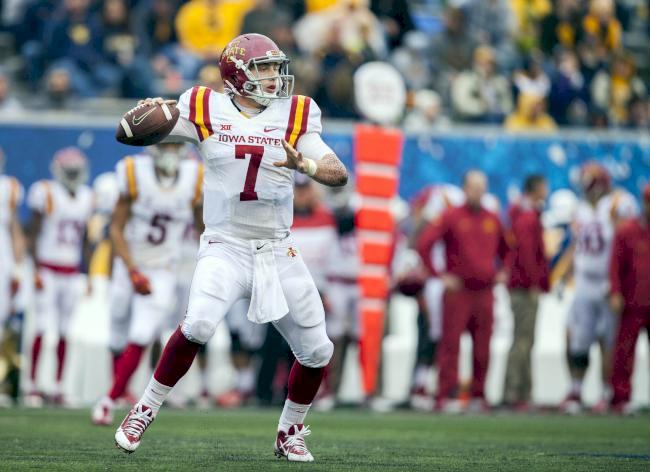 Next Man Up – Jacob Park
It is safe to say that landing Park was one of the biggest surprises put together by Matt Campbell and his staff during their first recruiting cycle at Iowa State.
The 6-foot-4-inch former four-star recruit was one of the most heavily recruited signal-callers in the country coming out of high school in 2013. He was ranked as the No. 5 pro-style in the class and No. 93 player overall by 247 before signing with Georgia.
He never played for the Bulldogs before leaving in 2015 and taking a season off from football. He ended up at NE Oklahoma A&M where he finished his associates degree before signing wit the Cyclones.
The rumor is that he's been impressive and has lived up to the billing during his first few weeks on campus. It will be interesting to see how much he sees the field in 2016.
The Future – Zeb Noland
It is highly doubtful that Noland sees the field during his true freshman season and there's nothing wrong with that. 
He made waves last winter when he signed with Iowa State over Appalachian State, Colorado State and Toledo and then arrived early to participate in spring drills. The 6-foot-3-inch, 220-pound, coach's son has proven to be a football junkie since arriving on campus.
The former three-star recruit will likely be given a year or two, at least, to get his feet wet with in college football before stepping into a starting role. He'll also have a good amount of time to just learn and grow with ISU offensive coordinator Tom Manning.
Noland is an intriguing prospect for the future and it will be fun to see his progress over the next couple years.
Another name to know – Kyle Kempt
Formerly a three-star recruit from Massillon, Ohio, Kempt signed with Oregon State out of high school and spent two seasons on the Beavers' roster. He spent one season at Hutchinson C.C. and now he's on the roster at ISU.
Something pretty bad would likely have to happen for Kempt to get meaningful snaps this season, but having another guy with experience in another big program can't hurt anything.
Iowa State quarterbacks
Joel Lanning – Redshirt Junior – 6-2, 225 lb
Jacob Park – Redshirt Sophomore – 6-4, 205 lb
Zeb Noland – Freshman – 6-3, 220 lb
Kyle Kempt – Redshirt Junior – 6-5, 220 lb
Kyle Starcevich – Redshirt Sophomore – 6-3, 220 lb