Karl Chevrolet gives you peace of mind when you purchase a GM Certified Pre-owned vehicle. We have been the #1 GM Certified dealer in the nation for 10 consecutive years. Before you make your next purchase, come see why more people nationwide drive a Karl Chevrolet Pre-owned vehicle than any other dealer-There is a difference, Come see why TODAY!!
I sit halfway up my corner balcony section, my heel quickly bouncing up and down. My chest is tight. My face is burning. My hands can't stop sweating. I'm not feeling physical pain but the physical distress is very real.
The anxiety is so gripping that I can't bear to watch, but my brain needs to see a positive result to relieve my symptoms. I have to watch. I can't not watch.
I care, and so do you. In the grand scheme of things, or even the small scheme of things, we care too much. Way too much.
The last five years has been an interesting evolution for Iowa State fans during basketball season. A proud program that we have long had a love affair with was resuscitated, revived, and rejuvenated. Today, the success of the basketball program is quite literally at an all-time high.
The Cyclones have appeared in four straight NCAA Tournaments, won at least half of their conference games for four straight seasons for the second time in school history (and likely five by the end of this year for the first time), and they've won 62.9 percent of their conference games from the 2011-12 season to now (a number that is only approached over four season stints after the 2000-01 season at 59.3 percent and the 1946-47 season at 62.8 percent).
Iowa State has now been ranked for 50 consecutive weekly AP polls and in the last 89 games that they have played. In 61 of those games they have been in the top 15. Previous to 2013, Iowa State had played 156 games as a top 25 team and 79 games as a top 15 team in the history of the program
All told, 36.3 percent of Iowa State's games in program history that it has been in the top 25 have happened since the start of the 2013-14 season and 43.6 percent of the games that they have been in the top 15 have happened in that same time frame.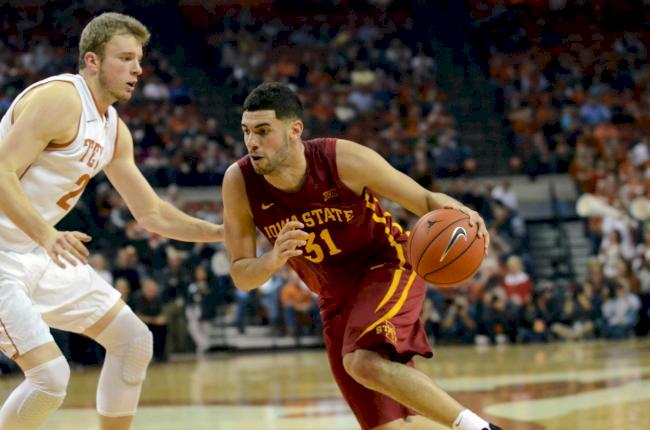 The AP Top 25 (or 20 in the early days) has been around since the 1949-50 season. From 1949 to today the Cyclones have played in a total of 1,861 games and 92 of them have been since the 2013-14 season, which amounts to 4.9 percent of all games since 1949-50. So in a time period that accounts for less than five percent of games played in the history of the program the past two and a half seasons has accounted for more than 36 percent of games as a ranked team and more than 43 percent of games as a top 15 team. That is substantial.
The last time Iowa State was not ranked was the home game with No. 7 Michigan on November 17th, 2013. That was 809 days ago when we barely knew guys like Monte Morris, Matt Thomas, and even Naz Mitrou-Long.
Basketball was fun. Iowa State basketball was a lot of fun.
But success breeds expectations, external of the team and internal, realistic and unrealistic, and sometimes, lofty goals become the new hurdle that must be surpassed. The team's expectations, your expectations, national expectations, and my expectations have all raised the bar.
Nobody is to blame; it is simply the fact of the matter.
The other fact, at least for me, is that it is still fun. I love Iowa State University, always have, and love basketball more than one should. My favorite team being very good and very relevant in my favorite sport brings me a lot of joy and I'm sure it does for you too. And this is still a very good basketball team that is very relevant and very capable.
But the better your team gets, the more obsessed you become with every detail of every game, of every player, with every opponent, with every play. Then the results of every game, every play, and every performance dictate how we as fans feel and act. It shouldn't be that way, but quite simply, it is the truth.
Big wins are still fun, but they aren't as fun and exciting when it is now the norm instead of the rarity. We're not the chippy underdog scrapping to beat the country's best with a new, unique, and fun style anymore. We're the favorite, even against top five teams in the country with guys that are qualifying for national postseason awards and aiming to take home All-American honors.
The obsession fuels the rabid support of the fans which sparks and combusts the anxiety.
For now, it is just the way it is. The expectations, hopes, and dreams that are still on the table are still very lofty. There's no way around that because this is the life of having a really good team. Losses, no matter the opponent, the location, or the margin are always a missed opportunity and some people will always lose their mind with every loss. Wins are typically full of relief and completely devoid of celebration.
This, in a way is disheartening and sad for this group of guys that have provided so much. Sure, they're beloved and celebrated but they also live under a microscope of criticism and cynicism from how they play to exactly what they do on social media. (But to be completely honest, I'm awfully tired of the standard that they are held to that we often can't even hold ourselves to when it comes to exactly what we say and how we say it.)
The only real way to dodge the anxiety of the next six to eight weeks is disassociation, but that is clearly not an option. All I've got is perspective. It's a game. It's fun to play, fun to watch, fun to analyze, and fun that my favorite team is really good at it.
That hasn't changed with the few close losses, no matter how disappointing.
I'm sure that my gut will still be tied in knots with nerves, and my chest will still ache, my hands will still drip with sweat until the season is over. But I'm going to focus on appreciation for the seniors on their way out and every other member of the program that has given so much.
I'm trading in my relief and anxiety for celebration and appreciation for what is unequivocally the best stretch of success in the history of Iowa State basketball.