AMES — His bags were packed with the essentials — changes of clothes, a toothbrush, basic necessities.
 But a less ordinary and easily depleted item proved to be Iowa State assistant coach Lou Ayeni's most vital carry-on for each flight during this winter's madcap and successful two-month recruiting sprint.
 "Just some shots of adrenaline," Ayeni said Wednesday after his head coach, Matt Campbell, spoke about his first recruiting class.
 Ayeni needed every precious ounce. The entire staff did. Campbell noted that they had 65 days — only 23 of which they could be on the road and in the air — to assemble a 29-man class of 2016 ranked No. 44 by Scout.
"We didn't sleep, so I think that helped us," Campbell said after thanking everyone associated with ISU, including each coach's wife. "We tried to make up for days in hours."
Campbell and his staff cobbled together the highest-ranked class of recruits (which also includes six preferred walk-ons and in-flux grad transfer OL Tyler Catalina) since Scout began crunching the numbers in 2001. And how it happened is a tale unto itself. It's a highly-caffeinated and boldly-calculated story that began the Saturday before Campbell officially took the job on Nov. 29.
One common thread runs through all of it, though. 
"I think what separates us from everybody else is we genuinely love each other," ISU's recruiting coordinator Alex Golesh said. "It's a different relationship. Whatever you want to call it: We would do anything for (each) other. And it doesn't matter who gets the credit for any of this. It's really not about that because at the end of the day we're going to win together and we're going to build a program together and where that goes will all solely depend on if the kids truly believe in us. And the only way they believe in us is if we believe in each other."
That bond tightened long before that fateful Saturday. Still Golesh had plenty of logistics to work out. He said he and other members of the still-forming staff reviewed film from probably 500-600 players. They needed to narrow that down, obviously. The ensuing 48 hours were devoted to that — as well as formulating a coherent plan to "hit the ground running" the following Wednesday.
"My biggest piece is we didn't compromise ourselves," Campbell said of the 2016 blitz's endpoint. "We didn't just recruit good players and then maybe a lack of character. We didn't just recruit great character guys who weren't good enough to play. We think we hit it out of the ballpark in terms of great character kids than can play the game and want what we stand for in terms of academically, athletically and culture builders. We're trying to build a culture here."
Or recreate one.
Most of this staff worked together at Toledo, so how a recruiting class would be shaped and molded came somewhat naturally. What did require adjustment: the tight window. They were far behind. ISU's class ranked 84th at the time — with 12 commitments.
So the travel began. Phone calls and texts piled up — to each other and prospective recruits. Long days merged with marathon nights, broken up only by the occasional blizzard, or full-bore sprints from gate to gate. 
"Here's my week from two weeks ago," Ayeni began when asked about the craziest part of the process.
Hundreds of words — and thousands of miles — later could be summarized like this:
Ayeni flew out of Des Moines one morning after an official visit weekend. He connected to Phoenix, then landed in Bakersfield, Calif., for an in-home visit. Arrived at his hotel at around midnight Pacific Time. Woke up at 3 a.m., went to Denver. Then on to Cincinnati, trying to beat a blizzard, with a stop in Charlotte. On to Alabama and Atlanta. Whoosh to Minneapolis, then Boston, where things got really interesting as the snowstorm laid siege to the Eastern seaboard.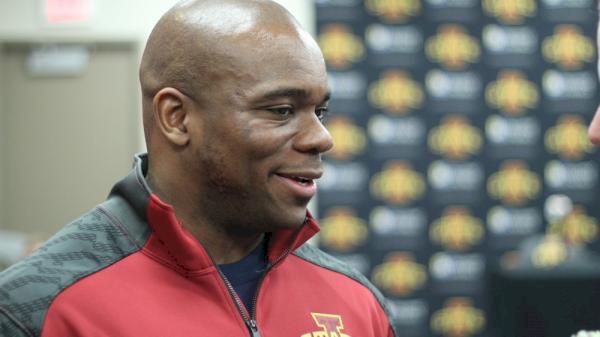 "Fly out — it's the bumpiest ride I've ever been on, it's like a roller-coaster all day long on that thing to Minneapolis," Ayeni said. "Go from Minneapolis back to Ames. Get back, we had an official visit weekend. Did that for the weekend then flew back out the next week. Went to Chicago, then I did it all over again. I was in Chicago, Dallas, Arkansas, Tulsa …"
 Ayeni then paused for a brief chuckle before concluding the description of his 14-day odyssey. 
"Cincinnati back to Minneapolis," he said.
Whew. And all worth it. Wednesday served as the culmination of all that wacky travel, convincing and sincere sales pitches, and well-coordinated cell phone-based energy boosters.
"I needed that adrenaline going full force," Ayeni said of the frequent texts and calls to his cohorts. "Yeah, needed it going full force."
Still, the staff feels like it's behind. The quest for a top-50 2016 class has been successfully completed. It's all about 2017 now, so soon the adrenaline-laced grind begins anew.
"Recruiting is so sped up," Golesh said. "I'm really, really proud of what we did. I'm really excited about what we did. We'll find out probably in three years if it was any good or not, but I feel like we're probably a little bit behind and have got to catch up quick."