AMES —Steve Prohm made an NFL reference following his team's disappointing 94-89 loss to Baylor on Saturday afternoon that was timely and made sense.  
"The Kansas City Chiefs were 1-5 and they haven't lost in 10 weeks," Prohm said. "You don't panic. You stay the course. We have really good players. We will figure it out hopefully starting Tuesday at Texas."
It's January 9. Iowa State has 15 Big 12 games left to play. Fifteen!  
Inside the locker room, that is and should be the message. 
Don't panic. Stay the course. Keep competing. Do what you do. It will all work itself out. You are all still really good players that for the most part have accomplished more during your Iowa State basketball careers than anybody else. 
However after watching Baylor go on a 10-0 run in one minute and 18 seconds (Iowa State led the Bears 73-70 with 4:32 to play … the Bears led Iowa State 80-73 with 3:14 to play) and losing to Scott Drew at home for the second year in a row, I don't exactly blame fans (with their Final Four expectations) that are currently pulling the fire alarm on one of the most highly anticipated seasons in program history.
It is also notable that pulling the fire alarm doesn't exactly mean that the building (that still has an incredibly strong foundation) is going to burn down either.
Up 11 with 11 minutes to play, Iowa State shouldn't have lost that basketball game. Period. Zero excuses.
"You've got to close that game," Prohm said. "I know that. Our guys know that."
Iowa State led by four at the break. Frankly, that lead should have been by seven or more but whatever, that's meaningless.
The Cyclones jumped out to an early 12-2 lead and it looked like this game was going to be a snoozer from the word go. Baylor was rattled offensively, Iowa State was locked in on defense and the tough shots that the Bears did get off weren't falling. 
Then this game took an eerie turn that was similar to last February when these very Bears snapped Iowa State's 31-game home winning streak. Drew, who is often mocked by rubes for his unorthodox use of timeouts, called his final one with 7:35 to play (note that in last year's game, Drew called his final time out just before the under-eight media break). 
"It was the same way," Monte Morris said. "Scott Drew used his last timeout last year around the same time and they went to triangle and two. Last year, they put it on me and Matt. This year they went Georges and Matt. We just didn't respond. It is what it is."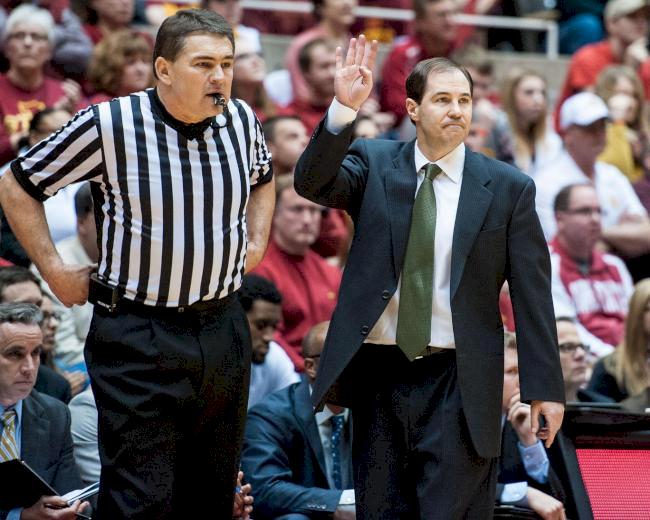 Baylor outscored Iowa State 37-21 over the final 13 minutes of the game and just like that, the Cyclones are off to a 1-2 start in Big 12 play. 
"In the first half we were really engaged," Prohm said. "We got off to a great start in the second half. We really defended and got things in transition. We were up 58-47. Then it was tied."
That's what is so maddening about this loss. 
Iowa State simply could not get stops in the second half, a 20 minute period where Baylor made 61 percent of its field goal attempts and went 5-of-8 from three.
"We got back up three and just couldn't get stops," Prohm said. "Whether if it was stops or ball screen defense. You've got to rebound the basketball. You have to finish plays."
Iowa State most definitely did not finish.
It is comparable to what happened Wednesday night, when Texas Tech out-scored Iowa State in the second half. The problem on Saturday was that Baylor is better than Texas Tech. The issue with that is that this Baylor team (unlike last year) is probably no better than the fifth best squad in the Big 12. And this game was at home…
"We missed some bunnies," Prohm said. "We missed some open threes. We missed some plays around the rim that you have to make." 
The erratic Cyclones will regroup. They usually do. I won't be at all surprised if they win on the road Tuesday night in Texas. 
But at this point in the season, I don't blame Cyclone fans for being concerned. You should be. 
Still, 15 games! 
And I'll take Monte Morris, Georges Niang and Jameel McKay over Alex Smith any day.