Feb 21, 2017; Waco, TX, USA; Baylor Bears head coach Scott Drew reacts during the first half against the Oklahoma Sooners at Ferrell Center. Mandatory Credit: Kevin Jairaj-USA TODAY Sports
AMES — Five in a row.
That's how many games that Scott Drew's Baylor (23-5, 10-5) program has won against Iowa State, a streak that includes two games inside of Hilton Coliseum. The last time that Iowa State (18-9, 19-5) beat the Bears was in the 2014 Big 12 Tournament Championship Game in Kansas City.
It has been a frustrating series for an Iowa State program that generally has lacked size over the years. Of course, a lengthy and athletic frontcourt is traditionally Baylor's strength.
When Baylor invades Hilton Coliseum on Saturday (3 p.m. on ESPN) seeking, at the very least a share (with West Virginia) of second place in the Big 12 will be on the line.
Combine Baylor's streak, what is on the line with a mid-afternoon Saturday tip: One can be sure that the Cyclones will be ready.
"I've been on the end of all of those losses so I am definitely looking forward to locking in and beating those guys," Monte Morris said. "They are probably comfortable coming in here because they have wins in previous years so hopefully this year it will be different."
Other than size, of course, what is it about Baylor that generally gives Iowa State problems? I asked a couple of players that question on Thursday afternoon and got a similar answer: Tempo.
"They always dictate tempo," Morris said. "We have to come out more hungry than them and get them to play catch up with us. You know Scott Drew calls that crazy timeout always and it has worked in a lot of meetings that we have met with them. Hopefully this year we can flip the script."
KenPom.com ranks Baylor's adjusted tempo at the 351st slowest in the country. Iowa State, while slower than what we've seen in recent years, is still much faster at 151st.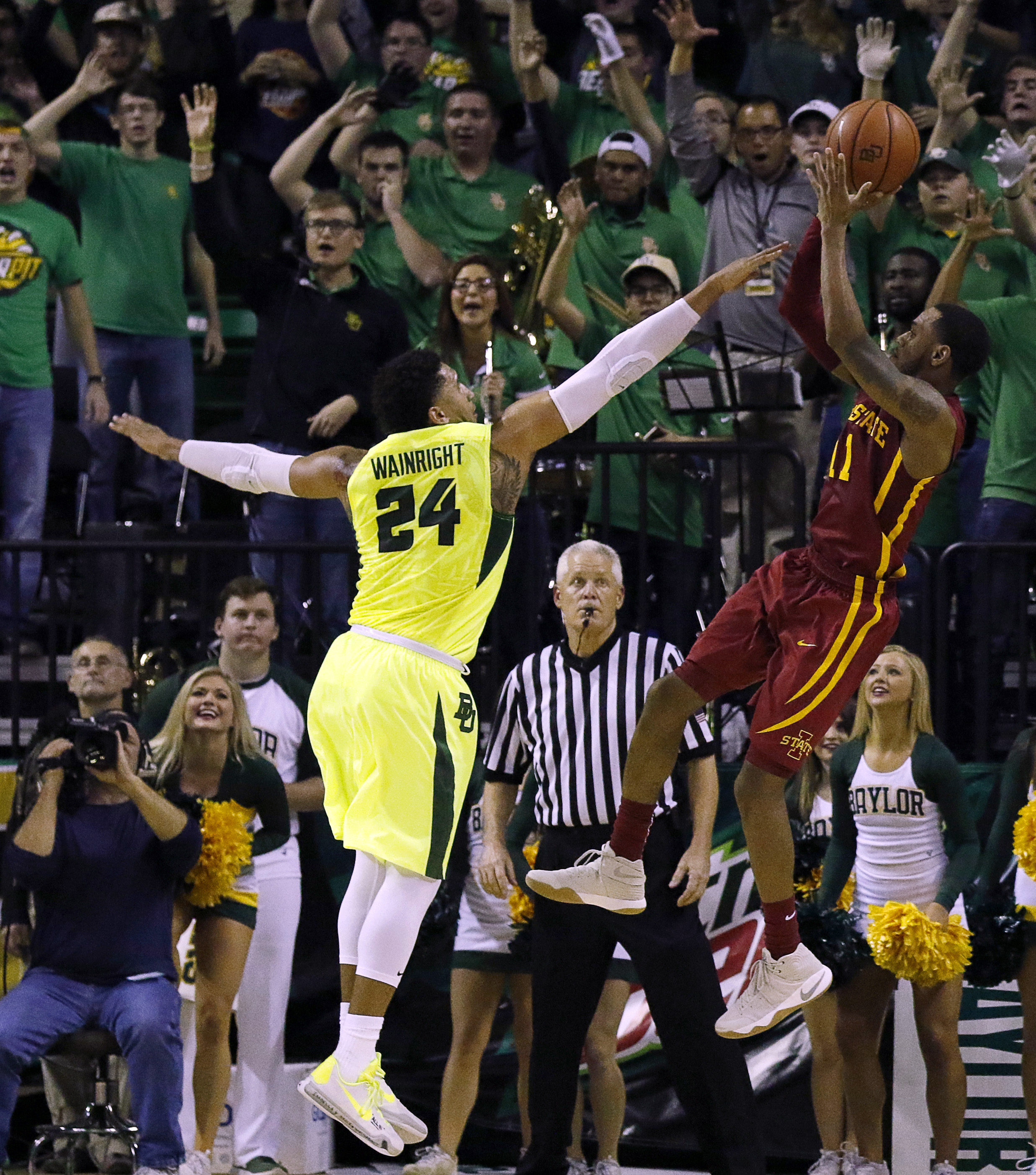 The matchup
I believe that it trends well for the Cyclones for a couple of reasons.
There's the Solomon Young factor. He only played 12 minutes in the first meeting. The three "fives" for Iowa State combined for five rebounds in that contest, all courtesy of Darrell Bowie. Essentially, Iowa State had next to nothing when it comes to frontcourt presence.
Also, according to Monte Morris, the Cyclones played a "C" game in Waco, where the Bears ultimately won on a last second shot by a 65-63 final.
"I shot like 4-of-18," Morris said. "I missed a lot of shots that I normally make and we still had a chance to win. That's a plus for us. Hopefully we can make more shots than them and make some shots."
Iowa State hit 10 threes in that game compared to three for the Bears. Baylor out-manned Iowa State on the glass 47-to-28.
According to Prohm, this is a totally different Iowa State team.
"When you go through the second half of the season and you dissect these games from prior, man we were bad," Prohm said. "But that's part of the process of building a team and coaching and guys understanding their roles."
More free throws
Over the last two years, Iowa State has been one of the worst programs in the country when it comes to getting to the free throw line. During this second half of the Big 12 season resurgence though, it seems to be getting better though.
On the season, the Cyclones are ranked 319th nationally with 16.9 free throws per game. Over the last three games, that number has surged to 24.0 free throw attempts per.
"For a while we were getting to the line eight to 10 times," Prohm said. "That's kind of unusual. I want a team that is going to get to the line and shoot more than their opponents. That's something that had been a weakness and is slowly becoming a strength."
The combination of Matt Thomas, Morris and Naz Mitrou-Long is shooting 82 percent from the free throw line on the season.
A different Deonte
Steve Prohm seemed rather encouraged about Deonte Burton's 0-for-6 performance against Texas Tech during his Thursday media session.
"The best thing about Deonte is that even though he had two points against Texas Tech, he was awesome on the bench," Prohm said. "He was awesome after the game. He has been a lot more under control. His decision making has been good. I expect him to play well on Saturday."
Burton noted that he has matured since arriving to Iowa State a little over two years ago.
"I'm not down on myself (after I miss shots), Burton said. "I am still engaged. I still cheer on my teammates. When I first got to college, if I wasn't having a good scoring day I hung my head. Now I have heard that there will be ups and downs."
The emergence of Solomon Young has helped Burton too, who said he is feeling less pressure to produce in the frontcourt.