AMES — For the amount of points that were scored, Iowa State's (11-1)104-84 victory over lowly Coppin (2-13) State on Wednesday night was an utter snoozer.
That's a good thing though.
This game represented exactly what is supposed to happen when the No. 11 team in the country hosts a two-win team from the MEAC in its final non-conference game of the season (Texas A&M in late January doesn't count).
For an Iowa State team that has a history of lacking passion when less than stellar opponents come to town, this was no lackluster performance. It was far from perfect, but nothing like when the Cyclones half-heartedly limped past a bad Arkansas-Pine Bluff team on Dec. 13 by a 78-64 final. 
"I thought our starters had good focus," head coach Steve Prohm said after the game. "I thought for the first 17 minutes of the first half defensively that we were pretty good. I think we gave up 20 points in the first 17 minutes and with the pace we want to play offensively, that's pretty good. We started the second half the right way. I was pleased with that."
The Cyclones jumped out to an early 10-0 lead and essentially suffocated the undermanned Eagles for 30 minutes. Giving up 84 points and an eye-popping 17 3-pointers is less than ideal, but a lot of Coppin State's second half threes came during garbage time when Prohm was obviously messing around with this bench.   
"This team really shoots about 29 percent from three," Prohm said. "The other night at Creighton and here, they made a bunch of threes. That's something we've got to get better at but a lot of the starts with offensive rebounding and we have to get better in some of those areas, but I was pleased with how they guarded tonight."
Is Prohm concerned though that the 315th best 3-point shooting team in America buried 17 of them in Hilton Coliseum?
"I wish our defensive 3-point field goal percentage was better," Prohm said. "I think I know a lot of reasons why they got some of those threes. Some of them were deep and they were just playing super free and down and taking shots. It's something that we have to have as a point of emphasis come Saturday, I know that. If we give up 17 out of 30 down there we aren't going to win the game, unless we go 18 of 30."
Besides that, the Cyclones were for the most part sharp three days before tipping off the Big 12 season at No. 3 Oklahoma (11-0) (Saturday at 6 p.m. on ESPN2). You didn't see much showy razzle-dazzle offensively. It was a businesslike performance.
The biggest positive was Abdel Nader's 21-point game. The senior recently struggled in games against Iowa and UNI. He rebounded nicely and hit a game winning 3-pointer last week at Cincinnati, but Nader has been streaky during his year and a half as a Cyclone.
"I think he did go through a little stretch here and had a couple of games when he was just ok, but I think his effort has been consistent in practice," Prohm said. "I think him making that shot if he was lacking any confidence, he knows we have a ton of confidence in him and to come back tonight and have 21 was big. He's been great for us and he really has to be as good defensively for us as he has been offensively this weekend. That's going to be a big key." 
Six Cyclones finished the game in double figures, including a quiet 17-point performance by Deonte Burton in his third game of eligibility.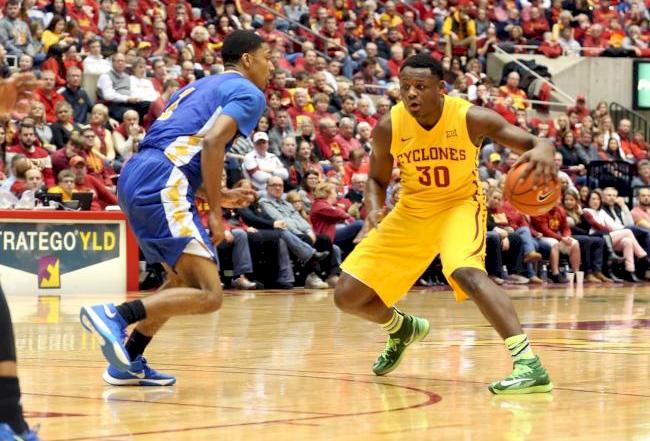 Monte Morris had 10 assists at halftime (he finished with 11) and tied Jeff Hornacek and Will Blaylock to become the second-fastest Cyclone (behind Jamaal Tinsley, 68 games) in history to reach 400 dimes in his career (82 games). 
In front of a sold out crowd of 14,384, the Cyclones led by 16 at the half and Prohm's reserves actually played significant minutes for the first time all year. Freshman Simeon Carter and junior Jordan Ashton were the first non-regular Cyclones off of the bench.  
Prohm's postgame analysis of Carter, who had four points in 10 minutes, went like this:
"I was pleased with their effort," Prohm said. "Simeon is young. What I'm more concerned with him out there is if he is fundamentally sound. Is he closing out the right way? Is he guarding the dribble? Is he guarding the post the right way? Not if he can finish a play in transition. Guys at this level to step in, I think if you can play defensively, you have an opportunity to play early unless you are a guard where you can make plays. Defensively for him is where he is always going to be judged." 
Ashton also played 10 minutes and scored two points.
Up next is a national championship caliber Oklahoma team. 
Hey Georges Niang, are you guys ready for league play?
"I'm ready to go, man," the charismatic senior said. "Let's bring on the new year. No questions asked."