DES MOINES — It has been years since I've sat down to watch a regular season NBA game in its entirety. On Friday afternoon, I set my DVR and planned to put my daughter to bed early so I could kick back, drink a beer and watch the #HoiBulls take on the Pistons. (This is what a riveting Friday night looks like for a 31-year old dad in the suburbs of Des Moines, Iowa.)
Five hours, four overtimes, six Busch Lights and a disheartening Fred Hoiberg press conference later, the Bulls lost in painful fashion. 
"How's Fred doing?" my wife, who could not care less about the NBA, asked me as we went to bed.
"Not good," I said.
During his postgame presser, Fred looked like me, painfully slouched over a cart while watching my wife shop at the local Hobby Lobby.
It was uncomfortable. 
Iowa State's former head coach has a system – a system that we all know well – that is predicated off of sharing the basketball. So far (it is still early) during his rookie campaign in the Association, a group of selfish professionals have refused to buy into this system. 
Iowa State's (9-1) 81-79 loss to UNI (7-3) in the Big 4 Classic on Saturday reminded me a lot of the Bulls on Friday night. In front of a sold out Wells Fargo Arena, Iowa State was a disaster defensively and dished out a measly 13 assists on 32 field goals. 
Woof.
It was frustrating for No. 5 Iowa State considering the Cyclones outperformed Ben Jacobson's giant slaying UNI team (remember that the Panthers beat then No. 1 ranked North Carolina in November) in virtually every statistic of the box score other than two: the final number and 3-point shooting.
Led by a scorching hot Paul Jesperson (7-of-9 from long range), UNI made 13-of-22 threes in the win. The Cyclones went 3-of-17. 
Ball game. 
"Defensively in the first half, our ball screen coverage wasn't good," head coach Steve Prohm said. "We did a better job in the second half and held them to 35 points and put ourselves in a position to win. The 3-point line really hurt us."
Heading into the game, Iowa State's scouting report on UNI was quite simple.
"Don't let Wes Washpun get into the paint."
In return, that would collapse the defense and free up the efficient 3-point shooters who wear purple.  
Seven of Washpun's 11 assists resulted in Panther 3-pointers. 
This was not Monte Morris' best game in an Iowa State uniform. 
Washpun consistently had his way with Morris (who was unavailable to the media after the game and struggled by going 3-of-10 on the night) and scored 28 points while dishing out an essential 11 assists. 
"Obviously we can't have a team shoot 58 percent from the field and expect to win," Georges Niang, who led Iowa State with 30 points, said. "Obviously there are some things that we have to correct."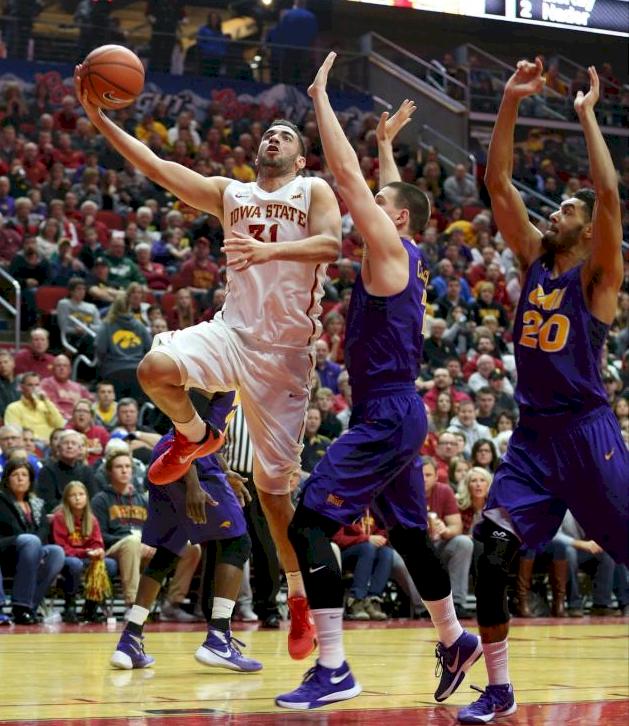 The biggest correction that needs to be made: Dating back years now, for some reason this program has consistently dug itself itself into significant holes early in basketball games. UNI was up double digits in the first half. This is just over a week after Iowa led by 20 with 16 minutes to in inside of Hilton Coliseum. 
"We do it to ourselves," Niang said. "We are looking to improve and Coach is helping us to improve every game." 
Give credit where it is due.
Possession after possession, the Panthers just kept hitting shots. It is no secret to anybody that Iowa State's best offense is in transition.
Those pesky Panthers have now beaten Iowa State in six of eight in this series.     
Defensively, this group of Cyclones has never been great and it probably never will be.
It's that 13 assists on 32 field goals stat that bothers me so much.
Up next for the Cyclones is a good Cincinnati team (10-2) on Tuesday (6 p.m. on ESPN2).
"We can't be in peaks and valleys after one game," Prohm said. "That's just my philosophy. That's always been my philosophy."
That is a solid philosophy indeed and an important one considering Iowa State will likely be an underdog in two of its next three games. 
A road win at Cincinnati would go a long way in helping everybody forget this stinker.