AMES — Depending on which "bracketologist" you talk to, Iowa State's 70-66 Big 12 Tournament championship victory over Kansas was enough to push the Cyclones to the 2-line in this week's NCAA Tournament.
That's what Jerry Palm from CBS believes. Palm has Iowa State playing as the 2-seed in Omaha against – wait for it – Kentucky, should both programs be fortunate enough to advance to the Elite Eight.
However, ESPN's Joe Lunardi sill has Iowa State as 3-seed playing in Louisville. 
I'm no bracket expert – and perhaps I'm subjectively hoping Iowa State stays away from the unbeaten Wildcats – but gun to my head, I'd side with Lunardi right now. 
Do I think Iowa State is a better basketball team right now than Kansas? Absolutely. But on paper, the Jayhawks still boast an RPI of No. 3 while Iowa State sits at ninth. However, the Cyclones went 13-5 against RPI top 50 teams this season while the Jayhawks went 12-7. 
It will all come down to what pieces of the puzzle that the committee values more. 
Stay tuned.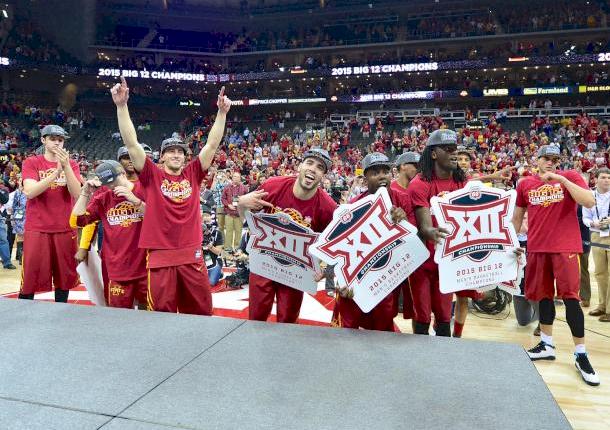 CYCLONE BASKETBALL JOTTINGS
***Monte Morris played 110 minutes in the Big 12 Tournament. Monte Morris did not commit a turnover. That's not bad for a second-teamer. 
*** With all due respect to Iowa State's upcoming NCAA Tournament opponents, I have a hard time believing that the Cyclones will face a tougher three-game stretch than what they just fought off in the Big 12 Tournament. Of course, should Iowa State get deep into the "Big Dance," that would obviously change.
*** Five double-digit comebacks in a row…It's incredible. The players deserve credit for their wherewithal and grit but how about giving Fred Hoiberg a little love? One or two comebacks is one thing, but five in a row? There are some serious adjustments being made in Iowa State's halftime locker room. Today's tip of the hat goes to "The Mayor."
*** Three weeks ago, a good chunk of Iowa State's fan base had given up on Bryce Dejean-Jones. On Selection Sunday, Iowa State would not be Big 12 Tournament champions without Bryce Dejean-Jones. It is a good thing that "BDJ" never quit on the Cyclones. 
*** According to my pal Austin Narber on Twitter, Iowa State has outscored its last five opponents by 78 points in the second half. Wow. 
LOTS OF LINKS…(because I know you can't get enough Clone today)
*** This Iowa State team is capable of "damn near anything," writes Brian Hamilton of Sports Illustrated.
*** There's no atmosphere better than the Big 12 Tournament. Also Iowa State is the best team in America's best conference, per Dennis Dodd. 
*** Iowa State calmly wins frenetic Big 12 title, writes ESPN's Dana O'Neil. 
*** This morning's front page of ESPN.com looked like this.