Proudly landscaping Central Iowa since 1981, Country Landscapes has provided the ultimate in custom landscaping with innovative design and quality installation. Their locations in central, eastern, and northern Iowa serve Ames, Ankeny, Des Moines, Iowa City, Cedar Rapids, Clear Lake, Mason City, Marshalltown, and the surrounding communities. Their staff is local to you and loves to landscape–let them help you with all your landscaping needs!

KANSAS CITY — Iowa State star forward and recently-crowned Big 12 Tournament MVP Georges Niang shook his head vehemently. 
 These five straight nerve-rattling comeback wins — the latest of which toppled No. 9 Kansas 70-66 for a second-straight conference tournament title Saturday at the Sprint Center?
 They still form the No. 13 Cyclones' "emergency plan."
They haven't morphed into a blueprint. 
 Honest.
 "No," Niang said with more vigorous head shakes. "Don't say that. Do not say that. This is our emergency plan and sometimes when you go on vacation you've got to use your emergency plan. So that's what we'll say this is."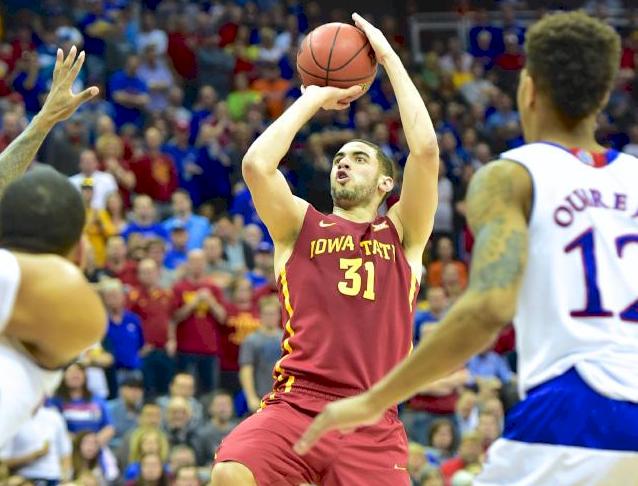 Fair enough.
 But as wispy, colorful streams of paper littered the court after ISU completed a march back from 17 points down in the second half, it's hard not to think these revival shows are part of who the Cyclones are. It's in their DNA; mutations that allow them to absorb and counteract the best shots from the likes of talented Texas, No. 17 Oklahoma, and the 11-time defending regular season champion Jayhawks. 
 "It's stressful," said ISU coach Fred Hoiberg, whose team trailed the Sooners by 21 points and the Longhorns by 16 in previous tournament thrillers. "But to find a way to climb back, shoot, you get proud of them.Then you see what they're capable of when they're going on that run and then you start feeling good about it once you take the damn lead. But sometimes it takes a little bit too long to get that. But to answer your question in one word, I guess it's 'stressful.'"
 Clutch, too.
 In Saturday's edition of the Cyclones' nerve-testing chronicles, Kansas (26-8) flexed its muscles while building a 37-23 halftime lead that ballooned to 40-23 after Frank Mason III drained three three throws.
 Then, ISU (25-8) attacked. Jameel McKay broke free for a dunk and snared a steal that resulted in his layup. Niang drove and scored next — just 36 seconds later.
 Jayhawks coach Bill Self had seen enough. He formed a 'T' with his hands, forced to regroup almost two minutes before the possibility of a media timeout.
 McKay nodded his head. It was happening again.
"Let's make them call a timeout before the first media," McKay, who had 11 points, eight rebounds and two steals. "And we did that today. If you make them call a timeout before the first media, let's say you outscore them by five, now you've got another two and a half minutes to outscore them by another five and you won four minutes. You're in a pretty good situation."
 McKay's game-within-a-game strategy continued to reap dividends. A Dustin Hogue steal led to another McKay dunk.
 Two Mason free throws interrupted the outburst, but Niang calmly renewed the runaway surge with a 3-pointer, fellow all-tournament tam member Monté Morris added a pair from the stripe and McKay's steal preceded Naz Long's driving layup that cut the Kansas lead to 42-40.
 All of the above happened in a brief, yet seismic span of 4:31.
 Game on. Deficit exploded. Confidence rising.
 ""It's like an adrenaline rush," said Long, who hit the win-sealing free throws with 2.9 seconds left. "It's a complete adrenaline rush to see the score just continuously (fall) downwards. It's something you can't really describe. You just see it happening and you keep looking left and right, you see Georges get a bucket, you see Abdel (Nader) get a bucket, Bryce (Dejean-Jones), Monté, Jameel and everybody else contributing — what more could you ask for out of a team?"
 McKay answered that question.
 Even though Niang scored a team-leading 19 points, Morris capped a turnover-free tournament with six assists and Nader and Dejean-Jones pierced the Kansas defense at the rim with ease as the tension rose in the closing minutes, the best is yet to come.
 Honest.
 "If you look at this past weekend, I don't know the exact amount of points we've been down, but it just shows you that we can really be good," McKay said. "We have yet to put together a complete 40-minute game, sadly to say, and this is late in the season, but we're winning games right now in spurts. Just wait until we put together a full 40 minutes. It's going to happen."
 That's a forecast anyone can get behind without reservations as the NCAA Tournament and a top-three seed swings into view.
 As for the proclivity for comebacks …
 "We ain't trying to do it," emphasized Morris, who has doled out 17 assists without a turnover in the past four games. "Teams are just coming out on us tough. The chips fall where they always fall and we've always got to come back. But I hope learn from this. We're playing good in stretches — 12 minutes here, 10 minutes there, but that ain't going to cut it in the tournament."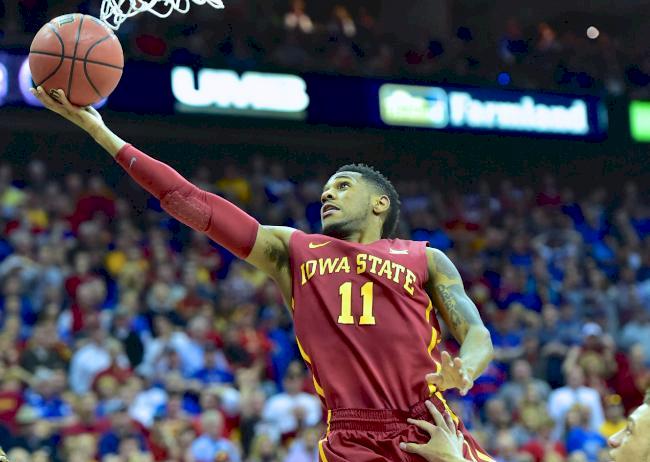 It led to consecutive net-cuttings in the Jayhawks' backyard, though, and a first-ever feat for the Cyclones. 
 ISU had played in back-to-back conference tournament championship games in 1995 and 1996, but it had never won two in a row.
 That's done. Now on to the next. One frayed nerve, raised eyebrow and deep breath at a time.
 "I keep going back to this: When I was on my visit here, just talking to Georges, we kept talking about how we wanted to do something for the school that hasn't been done before," Long said. "And to win back-to-back Big 12 championships, coach Fred said that hasn't been done before, so that leaves our mark. Twenty years from now, we're going to be able to look back at this and just be like, 'Wow, we really did this.' It's a special moment in our lives."