AMES — It has become a bit of a punch line over the years.
Iowa State fans love to storm the court after big wins. Or, they have, at least.
Following an 86-81 win over No. 9 Kansas in a raucous Hilton Coliseum Saturday night, there was no court storming to be done. That's a thing of the past at Iowa State. 
In addition to the men within the program itself, every person donning cardinal and gold who bought a ticket to the big game fully expected the 11th ranked Cyclones to beat up on the 10-time defending Big 12 champions, which is exactly what happened. 
This was no fluke either. The better team won.  
It's important to note that a fan base that for decades has waited for the inevitable and painful boot to connect to its proverbial groin (and who can blame them?) now fully expects to win – regardless of what name is on the opposition's jersey. 
The Cyclones are 40-2 in Hilton Coliseum over the past three seasons, if you're keeping track at home.
It's been trending this way for a while, but the culture has finally changed around here. And the win that launched Iowa State into a tie for first place in the Big 12's standings was only the cherry on top of what was a remarkable day for Hoiberg's basketball program. 
It all began at 8 a.m., when Hilton Coliseum was filled with 7,000 Fanatics who turned out for ESPN's College GameDay. The historic arena was bananas at an early hour. Of course, that atmosphere carried over to the game. 
"Before the game, I couldn't even hear," Hoiberg said. "It was literally hurting my ears in that game." 
Kansas coach Bill Self said that the atmosphere made the Jayhawks play faster than normal – in a not so good way.
Naz Long, Iowa State's sharpshooter who has now made eight of his last 11 3-point attempts and led the way with 20, wholeheartedly agreed.
"That's why I came here," Long said of the deafening crowd. "Coach told me from day one that this is the best place to play at just because of the fans. We wouldn't do half of the things that we do at home without them."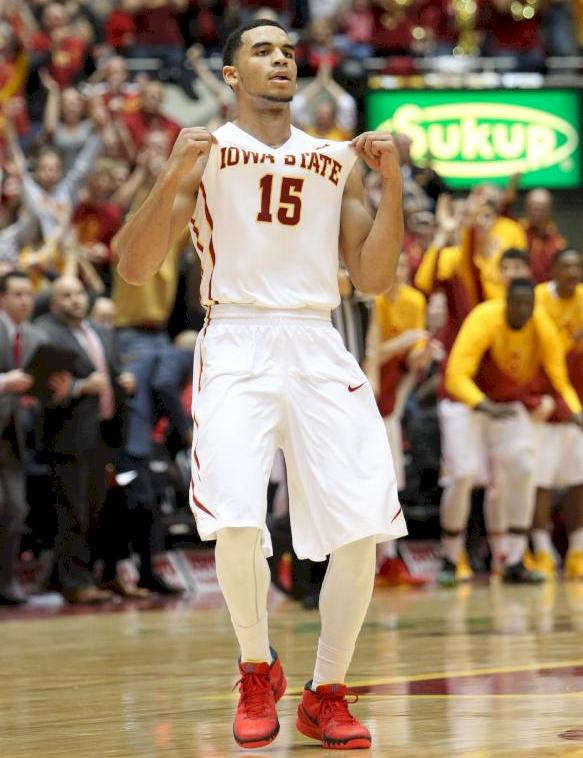 This wasn't just an Iowa State victory over what appears to be a slightly watered-down Kansas team though. Because of the historic buildup (GameDay had never been to Ames) that was happening around it, this was different. On the grandest stage of them all, from top to bottom, Iowa State not only showed up but it finished the job.
"I told those guys how much they deserve getting a GameDay to Iowa State because of what they have done to help put Iowa State basketball on the map," Hoiberg said. "That's a credit to what has happened to this program in the last couple of years. That's all due to the players." 
GameDay being in town was a fine line for Hoiberg to walk was a coach. He wanted his players to enjoy the once in a lifetime experience but at the same time, there was a basketball game that had to be played – an insanely important one too.
Hoiberg ultimately decided to not allow his players to attend the morning GameDay festivities. Instead, the guys watched the program on television, had breakfast and hung out as a team at the practice facility. The move paid off.
"The guys were so focused," Hoiberg said. "There was absolutely no nonsense going on. It was all about business and that stuff carries over. It carried over to our game."
Up next for the Cyclones is a less sexy, but equally important basketball game on Tuesday (6 p.m. on ESPN2) when Kansas State comes to town. The Wildcats beat Baylor (63-61) on Saturday and are currently 4-1 in the Big 12 and sitting at the top of the league's standings.
Jay Bilas and Rece Davis won't be in Ames on Tuesday but according to The Mayor, the best fan base in America most certainly will.
"Some fans show up for big games, our fans show up for every game," Hoiberg said.