AMES — Iowa State big man Jameel McKay's been urging Monte Morris to throw caution to the wind.
 Easy for the big man to say — he's not the one with the NCAA single-season record in assist-to-turnover ratio.
 "Jameel gets on me sometimes for just not throwing it up in the air when I think it's a bad pass," said Morris, who finally gave in to McKay's pleas in a rim-rattling way in Saturday night's 86-81 win over Kansas. "He still gets on me, 'Put it up there. I'm going to get it.' Today was his test. He passed it with an A-plus. You all should see more of that."
 More alley-oop dunks — like the one Morris set McKay up for that ignited a 16-4 second-half run that allowed the No. 11 Cyclones (13-3, 3-1 Big 12) to open up a 14-point lead on the ninth-ranked Jayhawks (14-3, 3-1)?
 More one-handed flushes and transition layups, like the two that immediately followed that spurt-starting alley-oop?
 "He can really run," Kansas coach Bill Self said. "More than anything else, he really ran."
 McKay might still be running. The breakneck pace he set made it clear the Big 12 race is truly wide open — and the Jayhawks' streak of 10 straight outright or shared regular season titles could really be in jeopardy. 
 "I feel like I brought a lot of energy in making those plays," said McKay, who finished with 11 points and two blocks in 21 minutes. "But I give credit to my teammates who found me."
 Credit could be aptly spread across the Cyclones' entire rotation. Once McKay's dunks had further exposed Kansas in transition, those coveted open shots came in bunches. Georges Niang drained a 3-pointer after Bryce Dejean-Jones drove and drew in defenders. Naz Long struck from long range and drove for a fastbreak layup.
 Boom. Boom. And boom.
 "Jameel was really that guy who kind of sparked it for us," said Long, who scored a team-high 20 points, including 16 in the second half. 
 A 55-53 edge ballooned to a 71-57 cushion. The Jayhawks — the only team to beat ISU at Hilton in the past two seasons — pulled within three down the stretch, but could never fully recover.
 "Coach (Fred Hoiberg) just rallied us together and just let us know, 'Look, we have what it takes,'" Long said. "'We have them on the ropes and we can do anything we want to do as long as we keep playing hard and sticking to our offensive sets.' We just listened to him."
 Six Cyclones scored in double figures. Niang finished with 15 points, with 10 coming in the second half. Dustin Hogue scored 14 points while grabbing six rebounds. Dejean-Jones went for 12 and seven. Morris posted a double-double with 11 points and 10 assists to go with seven boards. Only two turnovers, too — so he still leads the nation in assist-to-turnover ratio at 5.5 to one.
 "Monte made some unbelievable passes to get (McKay) dunks," Hoiberg said. "It was makes and misses. We wanted to get that thing out quick and get that first look down the floor."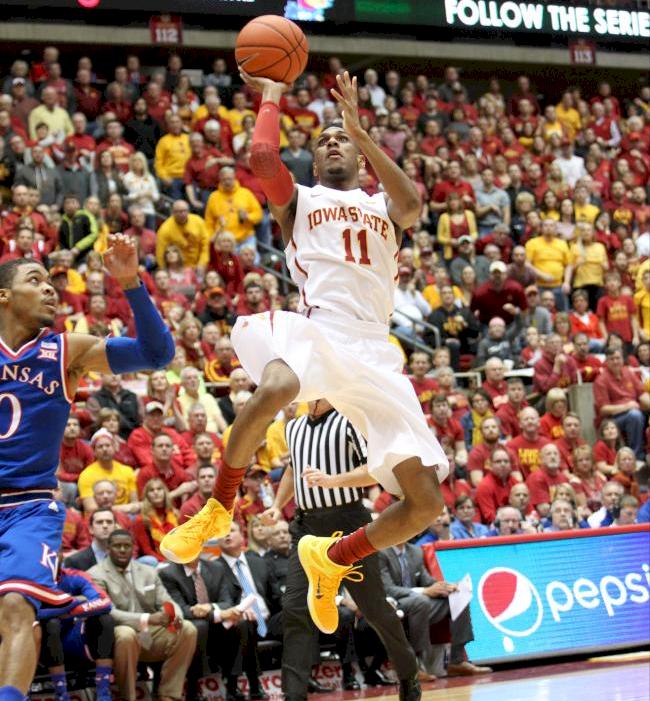 Hoiberg called his team's transition offense "exceptional." The stats bore that out. ISU outscored Kansas 21-10 in fast-break points, which offset a 15 to five beating on the offensive glass.
 "We knew Kansas doesn't really get back good in transition," Morris said. "For example, they made a bucket and they threw it up to me and I got an and one at the other end. We just tried to play with pace all night. That was the biggest adjustment we made at halftime because we were walking the ball up and I put a lot of that on myself. We knew when we got stops we'd just try to run on them."
 McKay ran fastest. He re-entered the game shortly after Hogue drew his third foul and sparked that run.
 "To see Jameel come alive on the offensive and defensive end is big time," Hogue said. "Having three fouls, you have to be the biggest cheerleader on the bench and to be able to cheer for your team because everybody's doing good, it's just a good experience. And to hold off a good Kansas team at home like that was definitely a good feeling for all of us, too."
 Not all ended up good, though. 
 ISU went 10 of 18 form the free throw line in the second half. The Cyclones went 4-for-8 from the stripe as the Jayhawks used a 17-8 run to pull within 82-79 with just under 30 seconds left.
 But the outcome never seemed in doubt. McKay and Morris — roommates and teammates — saw to that.
 Now suddenly surging Kansas State (11-7, 4-1) looms on what's sure to be a big Tuesday. The hype won't be as intense, but the competition will be.
 "We had to win this game," Hoiberg said. "We absolutely had to. It's so hard to win in (Allen Fieldhouse) so we had to protect our home court. We've played four games in the Big 12 and tonight we doubled our widest margin (of victory) and we won by five. So that shows you every night how much of a battle it's going to be."