After Iowa State's 96-59 laugher over Lamar on Tuesday night, Bryce Dejean-Jones said something during the postgame press conference that really stood out in reference to his 12 point, 10 rebound and eight assist effort.
This is what he had to say about rebounding the basketball: "I've become accustomed to doing it and I've kind of started liking it, getting in there and trying to get that rebound."
Dejean-Jones, who astonishingly had never recorded a double-double in his career before coming to Iowa State, has two of them through the first five games of the season. The 6-foot-5 Dejean-Jones is currently leading Iowa State in rebounding at 7.8 per game.
The day that he stepped foot on campus, this is the area of Dejean-Jones' game that Fred Hoiberg stressed had to improved.
"I told him I would come out here and give it my all rebounding," Dejean-Jones said.  
Message received.
This is a guy who one year ago averaged only 3.7 rebounds per game at UNLV.
"I told him before the year that is embarrassing," Hoiberg said in reference to Dejean-Jones' rebounding average as a junior "He has to double that for us to have a good year."
BDJis 21 points away from scoring 1,000 in his college career and so far, so good for the former problem child out of Las Vegas.
Custer needs minutes
Twice during his postgame press conference, Hoiberg mentioned wanting true freshman point guard Clayton Custer to get more playing time.
"We are going to need Clayton Custer this year," Hoiberg said. "I wanted to get him out there in the first half. I wanted to play him down in Kansas City but I just went by feel and wasn't able to get him out there but he has been coming on strong in practice."
Custer was diagnosed with mono shortly before the season began. As a true freshman point guard, there is already a lot of work to do. The mono didn't help. 
"He is getting back to where he was before he got the mono," Hoiberg said. "I thought besides a couple of jitters early that he played a good floor game."
Custer scored the first points of his career (five) in 13 minutes on Tuesday.
Why the hurry to push to get Custer to be ready for the Big 12? All you have to do is watch Iowa State's offense against Maryland when Monte Morris was out of the game. Clayton Custer doesn't have to be Monte Morris from a year ago, but Iowa State needs a true backup point guard who isn't a liability for 10 minutes a night.
"I am going to do whatever he (Hoiberg) wants me to do," Custer said after the game. "I think that I can contribute to this team. I think I am good enough to do that. We have a lot of really good players and I understand that. Whatever he wants me to do, I am going to do it."
In addition to the mono, Custer is going through what many freshmen around the country experience. He's gone from being the best player on the best team in his state to a reserve who is scratching and clawing for minutes. That's a tough transition for anyone to make.
"It's hard to adjust obviously because I am used to being on the floor a lot but that's how everyone on this team is," Custer said. "Everyone who comes to a place like this was the man at their high school. It's a learning curve. It's harder than you would think to come off of the bench. It's harder than it looks so I am trying to get used to that and I have to be ready to go when I get in."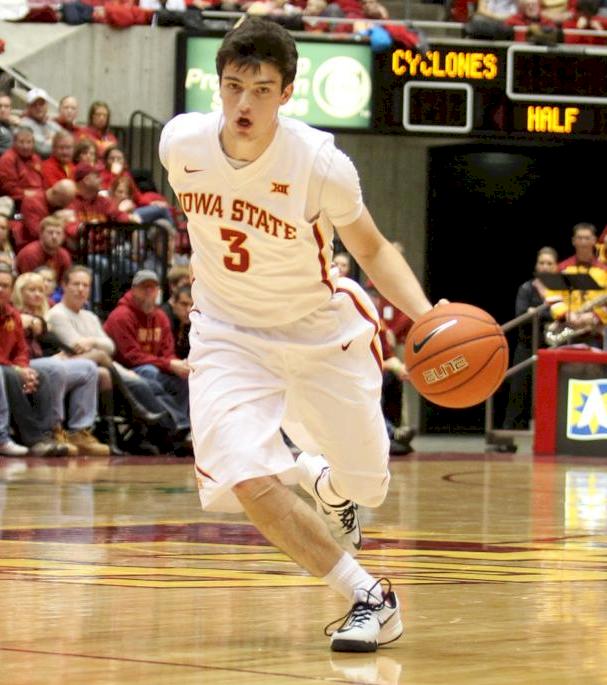 MORE HOOPS JOTTINGS…
A DIFFERENT GUY: Sophomore Matt Thomas quietly led Iowa State in scoring Tuesday night with 14 in 20 minutes of play. Even in the loss to Maryland, if you watch him closely, Thomas is so much more confident in every aspect of the game than he was a year ago at this time.
"It's great to see Matt not hesitate out there and go out and shoot the ball with confidence," Hoiberg said. "He is a guy who on a break while we are getting pressed can hopefully knock down some shots to relieve a little bit of that pressure."
LOOKS LIKE THOMAS A YEAR AGO: Junior Abdel Nader looks like he is playing at a speed one notch below everybody else on the floor – kind of like Thomas a year ago. Through three games, Nader is averaging 4.0 points and 1.7 rebounds per. The potential is there but he looks awfully rusty early on. 
HOGUE: Through five games, perhaps the most surprising stat of the season so far is Dustin Hogue's rebound average of 3.2 per game. As a junior last season, Hogue was the Big 12's second best rebounder at 8.4 per game. 
CAREER-HIGH: Fan favorite Daniel Edozie scored a career-high 10 points on Tuesday night vs. Lamar. That was Edozie's second game in a row in which he recorded a career-high too.
ARKANSAS: Iowa State is currently a 7.5-point favorite for Thursday's 8 p.m. tip against the unbeaten and 18th ranked Arkansas Razorbacks. 
"Their system is the fastest 40 minutes in basketball and Mike (Anderson) has done a really nice job of getting guys in that system who fit it well," Hoiberg said. "They are shooting the heck out of the ball. They are shooting over 45 percent from the 3-point line including their five-man, (Bobby) Portis. They have two guys who can potentially be lottery picks and all of their guys are on a roll right now."