The loss to Maryland was just one game in November while Iowa State is still trying to put the pieces together to form a new team and is far from the point of what should put the fan base or anyone else on full tilt. That said, it has certainly enhanced the importance of this game with a trip to Iowa right around the corner. Going 0-3 against Maryland, Arkansas and at Iowa would be a very tough pill to swallow.
Who could've guessed this to be a top 20 showdown with Arkansas prior to the season? It is just the third top 25 showdown in ISU history at home in a non-conference game (the other two were against Iowa in 2013 and 1987). I was at least a little bit surprised over that.
Arkansas has stormed onto the scene this year starting 6-0 with their "fastest 40 minutes of basketball", an adaptation of "40 minutes of hell" that was a staple of Mike Anderson's mentor, Nolan Richardson. I'm not sure on the differences in semantics there, but basically they press and run and play pretty aggressively at both ends.
We've seen Mike Anderson coached teams plenty with his five year run at Missouri from 2006-2011. It was a sad stretch of basketball for the Cyclones and they only beat Anderson twice in that stretch of 10 games played but just two of those games were under the watch of Fred Hoiberg and those came in his first season.
The most impressive win thus far for the Razorbacks came in a 78-72 victory at SMU. They also pulled away from Iona at home this past Sunday in a fast paced game to win by 17. Their other four victories were decisive over lesser competition, most notably beating Wake Forest by 30 in Fayetteville.
Per KenPom.com Arkansas sports the 19th best scoring efficiency on offense and the 50th best on defense while playing at the ninth fastest adjusted tempo. Those scoring metrics along with their playing style are very impressive when you consider how chaotic, loose, and sloppy things can get when the game is sped up to that extent.
They try to speed up the game with their defense and have some success, but a lot of the quick pace comes from their offensive possessions lasting an average of just 14.8 seconds. That is fast, but for a frame of reference the Cyclones average possession lasts just 14.3 seconds (2nd fastest in the NCAA).
Looking deeper at Arkansas reveals that much of their scoring success comes from drilling their 3-pointers at a rate of 46.1 percent (2nd in NCAA) and they also rarely lose possessions to turnovers with the 16th best turnover percentage of 15.3 percent. That is all while creating extra chances with an offensive rebounding rate of 38.3 percent (42nd). An important note on those impressive stats is that the teams that they have faced are almost across the board struggling defensively in those exact same areas (except for Wake Forest who is the best defensive rebounding team in the country).
Arkansas will get shots off quickly and when they do, defenses are often still out of place or in the process of organizing. That is why I believe that have excelled so much on the offensive glass. Defensively, Iowa State will have to set up quickly and get back but they'll have to be organized and in position to contest shots and clean up any Razorback misses to avoid giving second chances to Arkansas on offense.
The 3-point shooting for Arkansas should be the biggest concern for the Cyclones defensively. Arkansas doesn't launch a high volume of threes with just 28.8 percent of their field goal attempts being three-balls (288th most) but the Cyclone defense tends to give up more attempts from three than average with 36.9 percent of field goals coming from distance (248th most) and 34.8 percent of opponent points are coming from made three point shots (33rd).
The game may well be won by limiting Arkansas from three but that is done with quick contested closeouts and sharp rotations. Those rotations will be especially crucial as projected first round NBA draft pick Bobby Portis anchors the offense in the middle with his 6'-11" frame. Georges Niang will battle with him but Abdel Nader and Daniel Edozie will also get their chances. No matter whom the primary defender is, there will be double teaming to keep Portis from going off. Below is his shot chart (compliments of nyloncalculus.com) from last season, interestingly not a lot of the damage is done at point blank distances.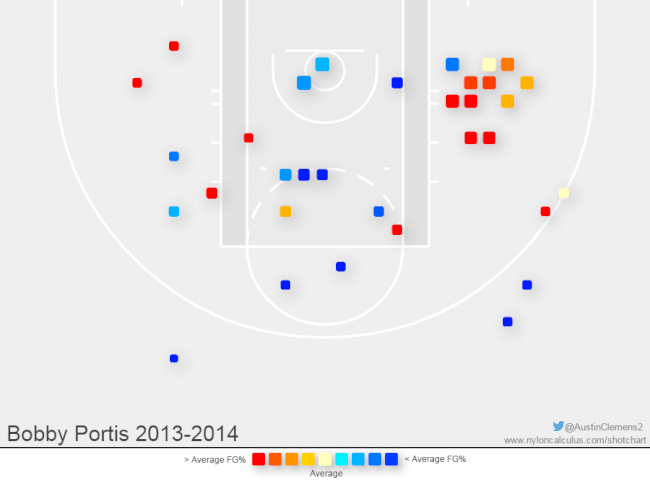 Arkansas has an assist rate of 66 percent (percentage of made field goals that are assisted) which is the 13th best in the country. That would seem to suggest that they move the ball well and pass to find the open man. That only heightens the importance of every ISU defender needing to be urgent and active to rotate and cover up on defense.
When it comes to the 3-point shooters, the main guys to watch are Michael Qualls (12-26 so far this year) and Anthlon Bell (19-39 so far this year). Note that the highest frequency of made shots from them are in the corner on their charts below but they move around and launch from the wings as well.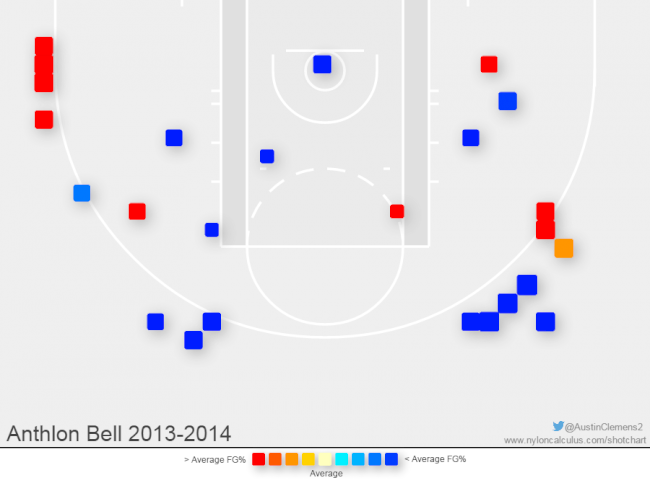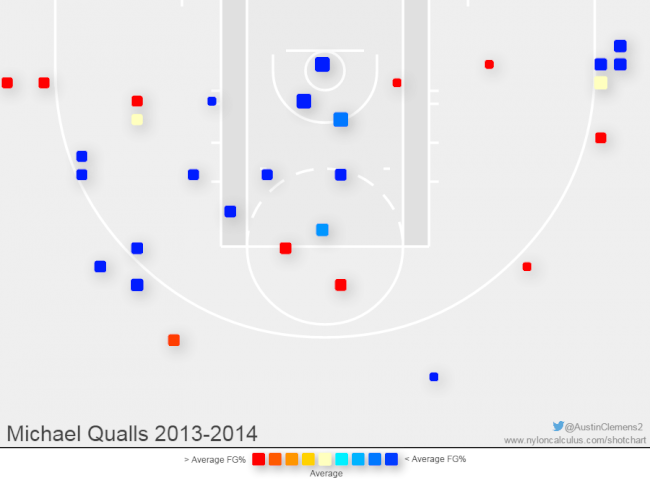 Defensively, Arkansas has a good scoring efficiency but the two biggest reasons for that are the turnovers they create (24.9 percent, 23rd most) and that they have kept opponents off the free throw line. The good news for the Cyclones is that they very rarely turn the ball over with the fifth best turnover rate in the country of 13.9 percent.
From my mock impromptu scouting of Arkansas that consisted of watching their second half against Iona (TWICE!), I think the ISU offense will be able to get almost any look it wants. Arkansas mostly used a lot of full court man pressure but once Iona beat the initial wave they were able to get to the rim and hurt the Arkansas defense. They didn't retreat especially well or cover up and help well enough after Iona broke the press, which they usually did.
The key for ISU after beating it is to exercise just a bit of patience in finding the right way to go with the ball, whether it attacking the rim, hitting a shooter in the corner or on the wing or with the secondary break.
The Iowa State offense is the 17th best adjusted scoring offense in the country, so they are far from struggling but they have hit lulls this year with slow ball movement. Those lulls are exacerbated when the 3-point shots aren't falling. Just as they weren't early against Lamar with the 2-14 start only to make seven of their next 13 attempts. That fed off of the better ball movement but is also a matter of getting the right guys shots from the perimeter. Naz Long and Matt Thomas were both 4-7 on their attempts while Bryce Dejean-Jones, Georges Niang, Monte Morris, and Abdel Nader combined to go 2-16. Sometimes getting shots to fall is as simple as having the right guys take the shots. Niang and Morris have proven to be more than capable and were 1-3 and 0-3 respectively but Dejean-Jones at 1-6 and Nader at 0-4 is the larger issue at hand.
Assuming Iowa State takes care of the ball as they have all year and move the ball while shooting to their averages, they will score a lot of points. It should be a track meet in Ames on Thursday night…and not a 3,200 meter run but more like a 4 x 100 meter relay that only ends when the time is exhausted.
The Cyclones have to move the ball around quickly but also up the court with the pass to beat the pressure and they have to knock down some shots. If Arkansas sticks to playing man defense that will only help Niang to hit his scoring stride. On defense, if the Cyclones can avoid giving up clean looks at the 3-point line and prevent second chance looks for the Razorbacks on offense.
It's a crucial game for the Cyclones to get this train back on the rails against what turned out to be a very strong opponent in a game that is sure to be highly entertaining. It will be high scoring and a bit dicey at times but I think Iowa State will make just enough shots in the home environment to get the win. It is a game where a win over a fellow top 20 team can help to solidify the team and validate that they are indeed a good team and headed in the right direction despite the woes against Maryland.