So, big game on Friday in Iowa City, huh?
The 8-2 Hawkeyes were just outside the latest AP poll coming off of their big road win at North Carolina. That win was just a couple of weeks after losses to Texas at Syracuse at Madison Square Garden that stirred up some concerns among the Hawkeye faithful. Every other result has been a blowout win against an overmatched opponent except for an 11 point victory over Pepperdine on November 24th.
The game has maybe fallen off in importance for Iowa because of that big win at UNC in regards to making the NCAA Tournament and with Northern Iowa now in the rankings who they play next week, but when it comes to Cy-Hawk showdowns there is usually plenty of juice. Especially in the past few years with Fran McCaffery and Fred Hoiberg in charge as both programs have climbed considerably in the past four plus seasons.
The 6-1 Cyclones will arrive in Iowa City toting their AP ranking of 14 and the only loss coming to Maryland in Kansas City on a bottom three shooting performance in the Hoiberg era. Since then, the Cyclones appear to have come together and get back on the tracks to head in the right direction.That is until early Thursday morning whenBryce Dejean-Jones ran into problems that resulted in a one game suspension from his coach.
Iowa State is 6-27 all time in Iowa City but 5-17 since the series resumed in 1970. The largest margin of victory for Iowa State was a 76-63 win in the 1994 game that was Fred Hoiberg's senior season.
When the Hawkeyes have the ball…
Note: Just three weeks into the season these stats are starting to take hold and show what teams are capable of and what their preferences tend to be, however, they are still dependent upon the schedule that has been played so far. For instance, Iowa has a great effective field goal percentage defense but they have yet to play a team inside the top 140 in the country in eFG percentage on offense. Some of the numbers should still be taken somewhat with a grain of salt in instances like that.
All stats per KenPom.com…
While the Hawkeye offense has seemingly been off for much of the season, the efficiency numbers still pan out pretty well for them. An adjusted PPP of 1.06 is the 56th best in the country and nothing to be ashamed of, at all. Their pace of play has dipped a little bit from last season as their games are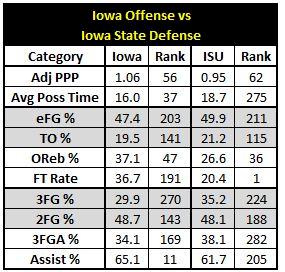 currently averaging 67.9 possessions per 40 minutes (106th in the NCAA). However, that is in no part related to their quick offensive possessions that are an average of just 16 seconds per trip, the 37th shortest.
Their scoring efficiency is pretty good but how they do it is somewhat interesting to me. For starters, their shooting has mostly been below average this season and it shows with an eFG percentage of 47.4. That's 203rd in the country and it is worse when you isolate their 3-point percentage that comes out to 29.9 (270th).
The main fuel to their offense has been by generating extra chances with offensive rebounding by grabbing 37.1 percent of missed shots at their end of the court. Iowa gets to the free throw line at an average rate but they produce some bonus points in that department by making 75 percent of their free throws (32nd).
But, most of their numbers are average aside from the 11th best assist rate. From my few observations that rarely comes from their half court sets and good shooting and far more often from fast break and run out opportunities.
The good news for Iowa State is that they have defensive numbers that appear to match up with Iowa's offense. The typical defensive possession for Iowa State is quite long, which is largely a function of team's deliberately slowing the pace more than the ISU defense making it difficult on offenses to find a shot.
The two most impressive areas of the ISU defense are aligned with Iowa's strength on offense. The Cyclones have the 36th best defensive rebounding percentage and they are the best in the country at keeping opponents off of the free throw line.
That is commonplace in the Fred Hoiberg scheme but one number that is improved so far this season is the turnover rate forced. At 115th in the country it won't knock your socks off but it is more than 130 places better in the rankings than each of the last three seasons.
The loss of Dejean-Jones may be felt the most on the defensive end where he has excelled with jumping in passing lanes, containing his guy, and hitting the glass. He's averaging seven boards per game and his defensive rebound rate is 19.5 percent, which is pretty strong. Someone will definitely have to fill that void on the glass.
When the Cyclones have the ball…
By now you've likely acquainted yourself with the Cyclone offense with all of the headlines and discussion the Cyclone attack has garnered. Iowa State has the 15th best adjusted scoring efficiency in the country at 1.10 points per possession and they are best known for pushing the pace. But currently, the Cyclones are just 50th in the country in possessions per game at 69.8. But that is largely a product of when they don't have the ball because when they do their possessions are the sixth quickest at 14.8 seconds per possession.
How do the Cyclones do it? They shoot the ball better than most with an eFG percentage of 56.8 (17th) and a lot of that is best known with the attack from the 3-point line. In the past season and a half, ISU has sported the most impressive shooting percentage from deep—just 35.7 this year (112th)—but the difference with a Fred Hoiberg offense is the volume of them that they shoot. 41.3 percent of Cyclone field goal attempts are from behind the arc, the 43rd most in the NCAA.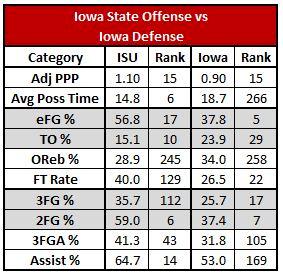 Along with that they have a dynamite shooting percentage from inside the arc at 59.0 percent (6th) that is fueled by shot selection of getting all the way to the rim as much as possible. This year is one of the better years under Hoiberg for getting to the free throw line to further aid in the attack. The Cyclones rarely commit turnovers but they also rarely collect offensive rebounds to create extra chances.
The attack will certainly do a bit of shape-shifting with Dejean-Jones unavailable. I could see either  Daniel Edozie or Matt Thomas filling in, but I'd suspect with Iowa's size and the skill set of Thomas compared to Naz Long that Edozie will be the guy.
The principles will be the same but Iowa State is without one of their two best guys with creating shots when they are most needed as well as a guy that has been drawing fouls left and right while converting at the free throw line. The importance of making shots from the perimeter increased with the Dejean-Jones suspension. But, make no mistake about it, Iowa State still has enough talent to play well offensively and win this game.
Iowa's defensive strength thus far has been to limit shooting percentages and force turnovers all while keeping teams off the line. Their one greatest weakness is that the only rebound 66.0 percent of missed shots at that end of the court but all of the primary stats otherwise are very impressive.
Their height is apparent with the shooting percentage that they allow inside the arc but that is in part due to them blocking 14.5 percent of two point attempts (36th). As far as their defensive 3-point percentage goes, the smart theory by some is that shooting defense beyond the arc is more about limiting attempts than actually being able to limit shooting accuracy, but in that regard Iowa does reasonably well limiting attempts.  31.8 percent of opponent field goal attempts are behind the arc which is the 105th lowest in the NCAA.
The matchups…
I had this all pieced together until the Dejean-Jones news hit and now trying to guess the starting lineup and then the matchups is proving a bit difficult. Whether it is Edozie or Nader or Thomas getting the nod, the assignments could fluctuate greatly. Below were my thoughts prior to the news.
Aaron White torched Iowa State in Ames last season and while a good chunk of that came in transition but he also did some damage in half court sets. I would suspect that Dustin Hogue will draw the initial assignment to contain White. He is quick enough to keep him from penetrating with the ball and strong enough to handle him on the block but he has to beat White to spots and be in position to keep White from establishing himself deep in the paint. I would be somewhat concerned on Hogue sticking with him through multiple screens as well as staying out of foul trouble. The bit of potentially good news is that I think Abdel Nader physically has the tools to be able to guard White as well but the question is if he's mentally ready to handle that.
Georges Niang will draw Adam Woodbury and his biggest key is keeping him from getting position to close to the rim and keeping him off of the offensive glass. If he gets a catch on the block just maintain position and make him shoot over the top instead of getting to the rim. I suspect that we'll see some double teams, both for Woodbury and White but all of the defensive players will need to be attentive and rotating crisply.
Bryce Dejean-Jones should be assigned Jarrod Uthoff and his height and athleticism is a good match to help limit Uthoff's impact at the offensive end. In my opinion, when Iowa's guards aren't hitting shots Uthoff is very much a key to their offense as a lone guy to create a shot when needed. Dejean-Jones has the physical tools to combat Uthoff.
Monte Morris and Naz Long are pretty much interchangeable with defending Mike Gesell and Anthony Clemmons. Clemmons has been their best 3-point shooter at 40 percent (10/25) so he will require attention there. The biggest key on Gesell is keeping him out of the paint. He's a bit hot and cold with converting against defenses on his drives but he is capable. He also tends to take a bevy of long 2-point shots.
The man issue to hit is if Edozie starts who does Niang guard? Probably White, but that is a bit of a difficult matchup for him, especially to stop the transition attack. Perhaps you put Niang on Uthoff but that is a lot of perimeter defense for him to play. Can Edozie run with White while Hogue could switch to Uthoff? Possibly. Or, can Nader jump in to guard White while Hogue checks Uthoff? It's a tough call but even with Nader's defensive accumen improving recently asking him to stick with a smart White would be tough. The only good news is that there are some options for Hoiberg to tap into.
Iowa's biggest threat of the bench is big man Gabe Olaseni. He's big, athletic, and runs the floor very well. He is also a bear on the offensive glass so limiting him there is a gigantic key to winning the game. Similar to White, most of his chances don't come with his offensive game for creating his shot on the block but more from fast breaks, offensive rebounds, and teammates creating with dribble penetration.
When Iowa lines up to defend the Cyclones, I think they'll struggle to find someone to guard both of Hogue and Niang while Woodbury is in the game. For those reasons and others, I'm pretty sure we'll see a lot of zone from the Hawks.
Iowa State has seen plenty of that so far and has gotten better with getting the ball to the middle and attacking from there; either on the baseline or kicking to the opposite wing. There is a tendency to settle for 3-point shots, which is okay but the key is that if a shot is open beyond the arc after three passes it will be open again after 13 passes. So it is best to work the ball and try and get a look through the middle first and really get the zone to move and shift and attack the opening when it is presented. Discipline is key…or just make a whole lot of shots that will most definitely be available.
What I think will happen…
I've been saying for a while that for Iowa to beat good teams their guards have to shoot above average and I still believe that. But Uthoff having a big impact can replace some of the shooting shortcomings of the guards if they exist.
Keeping White/Woodbury/Olaseni off the offensive glass will not only eliminate second chances but one of the bigger sources of their offensive success. Similarly, when ISU is on offense and a fast break opportunity for Iowa is available the Cyclones have to find White and Olaseni in transition.
But that all starts with defending against penetration from the perimeter from guys like Gesell, Clemmons, and Uthoff. Getting beat off the bounce requires the bigs under the hoop to rotate and help on defense and all of the sudden the offense is gifted great rebounding position even if the defensive rotations are mostly good.
I think the Iowa State offense will struggle a little bit. Whether it is the height that Iowa has up front that will do it or just me failing to get the visions of the trip to Iowa City in 2012 out of my head. I don't think Iowa can play man defense for 40 minutes against Iowa State so I think we'll see a lot of zone. A hot start from ISU shooting would do a lot to pull Iowa out of the zone and open up the attack on offense.
I think Iowa State has the individual edge in most spots across the board but when it comes to battling on the road for the first time and making shots in that setting a lot of things can go wrong. Uncharacteristic turnovers, missing shots, foul trouble, and struggles on the defensive glass could easily crop up.
The loss of Dejean-Jones looms large but how can the Cyclones adapt? I don't think we can overlook the mentality entering this game for the team now shifting to clear underdog from the hesitant favorite that they have appeared to be at times this season. I still think we're in for an entertaining ride.
Iowa – 79
Iowa State – 75