There are really no easy games in the NCAA Tournament and that is especially true once the bracket is whittled down to 32 teams. But practically, Iowa State should have a better chance to beat Arkansas Little Rock instead of Purdue. But no matter what you think of KenPom.com, the Trojans currently sit at 41 in his ratings (one spot ahead of Notre Dame), so they're obviously not a complete pushover.
We're probably all in the same boat in that we've watched one Little Rock game this year (and it just happened), and if you're me you didn't even see all of it.
But here is the nitty gritty on them by the numbers…
*All stats from KenPom.com
When the Trojans have the ball…
Little Rock chimes in with the 85th best adjusted scoring offense at 1.09 points per possession that is fueled by good shooting, taking care of the ball, punting on offensive rebounds, and generally not getting to the free throw line. Sound familiar?
Their footprint is very similar to the Cyclone offense though they average 64 possessions per 40 minutes compared to Iowa State's 71. They are the 344th slowest tempo team in the country.
Their shooting success is fueled by their accuracy from beyond the arc at over 38 percent, good enough for 25th best in the NCAA. But only just under 35 percent of all of their shots taken are from deep, in reality they should probably attempt more.
They also shoot it at a decent clip inside the arc, but only good enough to be middle of the pack for all teams while hitting pretty consistently from the free throw line.
Stylistically, their assist rate is fairly low.
In comparison to Iowa State, they have many of the advantages. But this is my annual reminder that while scoring and tempo on KenPom.com are adjusted for strength of competition all other stats are not. There is no doubt that they haven't played the schedule strength that a Big 12 team has played and that has affected their numbers in their favor.
As it stands, Iowa State should have a rebounding advantage and may be able to force a few more turnovers that the Trojans would normally commit. But the biggest focus defensively has to be just being solid and limiting good 3-point looks. The Cyclones did a pretty good job of that against Iona and Oklahoma in their last two games played. Two teams that are very good shooting teams.
When the Cyclones have the ball…
By now, I think we all know or at least should know the Cyclone formula. The third best adjusted scoring offense in the country does it by getting and converting looks at the rim and making a high clip of their 3-point shots. They don't typically turn it over very much but they also get very few offensive rebounds and rarely get to the free throw line.
The Trojans do their work on defense and they come in with the 27th best adjusted scoring efficiency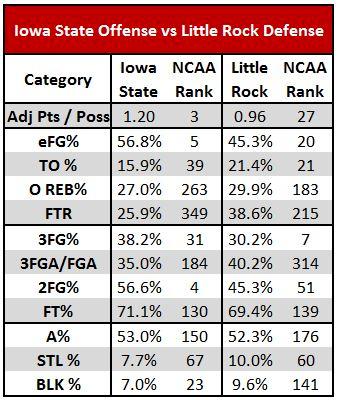 on KenPom.com. The Cyclones have played nine total games against defenses ranked better than that so far this season (Kansas twice, Oklahoma three times, West Virginia twice, Cincinnati, and Texas A&M). Those teams all have adjusted scoring defenses below 0.94 points per possession. The only time Iowa State didn't outperform that team's average was at Texas A&M (0.86 ppp), other than that they notched 1.06 versus West Virginia at home and in all other games against those defenses ISU scored above 1.11 ppp.
Meanwhile, the Trojans have now played two games against top 60 offenses; Purdue and Texas Tech. That isn't to say there are no offensive concerns for Iowa State, because there are, but odds are that ISU will get good shots and if they shoot to their averages will score enough to be in position to win the game.
The strength of the Trojan defense has been the shooting accuracy that they have held teams to as they sport the 20th best defensive effective field goal percentage in the country at 45.3 percent. If you believe that 3-point shooting is in fact more random than not (most basketball people smarter than me do) then there is reason to believe their defense has been somewhat lucky this season. Opponents are making less than 31 percent of their 3-point attempts, the seventh lowest in the country. But in the more accurate measure of 3-point defense, preventing the shots entirely, Trojan opponents have taken over 40 percent of field goals from beyond the arc (314th).
The Trojans do prevent great shooting around the rim by holding opponents to 45 percent accuracy. The somewhat curious part to couple with that is that they are just 141st in block rate.
Their other primary strength is that they create plenty of turnovers, more than 21 percent of possessions result in opponent turnovers. But again, of their 34 games only five have come against teams in the top 139 of turnover percentage (Purdue was not one of them).
Further, I do think there will be some chances to hit the offensive glass where they have been susceptible (they have played a more balanced schedule strength in terms of opponent offensive rebounding rate though certainly not extremely difficult).
The matchups…
Josh Hagins will obviously be a problem if you saw what he did against Purdue. He was able to get his shot whenever he wanted en route to scoring 31 points while shooting 7-for-13 inside the arc and 3-for-7 outside the arc and made eight of his ten attempts from the free throw line. He is also their leading assist man with a rate north of 32 percent.
Hagins has hit on nearly 40 percent of his 3-point attempts while taking 137 of them this season and his backcourt mate, Marcus Johnson, is even more lethal at nearly 44 percent on 146 attempts. Monte Morris and Matt Thomas will have huge roles in handling these two guys and doing their best to contain them.
Of their other guys, Roger Woods and Lis Shoshi have done the most scoring damage in the paint. Woods is a slashing wing that Abdel Nader will have to cover while Jameel McKay will likely get Shoshi. Kemy Osse and Mareik Isom are the other two wildcards shooting the ball that are above or around 40 percent on right near 100 attempts. But they usually are not on the floor together because Johnson and Hagins basically never rest.
The positive is that the Trojans do not have low block guys that will pound away and cause major problems. Nader won't be forced to guard a tiny guy off of a bunch of screens while Georges Niang, McKay, and Deonte Burton should be able to handle their guys well enough and help on Hagins and Johnson when needed.
What I think will happen…
I like how a lot of this plays out, especially if Iowa State comes out in the same manner as they did against Iona. The pace factor is worth noting because if you combine that with their 3-point shooting it is easy to have UNI flashbacks. The key is just being smart and avoiding major scoring draughts or easy spurts of offense for them. That basically translates to avoiding stupid turnovers.
Contain Hagins and Johsnon, take care of the ball, and avoid weird shooting variances and I think we'll be in pretty good shape.