AMES — Technically, Iowa State wide receiver D'Vario Montgomery backs up Allen Lazard.
 That's how the depth chart reads, anyway, heading into Saturday's 11 a.m. showdown (FS1) between the Cyclones (2-5, 0-4) and No. 19 Oklahoma (5-2, 2-2) at Jack Trice Stadium.
 But in practice — and especially in injured slot star Jarvis West's absence — the two young 6-5 pass catchers have served as crunch-time bookends, posing matchup nightmares from sideline to sideline.
 "Power," said Montgomery, a sophomore who's snagged 18 of his 21 receptions in the past two games. "It's a lot of power between Allen and between me, and Allen jumping over guys and making people miss and me just trying to do what I do as far as getting what yardage I can get after the play or after the catch."
 Montgomery's emergence coupled with Lazard's season-long contributions as a freshman provides a sun-swept glimpse into the future for the outside receivers group. Key word: future — no matter how bright the recent present has been for both.
 "We have to take caution here a little bit," noted ISU offensive coordinator Mark Mangino, who constructed the Sooners' offense during a run to the 2000 national title. "Allen's just a freshman. He still needs a lot of development. D'Vario's just played a few games and has been out, a transfer student. I'm excited about the way they're progressing and I like their work ethic and the way they're approaching it, so they're not finished products, but they're making great strides and I'm really excited about it."
 Both Montgomery and Lazard were four-star recruits out of high school, but Lazard is a legacy athlete. His father, Kevin, played defensive back at ISU and his brother, Anthony, is a walk-on linebacker.
 Montgomery transferred in last season from South Florida and played high school ball with Cyclone quarterback Sam Richardson in Winter Park, Fla. He knew he'd swiftly reestablish rapport with Richardson, but it took time to develop tight bonds with his less familiar teammates. Those connections are now fused, which is one reason Montgomery's come into his own after playing sparingly early in the season.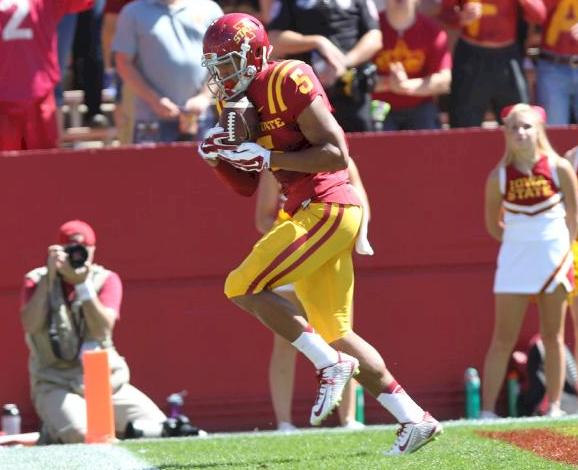 "We're kind of like brothers," he said of the receiving corps. "We all do the same things. We go out and eat sometimes. We go out and watch movies sometimes. We're a real tight little bunch."
 They're playing loose, though.
 Richardson's completed 73 passes for 696 yards the past two games. Lazard and Montgomery caught 37 of those tosses for a total of 374 yards.
 So, in a rough sense, more than half of the Cyclones' passing game revival has hinged on their efforts, even as tight end E.J. Bibbs has served as a closer with three touchdown catches in that span.
 What explains the duo's rise? Better communication plays a part.
 Lazard and Montgomery now know each other's nuances and tendencies — forming a coveted sense of shared awareness often referred to as "being on the same page."
 "We just relay what's going on, what we see, because we basically both play the same position," said Lazard, who's made 16 of his 28 catches the past two games. "He just says what he sees as what their defenders on that side's doing and what my guy's doing."
 The competitors, teammates and friends plan to continue developing that "same page" mentality— and it's a connection likely to be enhanced Saturday as ISU's options expand with West expected to be back in the lineup.
 When weapons can be arrayed outside, inside and wherever Bibbs roams, Mangino's offense can take full effect.
 "One of the first things that every defensive coordinator and secondary coach are looking at every week are catch numbers for the opponent," ISU coach Paul Rhoads said. "And then breaking that down: who's the go-to guy, and so forth. When you can go from right to left and have guys at each of those positions that you say, 'Well, they're throwing it to him, they're throwing it to him, they're throwing it to him,' that opens it up for everybody."
 True enough.
 Even though Montgomery, Lazard and Bibbs have caught 49 of Richardson's 73 completions the past two weeks, others have shined, as well.
 Tad Ecby made a key touchdown catch in the Toledo win. Dondre Daley tallied a career-best six catches for 65 yards in the same game. Freshman Jauan Wesley notched single-game career highs in receptions (three) and receiving yards (47) in the loss at Texas.
 What explains that?
 The attention Bibbs commands, on one hand.
 "If you've got two on him, you're singled up somewhere," Mangino said. "And that's given some other guys opportunities."
 But the size and skill Montgomery and Lazard present to opposing defenses creates issues regardless — for now, and into the foreseeable future. 
 "Sometimes he makes a play and I get excited," Montgomery said. "Sometimes I make a play and he gets excited. It's just one of those things that when you're in a group and you care for one another, it's good to see someone else do good."