Happy Tuesday Cyclone Nation. It is time once again to empty out the ole mailbag. Before I do so, I want to give props to my good friend and Cyclone Fanatic columnist Brent Blum for this epic tweet during the severe weather that ripped through central Iowa last night.
"It is windier than a Dan McCarney press conference in central Iowa right now. No doubt about it. Real, real windy."
ENCORE BLUM! ENCORE!
"This wind is tough, tenacious, relentless, and real, real darn physical. It's a Big 12 wind."
Those tweets hit the WWW at around 1:30 or so Tuesday morning so I figured that many of you who might have normally seen them on Twitter, did not. Props to Blum for making many smile during a somewhat scary time and on a serious note, cheers to all of you Fanatics for hopefully staying safe out there.
Let's get on with the mailbag.  Since football season is just around the corner (Big 12 media day is in just over a month), let's start on the gridiron with two questions from MesaClone1.
MesaClone1 writes: 1.) What is the possibility that Wendell Taiese moves over to the defensive side of the ball?
CW: Is it possible? Yes. Is it likely? No. It is a lot more difficult for a player to move from one side of the ball up front than most people realize. That is especially the case in a high-major league like the Big 12. If this were to ever happen, it would be more of an indication of desperateness on the defensive side of the football than anything. I'll never forget Paul Rhoads calling Taiese the "best player available" when he signed him last December. Coulda been coach speak, yes. But, multiple people I trust within the program have told me that they believe Taiese to be a true threat to start on OFFENSE next fall. (Granted, that was when he was supposed to arrive in the spring so take that nugget for what it is worth). I think this guy will be an impact offensive lineman for the Cyclones and do not plan on him playing defense at all.
2.) Best guess…does Jake Campos beat out Jacob Gannon for the starting tackle slot before the season is over? 
CW: No. If Gannon plays his cards right, he could be a late round NFL Draft pick next May (per a lockdown source). This is a fifth-year guy with a ton of experience we are talking about here. If Campos (pictured below) beats out anybody, which as a redshirt freshman I highly doubt he does, I sure don't think that Gannon will be that guy.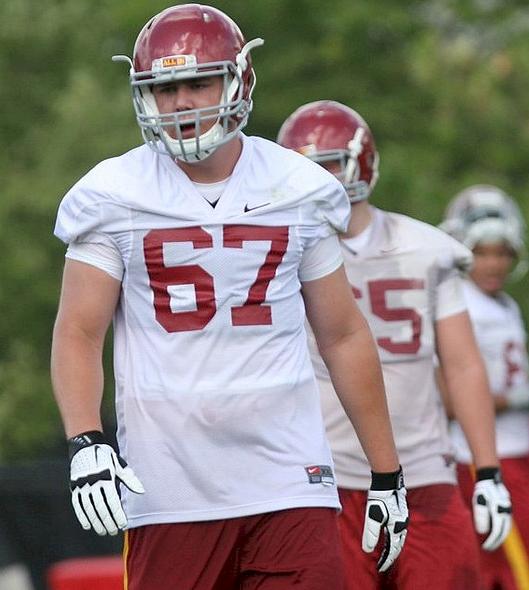 Huntt26 writes: Who will be the "breakout" players on offense and defense this fall? Players that we may not know very well but will make an impact.
CW: With every starter returning on offense, it is a little hard to come up with a "breakout" guy on that side of the ball. Allen Lazard comes to my mind but most people are expecting big things out of the true freshman wide receiver. I think that both Dondre Daley and P.J. Harris have the capabilities to be that guy but at that specific position, I feel like it will be hard to get enough touches to make a HUGE impact.
I'm going to go with DeVondrick Nealy at running back. He showed glimpses of what he is capable of last year and even though we all can agree that Aaron Wimberly pretty good (when healthy), his durability is undoubtedly an issue. Because of that, I see this Mangino staff really being gentle on him with reps, which means that touches should be plentiful for Nealy. I don't see much of a drop-off there either.
On defense, give me Kamari Cotton-Moya at free safety. 
KcClone01 writes: A buddy of mine and I have a habit of each making a single bold prediction for the football team usually with a pitcher of beer on the line. His BOLD prediction was the Mangino will be our head coach in two years (I disagreed). Mine was that ISU will win 9 games in 2015-2016 season (He was skeptical). Are those bold enough? What's your take? And what's your BOLD prediction for ISU football?
CW: Both are very bold, indeed. So bold that I disagree with them both, but that's what makes them bold so well done! I'd say that his Mangino prediction has a better chance of being true than the nine wins but this is one case where I would love to be wrong. Having said that, the only way I see the Mangino thing happening would be if Iowa State does really well this year and Rhoads takes another job elsewhere. That would be a natural and great hire for Jamie Pollard to make. If things go south, I don't see Mangino being promoted to that role. Also, Rhoads isn't getting fired after this season so we can shoot that chatter down right now. 
Nine wins? From this program in this league? Again, I hope I'm wrong but I need to see a little more before I join you out on that branch, buddy. 
You wanted me to make a BOLD prediction…I'm not good at these. All I do is ride the fence, don't you know? While I admit to not being nearly as bold as you and your friend, I'll throw down a little bit of a prediction for you today.
Iowa State's defense won't be as awful as most are predicting this season. Now listen Fanatics – I'm not saying that this group is going to be good. Boy oh boy it is going to take some licks. But I'm buying into the recruiting that has been done over the last two to three years. I think that these guys, although the casual fan hasn't heard of many of them, are going to surprise a few people in 2014. Will the equal a bowl game? Probably not. But I think it will be enough to at least sell hope for 2015.
Onto hoops, and more.
Jboffer writes: Any predictions for Cyclone fan turnout for the CBE Hall of Fame Classic tournament in Kansas City? "Hilton South" proved alive and well during the Big 12 Tournament, but that was for a championship and the CBE is during the Monday and Tuesday of Thanksgiving week. Could be cold, snowy. Think Cyclones will pack the house, or will there be empty seats in the Sprint Center?
CW: A snowstorm in Kansas City during that time of year would surprise me so I don't think weather will be much of a factor. It's more, how much time/vacation do people have to follow their Cyclones around the Midwest during this busiest season of the year?
Here is my prediction that I am actually pretty confident in. Iowa State will travel very well. It won't be like the Big 12 Tournament last year though. That was a very special deal. After the Cyclones beat Kansas, thousands of Fanatics made spur of the moment decisions (my wife and some friends included) to travel down I-35 just to be a part of the history making victory should the Cyclones top Baylor for the title on Saturday night. There is a core group of Iowa State fans (a number I do not know) that will travel to this event regardless of the scenario, but the casual fans won't make it down to KC in late November. Iowa State will have a good crowd but I doubt it holds a candle to what you saw last March. 
DandyCyclone writes: If you had to guess, how many games will Abdel Nader and Matt Thomas miss at the start of next year? 
CW: Two or three. That depends on if an exhibition game counts against the suspension or not. I am almost 100 percent sure that the rule is that you miss 10 percent of the season after this type of offense. I am also pretty sure that the CBE Classic will begin on game No. 3 of the season, which is notable from a basketball standpoint. However, some things are more important than basketball and while Iowa State would no doubt like to have them, they also deserve to miss as many games as the administration (pretty sure this is above Hoiberg's head) deems necessary.
Agclone writes: If you had to ballpark PPG and rebounds per game for Nader, BDJ and McKay, where do see them coming in at? 
CW: Great question. This is tough. Hoiberg's teams generally are difficult to predict statistics for but here goes.
I'll start with McKay, who is the most challenging one of them all to get a grasp on. That's mainly because to this point, we still don't know how many games he will be eligible to play. If for some reason Jameel is eligible in the non-con, I'd expect his rebound numbers to be a lot higher than if he only plays vs. Big 12 opponents for obvious reason's. Dustin Hogue's numbers wouldn't have been as high without a binge game or two against the UMKC's of the world in November. I don't believe that McKay will receive a waiver to play in the first semester though so having said that, I'd guess it to be at around 11 and 7 for the big man.
For Bryce Dejean-Jones, I guess the most accurate thing to do here would be to go by what DeAndre Kane did a season ago. DeAndre averaged 17.1 points per game, so I'd say somewhere around there. I'd probably guess 16 if you put a gun to my head. However, I don't anticipate for Dejean-Jones to rebound at the rate that DeAndre did (6.8 per) so I'd drop that number to about 5 or so. Probably 3 or 4 assists per game too.
For Nader, I think he is going to be a solid but not flashy guy all season long. I'd guess his number to be around 12 and 6 or so. Kind of Dustin Hogue-like from last year, but better with the ball in his hands. 
For all of these guys (and everybody on the team for that matter), this really all will come down to how the opposition guards Georges Niang. Will they double him? If so, these numbers will go up. If not, Niang could average 19 or 20. Again, at the rate that Hoiberg's teams score the ball, this is all very hard to predict. Hopefully this gave you the ballpark you were looking for though. 
Peteypie writes: Who does the ISU basketball team more resemble, Miami Heat or San Antonio Spurs? Last year? Next year? 
CW: The Spurs. The way that both teams play the game is actually very similar. Both spread the ball out. Multiple players can beat you on any night. They are very, very similar. I'd go the same route for next year too. Note: I am the farthest thing in central Iowa from being an "NBA expert."
GunnerClone writes: Who would you rather have commit to ISU if you could only have one? Diallo or Ellenson?
CW: Cheick Diallo and that's only because he is a top 10 prospect. It would do the program a lot of good to snag a guy of his caliber and while recruiting services aren't perfect, they don't miss on blue chips like him very often.
Nuts4Cy writes: I recently bought an old wall mount CD jukebox for our new house. It had a ton of old George Straight CD's inside. Which would you consider are his best 5 songs so I know which CD's to keep and which to give to my Dad?
CW: Naming my top five favorite George Strait songs is like asking a father to pick favorites among his children. It is an impossible thing to do. 
In no particular order, here goes.
1)   Amarillo by Morning – Vintage Strait featuring perhaps the worst music video of all-time.
2)   Run – "If you ain't got a suitcase, get a box, or an old, brown paper sack." I've written enough.
3)   The Fireman – "Making my rounds all over town, putting out old flames. Well everbody would like to have what I got, I can cool em' down when their smoldering hot, I'm the fireman. That's my name." – The King is talking about ladies there folks. Ladies. 
4)   Unwound – Most young Fanatics don't even know this song exists, however it might be my favorite song by the King ever. It was his first single that was released back in 1981. It is George Strait in his youthful, more ornery days. What's not to love? Watch the following 2 mintues and 26 seconds of YouTube and witness The King people. The freaking King. 
5)   Troubadour – Nothing fancy here. Just a damn good country song.
Honorable mention: 
And by the way, congrats on striking gold with the jukebox. I envy you.
Tre4ISU writes: Who is more defensive: Bulls fans when LeBron is relevant or Jack Nicklaus fans when Tiger Woods is relevant?
CW: Bulls fans, and I am a Bulls fan. However, I don't think I am the type of Bulls fan that you are describing. I have no problem with Lebron. I think that he is probably the second greatest player of all-time. Second, not first. (See what I did there?) But I agree with your point. A lot of Bulls fans undoubtedly root against the Heat, just to protect MJ's legacy.
And Tiger hasn't won a major since 2008. I don't even remember the Nicklaus stuff it has been so long.