It is time to move on. I don't know about you all, but I've just about had enough of the officiating conversation from Monday night. Everything about how that went down smelled like my socks after running a 5K. The Cyclones got jobbed. But what's done is done. It's time to move on. 
So how about a little mailbag action to distract everybody? Let's give it a shot and start everything off with a question from Wesley.
Wesley writes: Who do you think is the most valuable player on the Iowa State basketball team?
CW: You know I put this up as our poll question on the front page about a month ago to see what the Cyclone Nation had to say. You all voted for Will Clyburn. John Walters, Brent Blum, Tron Smith and I actually debated this very question for a good 15 minutes on our radio show too a few weeks back too. 
It's nearly impossible to give a black and white answer here. There are five or six guys you can name and not be wrong with your opinion. 
Lately, I think that Korie Lucious is probably that guy. If it weren't for Marcus Smart and Pierre Jackson, Lucious would be a first-team All-Big 12 selection this season. He's dished out more assists than any other player since Big 12 play began and is coming off of a career-high in the loss to Kansas. 
What can you say about Tyrus McGee? That energy off of the bench simply can't be replaced. It just can't be. 
Georges Niang continues to impress me more every time he steps out on the floor. He might technically be a "freshman," but Niang isn't a freshman. The dude is polished like a blue-chip, fifth-year senior. 
Will Clyburn is the team's leading scorer and second leading rebounder so he has to be in the conversation. 
Then there's Mr. Double-Double, Melvin Ejim. Throughout the course of the entire season, I'd probably vote for him. 
I'm going to go with Chris Babb though (in the Big 12 portion of the season). Think about this – Kansas scored 108 on Iowa State Monday night. However, the guy who torched Iowa State in Lawrence, Ben McLemore, only scored seven. It had everything to do with Babb's defense. 
Let's be honest here – Iowa State isn't a good defensive team. I think that we all know that. But imagine this team's overall defense without Babb being there? It would go from bad to atrocious. Now that he's consistently hitting shots, combine that with the defense and I think that Chris Babb is the answer.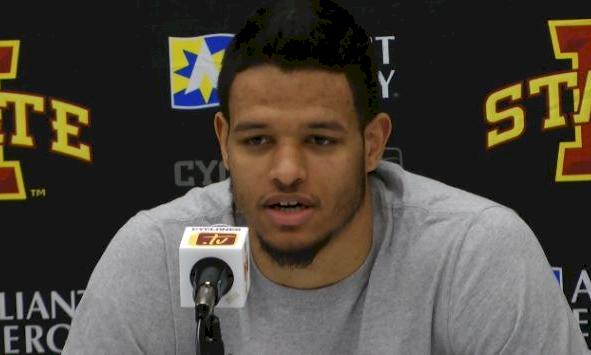 KFitzy87 writes: Now that we've seen everyone on the team can score when needed…We're down 2 with 5 seconds left in an NCAA Tournament game…We're inbounding at half court…Who's taking the shot? Korie or Tyrus come to mind…
CW: Well to begin, I don't think that you can go wrong with either of those guys. Korie has proven that he can hit big shots at the end of tournament games so common sense says to go with him but I'll take Tyrus and here's why. 
Name a guy on Iowa State's team who has hit more off-balance (and often times bad) shots this season than McGee? At the end of a game in the scenario that you played out, the chances of getting a clean look are slim to none. Tyrus is know for those circus shots. He has no fear. I'll let him take the last shot for my team every time out there. 
Cyfanatic 13 writes: Who do you think is going to win the Big 12 Tournament this year?
CW: Flip a coin. 
Seriously, I don't ever remember a year where you legitimately cannot name a favorite heading into Kansas City. That's a great thing for Iowa State, especially with this year's team. Think about it this way – is there a team in the Big 12 that really scares you as an Iowa State fan? Sure – some teams are better than others. But is there a team that in your mind, Iowa State cannot beat on a neutral floor?
Iowa State has been awful in Kansas City for quite some time now but maybe, just maybe all of that will get turned around this season. I know that I wouldn't want to see Iowa State paired up with my team if I was an opposing coach in the Big 12. 
Who is going to win? The obvious pick is Kansas. They always win. But Kansas State, Oklahoma State and Iowa State are all legit threats too. It should be a fun week. 
CycloneSpiker33: How do you see the minute breakdown in 4 and 5 spots next year?
CW: That's a good one. I guess before I completely dive into it, I need to come up with a starting lineup first. On Feb. 27 2013, here's what I would project (this is a VERY loose projection keep in mind). 
1 – Bubu Palo (he's a pass-first senior who can defend)
2 – Matt Thomas (four-year starter IMO)
3 – Dustin Hogue (somebody has to play defense – that's his role)
4 – Melvin Ejim
5 – Georges Niang
So basically, the questions there are at the one and the three in my opinion. Bubu/Monte Morris/Naz Long / Sherron Dorsey-Walker will all be in the mix. I really feel like K.J. Bluford will be a factor too – not to start – but to get quality minutes at the two. 
Down low, I see Ejim and Niang getting the bulk of the playing time. That shouldn't surprise anybody. After that, Percy Gibson will be a factor. Don't get too down on the sophomore. In fact, depending on which way Hoiberg goes with the top five, Gibson could be your starter at the five, while moving Ejim and Niang to the three and four. 
That leaves the two incoming big man JUCO's, Daniel Edozie and Richard Amardi to play scrap minutes off of the bench. I see Amardi being an energy guy – think Marquis Gilstrap's kind of game. Honestly, I'm not sure what to expect from Edozie. 
Not a lot of specifics there but it should give you a decent idea of what Hoiberg will have to work with. I see next year's bigs being much tougher from this year's. I think that those JUCO's will bring more physicality to the paint, however don't expect them to be very polished. 
CyArob writes: Now that Busch Light is a CF sponsor, can I have free Busch Light?
CW: How old are you? Gotta drink responsibly…
Zwclones51 writes: Does your dream day entail watching NASCAR while listening to Taylor Swift and having a Busch Light in your hand?
CW: I'm kind of off the Taylor Swift thing anymore…She more annoys me than anything anymore. I know. I know. That will shock and disappoint many of you out there. 
A dream day for me entails a NASCAR night race, a steak on the grill, and iced cold Busch Light  in my hand, my wife and dog by my side with some Eric Church playing in the background. 
Spring is almost here! 
State43 writes: I would love to know what redshirt freshmen are getting a lot of buzz for this coming football season. I think this coming season is when Quenton Bundrage becomes the go to WR, but one has to think a redshirt WR or two will need to step up this season in the 2 deep if we are to be a threat to anyone through the air.
CW: Before we get too hung up on unproven redshirt freshman, let me throw this out there: Jarvis West is due for a big year. We've heard this every year since he got on campus, but towards the end of last season, West finally started to show fans what the coaches had been raving about for years. I look for Jarvis West to be the "go to" guy. 
Quenton Bundrage also showed signs of being a star during his freshman season. He's still unproven, but yes, you have to like what you saw in 2012. 
Albert Gary never really had a chance to do much as a junior after his long offseason/legal struggles. I expect him to be better in 2013. 
After that, we really have no clue what Iowa State has in Tad Ecby yet so stay tuned there. Then there are three redshirt freshmen, Dondre Daley, P.J. Harris and Quan West who will be in the mix. I've heard really good things about Daley dating back to last summer when he first stepped foot in Ames. Harris is a burner. West is coming off of a knee injury. 
The spring should tell us a lot about Iowa State's wide receivers but as good as the Josh Lenz' and Aaron Horne's of the world's were, I'm ready to see what this new era has in store for us at a position that has been as weak as any throughout the Paul Rhoads era. 
Angie writes: What are your feelings about wrestling being excluded from the Olympics? Do you think it will help or hurt Iowa State's national exposure?
CW: As of mentioned on this site numerous times, I'm not a big wrestling guy. HOWEVER, I respect the sport like no other. I had a lot of friends that wrestled in high school. I know the hell that they went through to compete in that sport. If I have to be in a fight, I want a wrestler on my side any day of the week. 
So to the fan in me, honestly, I didn't lose sleep over the decision. However as an Iowan, the news made me sick to my stomach. Wrestling is what we're known for. It is part of our culture. I love my home state and because of that, the news sucked. 
It absolutely hurts Iowa State on a national scale, as is the case with every other program out there. Hopefully this somehow gets reversed and wrestling comes back bigger and better than ever. 
Isuska writes: Tell me more about your plans for a wrestling blog?
CW: When that wrestling news broke a few weeks ago, I thought to myself, 'what can Cyclone Fanatic do to help the situation?' The simple answer is not much. I mean really, the people making this decision don't give a crap about what any of us think. 
But there is something that we can do to help on a local level – discuss/cover wrestling more here on this website and I fully intend on doing that in the near future. I've already had discussions with a few wrestling diehards on starting a wrestling blog. My intentions are to hire somebody to actual cover Iowa State wrestling for us next season as well. 
The more we can get out there, the more people might care in the long run, which is a good thing for the sport and ultimately, Iowa State too.