AMES — Thank God for Melvin Ejim.
No, really. Without his Big 12 record 48 points, Iowa State might have been in serious trouble when it came to attempting to beat the worst team in the Big 12, TCU on Saturday afternoon.
Most importantly, without Ejim's outburst, Iowa State's 84-69 victory over the Horned Frogs was on pace to be more boring than a MAC Tuesday night football showdown on ESPN2. 
Win the game. Stay healthy. Move on and get ready for a tough road trip to West Virginia on Monday. That wasn't supposed to be how Iowa State approached this game but in reality, it was as the Cyclones let TCU climb within seven with just over nine minutes to play.
That was the case for everybody except Ejim, who is now No. 2 on Iowa State's all-time points in a single game chart (Lafester Rhodes' 54 vs. Iowa in 1987 is still the record). It was the ninth 40-point game in Iowa State history.
"For a guy like (Kevin) Durant and Blake Griffin and all of the great players that have gone through this league, Melvin Ejim's name is at the top for points," Iowa State head coach Fred Hoiberg said. "That's unbelievable for a guy that doesn't probably get as much credit as he deserves."
In addition to the 48 points, Ejim's 20 field goals broke the Big 12's previous record of 16 in a game. Ejim also tore down a career-high 18 rebounds. 
"These guys just did a great job of finding me in transition and giving me the ball in places I could score," Ejim said. "We made really selfless plays. We were giving up the ball and luckily I was on the receiving end."
From the nine-minute mark until Georges Niang scored with 1:29 to play, Ejim scored 20 straight points for the Cyclones, who dished out 27 assists in 32 field goals as a team. Ejim scored 24 of Iowa State's final 26 points. Many of them were rim-rocking jams. 
"I credit the guys around him for finding him," Hoiberg said. "He was having a special game and they got him the ball. I thought in that second half, we shot almost 65 percent in that second half and that was just getting Melvin the ball at the right spots and then Melvin doing his job and finishing."
Speaking of percentages, here are a few more: This "glue guy" scored 57 percent of Iowa State's points in the win, while collecting 47 percent of the rebounds.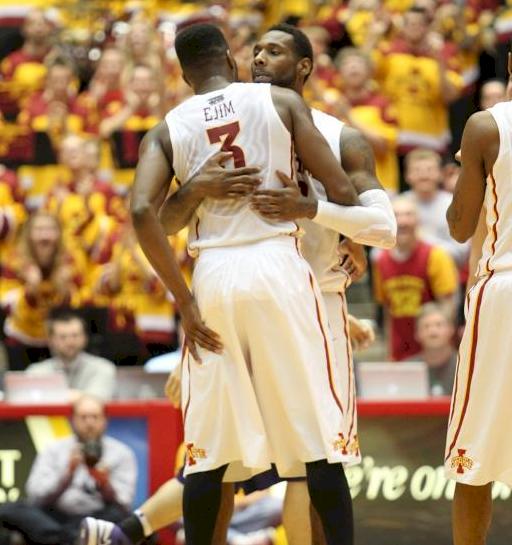 Need more milestones?
Ejim alone scored more points than Georgia Tech did as a team on Saturday. He also became the first Big 12 player to score 30 and 15 since Thomas Robinson did it for Kansas on Dec. 31, 2011. It was Ejim's third straight game with 20 and 10. No other Big 12 player has more than three of those all season long.
After the game, I asked Ejim when he realized that history was being made.
"I think I figured it out when they started chanting my name," Ejim said. "It was an awesome feeling and I'm glad that I could experience it with these guys and Cyclone Alley."
Conclusion: Ejim is a top five rebounder in Iowa State history. He's already in the top five in starts (and has a chance to be No. 1 when it's all said and done). Ejim's game on Saturday pushed him to No. 16 in the all-time scoring list and will likely crack the top 10 when it's all said and done. He has the 14thmost steals in school history.
Can we hang this guy's jersey up in the rafters yet?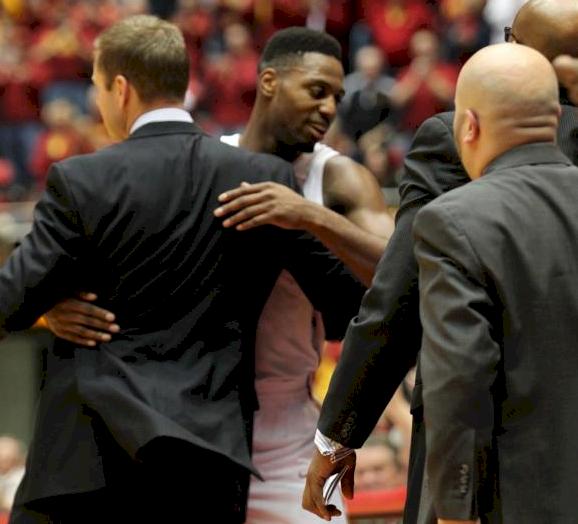 JOTTINGS
*** Ejim's Big 12 leading points per game mark grew to 19.8 after dropping 48. It was the 30th double-double of Ejim's career. 
*** Quietly, DeAndre Kane had his second 10-assist game of the year.
*** Iowa State has had more assists than turnovers in 21 of 22 games this season. 
*** Iowa State is the only team in America that has scored 70 or more in every game this season.
*** Up next for the Cyclones is a Monday (6 p.m. on ESPNU) road trip to West Virginia, who lost 83-69 to Kansas on Saturday.
"We've had a couple of these now this year," Hoiberg said. "We need to go out with great focus tomorrow. It's not going to be a long and physical practice. It's going to be very mental. They are playing great. It's a team that is playing with a lot of freedom and they are shooting the heck out of the ball."