AMES — Remember how you felt about this Iowa State basketball team earlier this season? I'm speaking of the group that Digger Phelps once tabbed as a Final Four sleeper pick. That team that defeated Michigan and Iowa before Christmas and grinded out a Diamond Head Classic championship. The team that I'm speaking of is the one that started 14-0.
That is the group of Cyclones that showed up and thumped Texas 85-76 on Tuesday night in Hilton Coliseum – not the Iowa State team that seemed to lack overall intensity in each of its last three contests. The Cyclones might have won games against TCU and Texas Tech during that stretch but even so, it didn't feel like this squad was clicking.
The team that won its 20th game of the season on Tuesday vs. No. 19 Texas was impressive though. In a world where fancy math says a lot about the legitimacy of a college basketball team, Iowa State passed the ever-so-important eye test in this win. That is undeniable and the surge comes at the perfect time, as March is only 11 days away.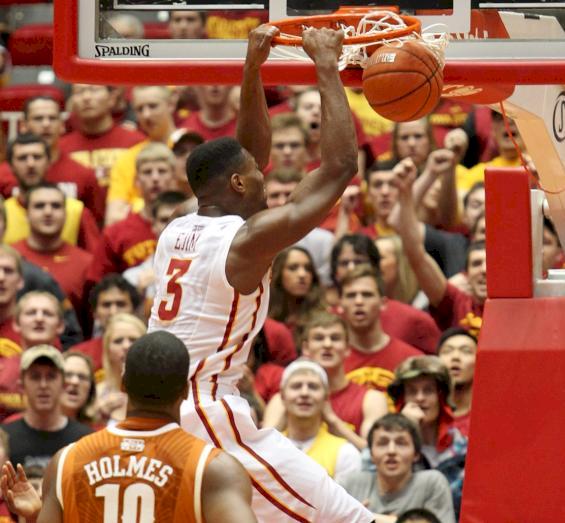 After committing a season-high 18 turnovers and being physically dominated on the glass the first time these two teams met, the Cyclones were sharp as a tack and tough as an old leather boot in round two. Iowa State only committed six turnovers compared to the 21 assists that were dished out on 30 field goals.
"They got us good down there. They really did," Fred Hoiberg said after the game. "They beat us up in the paint and beat us up in those statistics: points in the paint, offensive rebounds, second chance points."
Texas might have won the rebounding battle in this one (44-35), but that was it. Iowa State out-scored the Longhorns 40-18 in the paint. The Cyclones scored 17 points off of turnovers compared to Texas' six. Iowa State had an 8-2 advantage of fast break points.
"That's important when you look at the final box," Hoiberg said.
Perhaps the most prevalent eyebrow raising stat of the night belonged to Texas' 285-pound center Cameron Ridley. In round one, the sophomore manhandled Iowa State to the tune of 16 points and 11 rebounds. This time though, he didn't make a single shot. Heck, Ridley only got four field goal attempts off in the entire game.
"I was just trying to keep him out of the paint and not let him get comfortable down there," Georges Niang said. "I felt like when we were down there I let him get too comfortable. I let him to the rim a couple of times and they just kept feeding him."
Ridley had a staggeringly low five rebounds for the Longhorns. 
"I thought Georges just absolutely battled the heck out of him," Hoiberg said. "He did an unbelievable job. I thought Daniel (Edozie) gave us a couple of good minutes there where he battled him. Then our double teams were much better on him this time. Last time he split us. He got to the rim before the double team got there. Our angles were better. Our hands were more active and that showed."
Melvin Ejim posted another Big 12 Player of the Year type of performance in the Iowa State victory. After throwing down what seemed like 15 jams, Ejim's final box score showed 25 points and eight rebounds.
DeAndre Kane and Georges Niang joined Ejim in double figures with 22 and 20 points respectively. It marked the first time that three Cyclones scored 20 points or more in a game since Feb. 13, 2013 when Tyrus McGee, Will Clyburn and Ejim did so at Texas.
Up next for the Cyclones is a Saturday road trip to TCU. That game will tip at 3 p.m. and be televised on ESPN2.
Quotable: Georges Niang on defending Cameron Ridley
"It's a tough, grueling game when you have to go up against, what is he, 7-foot, 300-pounds? That's like a sumo wrestling match. He is a big kid and he was doing a good job of sealing."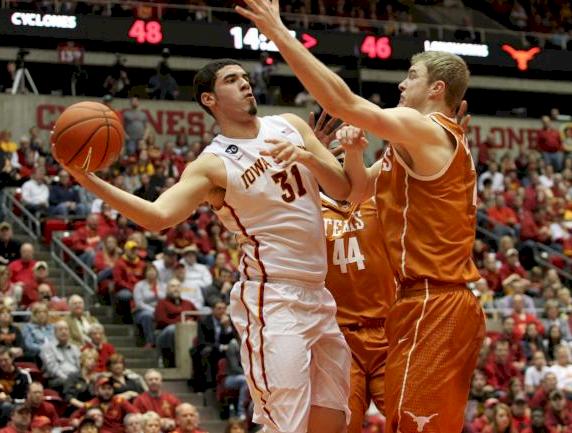 JOTTINGS
*** Iowa Governor Terry Branstad was in attendance.
*** Freshman point guard Monte Morris dished out six assists to zero turnovers. His assist-to-turnover ratio is now 50:6 in Big 12 play.
*** Melvin Ejim is now the third leading rebounder in Iowa State history with 963. Ejim passed Bill Cain (957; 1968-70) in the win. 
*** Ejim has scored in double figures in 22 of 23 games this season.
*** This is the third-fastest Iowa State team to get to 20 wins in history. The 2000 and 2001 teams are the only groups to do it sooner.