AMES — Feb. 2 is one of the most fringe holidays in the great United State's of America. I'm speaking of Groundhog Day, which if you think about it, is kind of lame.
Today, a new holiday is born. This one, I assure you, isn't lame at all. 
On behalf of the 20 thousand of you who log onto CycloneFanatic.com every day, I now declare Feb. 1 as Melvin Ejim Appreciation Day. Mark it on your calendar. It is official. The "glue guy," who paired 22 points with his 16 rebounds in Iowa State's (16-4, 4-4) 81-75 victory over Oklahoma (17-5, 6-3) on Saturday, most certainly deserves his special day.
"I've never played with someone who just brings it every night," Georges Niang said of Ejim. "He doesn't ask for you to tap him on the behind and say, 'Good job.' Every night, he just puts his hard hat on and goes and gets it done. I am blessed to play beside someone like him."
It marked the 28th double-double of Ejim's career. The 16 rebounds tied a career-high, while Ejim surpassed the 900-rebound milestone too. Now, the senior is averaging a Big 12 leading 18.1 points and 7.8 rebounds per contest this season.
"Every time you watch him on film, it seems like he is doing that," Oklahoma coach Lon Kruger said. "He rebounds the ball like crazy. He's a terrific player."
Yeah coach, he is.
At 6-foot-6, the undersized "big" led the Big 12 in rebounding a season ago and is in my opinion, perhaps the most underappreciated player in Cyclone history. Ejim has recorded double figures in all 18 games he's played in this season. He made his 110th career start on Saturday, which ranks seventh in Iowa State history. Ejim is now five rebounds away from surpassing Jeff Grayer at No. 4 on Iowa State's all-time rebounding list too.
With any luck at all, Ejim will break Iowa State's all-time record for starts in a career this March.
Today's lesson: Soak up every minute of the second half of Iowa State's season. Enjoy and appreciate watching this proud Canadian. He is without question one of the best to ever wear the Cardinal and Gold.
The numbers prove it.
No, no, no, YES
For all of the things that Iowa State did well on Saturday, the Cyclones had a maddening time putting the Sooners away. Time and time again, a fairly comfortable Iowa State lead would shrivel to one or two points. That's when Georges Niang, who scored a career-high 27 points, was at his finest. This was especially the case with 55 seconds to go. Iowa State was up 73-70 when instinctively, Niang pulled up and buried a wide-open and deep 3-point bucket with an eternity – 21 seconds left on the shot clock. 
"What was I thinking, huh? I just completely zoned out and stepped into a shot," joked Niang. "I thought it was a good one and luckily for me it went in."
It was a big shot, an ill-advised one at that.
"I was giving him the stop sign and he wasn't listening," Fred Hoiberg said. "He just threw it up with all kinds of confidence and knocked it down. It was a huge shot to put us up two possessions. No fear at all and plus, he was three or four feet behind the line."
Niang, who is now averaging 16.4 points per game, has scored 20 or more six times this season.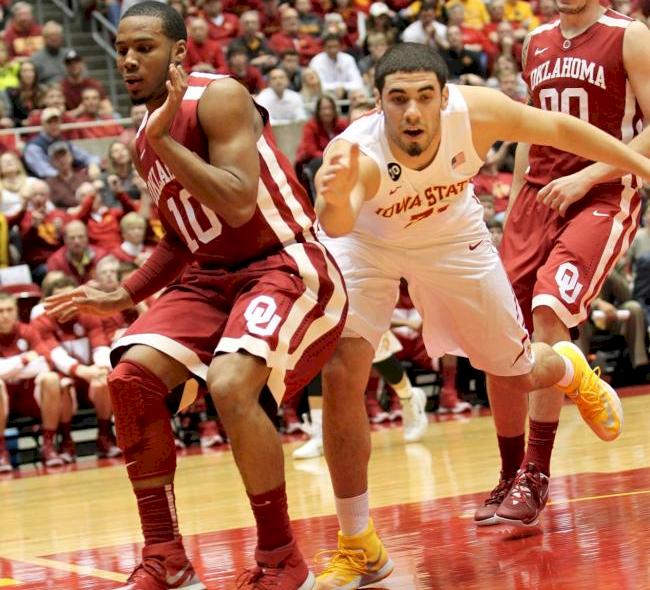 JOTTINGS
Second chance points: Oklahoma out-scored Iowa State 22-2 on second chance points when these two teams met on Jan. 11. The Cyclones out-scored the Sooners 8-4 in that category on Saturday. Notably, Oklahoma didn't record a second chance point in the entire second half. 
Assists: Don't get too down on DeAndre Kane's game. While the senior had an uncharacteristic five point performance, he did dish out nine assists to only one turnover.
Hield: Oklahoma's Buddy Hield scored 25 points in the first 25 minutes of the game. He only scored five in the last 15.
"I thought that DeAndre did a much better job in the second half of getting out with more urgency on his closeouts," Hoiberg said.
Isaiah Cousins and Jordan Woodard were the only other Sooners in double figures, with 13 and 10 respectively.
Matt Thomas: Freshman Matt Thomas went 3-for-5 from 3-point range and played what Hoiberg called his most complete of the season. Thomas now had 32 3-pointers to his name, which is tied for fourth on Iowa State's all-time freshman list. 
Top 25: The win was Iowa State's fifth over a ranked opponent this season. That ties the second-most wins over ranked teams in school history.