Let's start with the worst-case scenario. Let's say that Iowa State's all-around best player (that's my opinion), DeAndre Kane, does not play in tonight's Big Monday showdown with Kansas.
In order to replace the 16.4 points, 7.3 rebounds and team-high 92 assists that "Big Daddy" Kane brings to the table; other Cyclones obviously need to step up. 
Now, let's put the shoe on the other foot. Let's say that Kane does indeed give it a go. If that is the case, he will not be at 100 percent. After suffering from what appeared to be a fairly severe ankle sprain on Saturday at Oklahoma, there is simply no way that No. 50 will be in the same mint condition that he was last Tuesday in a 30 point, nine assist, eight rebound and five steal outburst vs. Baylor. Kane is a fabulous basketball player, but he isn't Superman.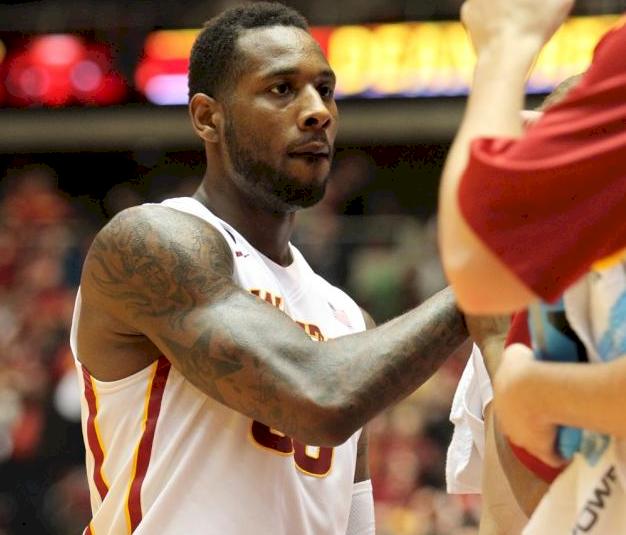 If that is the situation, other Cyclones obviously need to step up.
And this is the theme heading into tonight's 8 p.m. tip on ESPN. No matter what, next man in.  
Understandably, all eyes have shifted towards freshman Monte Morris. Last year's Mr. Basketball in the state of Michigan has played beyond his years for the last month and tonight just could be his time to shine. It needs to be.
"He has been doing such a good job of taking care of the basketball and making quality plays, simple plays," Fred Hoiberg said. "It is pretty impressive to have the ball in his hands as much as he has as a freshman and continue to make the right decisions." 
Morris, who hasn't committed a turnover since Iowa State's win over George Mason on Dec. 22 in Hawaii, has seen his playing time increase since the start of the Big 12 schedule (Morris is averaging 27 minutes per game since league play began). The rookie has dished out 44 assists to nine turnovers this season and has scored in double figures in three of the last four games.
"Every game, I feel more confident," Morris said. "I am glad I have some games under my belt against top competition. I set a high bar for myself. It is all about confidence. I didn't have that early in the season but Melvin (Ejim), DeAndre (Kane) and Georges (Niang) just keep telling me to take shots and stay aggressive."
In life, "they" always say that the best compliment is one that comes from your peers. Morris, who is six years younger than Kane, is clearly respected by his teammates. Just ask the man a man who he competes for playing time with on a nightly basis, sophomore Naz Long.
"I feel like Monte Morris has come in and played great minutes," Long said, when asked about his role increasing due to Kane's injury. "I feel like he has played the best late. In conference play, he has played mature basketball. Guys like myself will be ready to step up if need be."
Filling the DeAndre Kane void doesn't all land on the freshman's shoulders though. Fellow rookie Matt Thomas needs to step up and knock down some threes. Naz Long needs to be more productive, especially on defense. Melvin Ejim might be asked to handle the basketball more. George Niang needs to grab a few more rebounds. Dustin Hogue needs to score more than he has recently. 
"Everybody is obviously going to have to pick it up," Hoiberg said. "Monte has obviously been giving us some very quality minutes at that spot. Naz will have to play a ball-handling role. We have other guys who can handle it out there on the perimeter. It's going to have to be by committee."
Scouting Kansas
Don't let the 11-4 record fool you folks. Kansas, who according to CBSSports.com has played the toughest schedule in America up until now, is playing its best basketball of the season right now.
"I would say they are playing as well as any team in the country," Hoiberg said.
Kansas opened Big 12 play by doing something that Iowa State could not do, that's win in Norman last week by a 90-83 final. On Saturday, the Jayhawks utterly embarrassed their rival, Kansas State, 86-60. Kansas' four losses were to Villanova (neutral), Florida (away), Colorado (away) and San Diego State (home). The Jayhawks have defeated the likes of Georgetown, Duke and New Mexico along with its Big 12 victories.
Freshmen Andrew Wiggins, Joel Embiid and Wayne Selden Jr. have rightfully gotten a ton of attention so far this year and to that point, they are much better now than they were in November. But the play of two veterans, Naadir Tharpe and Perry Ellis could prove to be critical tonight.
"You have to try and take away something. You can't take away everything," Hoiberg said. "You have to live sometimes with what you give up and if they make those shots on a particular night, you shake their hand and tell them congratulations. It's a match-up problem any time that you face Kansas because they are so big, so skilled and so athletic."
Last year, Hoiberg applied the "make this guy beat us" strategy in Iowa State's last two meetings with the Jayhawks. Elijah Johnson made the Cyclones pay by scoring 39 in an overtime loss inside of Hilton Coliseum. In the semi-finals of the Big 12 Tournament, Ellis played the best game of his career by going 10-of-12 from the floor and scoring 23 points. 
It's possible that Tharpe, who is averaging 8.0 points per game, will receive the "Elijah Johnson treatment" this evening. 
"Tharpe is a really solid player. He is a guy who can make shots for them," Hoiberg said. "With all of the weapons that they have and especially those guys on the post that usually have a size advantage every time that they take the floor, when you have those guys out there who can knock down shots, it makes it tough. He is playing fast. They run a lot of high ball screens for him."
Wiggins enters tonight as Kansas' leading scorer at 15.7 points per game. Ellis is averaging 13.7 with Embiid and Seldon Jr. at 10.5 and 10.3 respectively. 
Iowa State and Kansas went to overtime in two of their three meetings last year. The game in Ames was controversial. The ending in Lawrence was controversial and awfully lucky.
If history has taught us anything, it is that tonight's game should be very entertaining.
JOTTINGS
*** Fred Hoiberg's keys to rebounding against Kansas' ridiculously talented front-line.
"You have to find a body and the guards have to get in there and really help out," Hoiberg said. "It has to be a five-man effort."
*** Hoiberg said that his two big keys to victory for the Cyclones are transition defense and rebounding.
*** Kansas' team looks a lot different than it did last year. For that matter, so does Iowa State's. However, Georges Niang is still a little sour about how those games went down a season ago.
"All three of those games last year definitely have stuck with me," Niang said. "It's a big rivalry between us and them. I am obviously ready to go for Monday."
 *** More from Niang, who said that he appreciates a quick turnaround after Iowa State suffered its first loss of the season on Saturday at Oklahoma.
"I think it's a lot better," Niang said. "We can just get that loss off of our mind and get to this big KU game on Monday."