AMES — How does a top 10 basketball team force 24 turnovers, hand over only eight of their own and still manage to lose at home? Well, going a blustery 4-for-25 from 3-point range is a decent start.
The above scenario is exactly what went down on Monday night inside of Hilton Coliseum as the No. 15 Kansas Jayhawks topped No. 8 Iowa State by a 77-70 final. 
*** CLICK HERE for the complete box score *** 
"The best shooters in the world have nights like this," Fred Hoiberg said after the game. "We couldn't have had much worse of an offensive night and we still had a chance to win the game." 
Iowa State's offensive tribulations were headlined by an atypical 4-of-20 night from the field by sophomore Georges Niang. Niang, who couldn't throw a beach ball into the ocean, went 0-for-9 from 3-point range during the loss. Melvin Ejim was 5-for-15 from the field while DeAndre Kane missed half of his 16 free throw attempts. 
Freshman point guard Monte Morris was the only Cyclone who made more shots than he missed in the loss (3-5, 7 points). Kane led Iowa State in scoring with 21 points while Ejim scored 15.
"We were in there missing layups that we normally make," Hoiberg said. "A lot of our guys had good looks. Unfortunately you have nights like this in the game of basketball."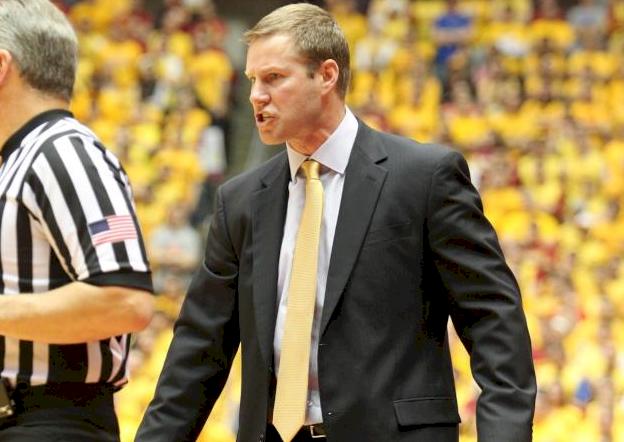 Heading into the season, one of the big concerns about this Iowa State team was its ability to shoot the three. In its last two games (including Saturday's loss at Oklahoma), Iowa State has gone an eye-popping 10-for-51 from 3-point range. 
The two-game losing streak isn't all because of shooting though. The Cyclones were out-rebounded in those two games by a combined 94-69. Kansas won the battle of the boards 53 to 36.
"We lost by 17 rebounds," DeAndre Kane said. "That's probably the key to this game." 
Twenty percent 3-point shooting combined with getting absolutely murdered on the glass is a formula for losing. Those are the big negatives coming out of Iowa State's two-game losing streak.
There are positives though. Despite that vile 10-for-51 3-point shooting statistic and issues when it comes to attacking the glass, Iowa State very well could have won that tough road game in Norman and beaten perhaps the most talented team in America on Monday night in Kansas. Somehow, someway, the Cyclones were right there in both games with three minutes to play.
That isn't a moral victory. That is a fact. And it is the reason why by no means should anyone be panicking in Ames.  Iowa State's 31 percent shooting night was a season-low and will likely remain that way from now until the season's end.
"We were so fortunate tonight because they missed shots," Kansas coach Bill Self said. "We defended them probably pretty good but they still missed shots that normally they would even if they shoot a bad percentage, normally would make eight or nine. They made four."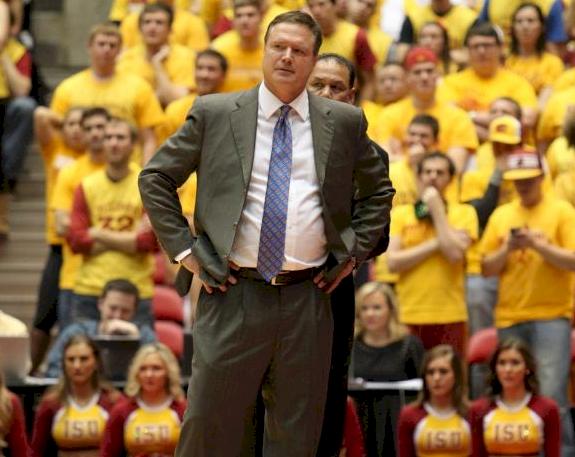 However, the following question does need to be asked: Are the 3-point shooting woes simply a mid-season slump or a sign of things to come? 
My guess is that it is probably a little of both. As Hoiberg and Self both pointed out numerous times during their postgame press conferences, Iowa State cannot shoot any worse than it did on Monday. But it is also crystal clear that there is no Tyrus McGee type of shooter on this Iowa State team. Naz Long looked like he might be that guy early on in the season but hasn't been consistent enough to rely on. Matt Thomas is obviously still lacking confidence with his shot (Thomas was 1-for-5 vs. Kansas). Monte Morris, Melvin Ejim, DeAndre Kane, Georges Niang and Dustin Hogue are all competent 3-point shooters but none of them are at the 40 percent mark from long range this season.
The 3-point shooting will come and go. That is basketball. After all, the Cyclones went 10-for-25 (40 percent) from long range just one week ago in a win over Baylor. This team can shoot the three well and it has at points this season, but these Cyclones aren't good enough in that aspect of the game to rely on the long ball night in, night out. They don't need to. Iowa State only made six threes a piece in its wins over Michigan and Iowa. This Iowa State team is best when it's attacking the basket, not settling for threes. 
What any team should be able to do though is rely on decent free throw shooting (the Cyclones were 22-for-35 on Monday) and not getting annihilated on the boards. If Iowa State had been just decent in either one of those categories on Big Monday, the tone of this column would likely be a lot different today. 
Where to go from here?
"We will get back to doing a lot of technique stuff," Hoiberg said. "We were pretty good in the non-conference portion of the schedule. You don't want this to be a trend moving forward because Texas is the No. 1 offensive rebounding team in our league."
Up next for the Cyclones is a road trip to Texas on Saturday afternoon at 3 p.m.
JOTTINGS 
*** For the first time this season, freshman Matt Thomas wasn't in Iowa State's starting lineup on Monday. Naz Long took his spot because Hoiberg was trying to get Thomas into a different rhythm.
"I wanted to change his role and get him off the bench to see if that would get him going a little bit," Hoiberg said. "Naz does some good things as well and I felt match-up wise, Naz gets a little more size and gets some physicality out there when you are guarding the big, strong wings that they have."
Thomas and Long combined to go 1-for-7 from the field.
*** Fred Hoiberg with a big statement…
"I think (Joel) Embiid is the best player in the country."
Kansas' big man dominated Iowa State while converting on 7-of-8 field goal attempts. In addition to his 16 points and nine rebounds, fellow freshman Andrew Wiggins most certainly lived up to his hype. The man who many people believe will be the top pick in this summers NBA Draft scored 17 points to go along with his 19 rebounds in the KU victory.
Meanwhile, Kansas senior Naadir Tharpe got the Elijah Johnson treatment, meaning that Iowa State dared him to beat them. And he did. Tharpe, who entered Monday averaging eight points per game, went 7-of-9 from the field and led the Jayhawks with 23.
*** Fred Hoiberg on rebounding…
"We are giving up inches every night. I'll say this. Our guys battle because we are giving up at pretty much every position. Our guys gave us a shot to win this game even though we couldn't have shot any worse."
*** Quoting DeAndre Kane…
"It's no time to put our heads down. We're 14-2. We've still got a long season. We have a day off tomorrow and we'll get back in the lab on Wednesday."