The Cyclone Fanatic Mailbag is brought to you by our good friends at Phillips Floors with locations in Ankeny and Indianola. 
Happy Tuesday Cyclone Nation. After Iowa State's 77-70 loss to Kansas last night, I thought it would be appropriate to hear from the fans and whip up a little mailbag here today at CycloneFanatic.com.
Let's not waste any time and get right to our first question, this one coming from CyTwins.
CyTwins writes: Over/under 5.5 losses in conference play for men's basketball?
CW: I just jotted down my quick predictions on the rest of the season to answer your question and found six losses (total) in the league for Iowa State, so I guess I'll take the over. There are a lot of tweener games left on Iowa State's schedule that could go either way. Saturday's 3 p.m. tip at Texas is one of those (Texas beat West Virginia by 11 last night in Morgantown). Road trips to Kansas State and Baylor fall in the same category.
In sports, coaches like to overuse the saying, "Things are never as good as they appear, or as bad."
I feel like the Cyclone Nation has been slapped in the face with this reality over the last four days. After all, it isn't like Iowa State utterly dominated the first 14 teams on its schedule. There were a lot of close calls in there and Iowa State's sleepiness at the start of halves was bound to catch up with it. 
I'd really like to encourage Iowa State fans to not overeact to last night's loss though. Kansas is possibly the most talented team in America. Bill Self is the best coach in America. Hell, they could run the table in the Big 12 for all we know now that the Jayhawks have grown up and appear to be clicking.
Iowa State will be just fine. Had I thrown the possibility of being 14-2 at this point in the season out to you in October, you would have taken it in a heartbeat.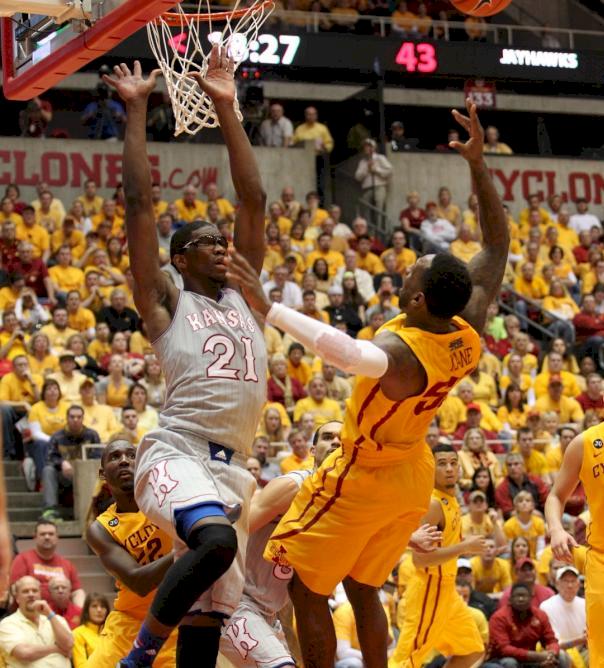 Triggermv writes: Who is the best team in the Big 12 right now?
CW: Without question, the answer to that is Kansas. Based off of what I've seen in the last two weeks, Bill Self's team is now the overwhelming front-runner to win the Big 12. 
Dingus writes: ISU has been out-rebounded in every Big 12 game so far. Is this an aberration or do you expect this to be the trend going forward?
CW: Probably a little bit of both.
Iowa State wasn't good on the glass last night but the Cyclones did miss 48 shots. That skewed Kansas' plus-17 number on the glass quite a bit.
Because of multiple factors, size included, I don't see Iowa State being a great rebounding team during Big 12 play. But it is also important to point out that Baylor, Oklahoma and Kansas are all teams ranked I the top half of the league's rebounding statistics. If Texas Tech, West Virginia and TCU had just owned Iowa State on the glass, I might be a little more concerned.
Rebounding was the difference in Iowa State's loss to Oklahoma, which was disappointing. Having watched the game again late last night, I'd lean towards dreadful shooting being the main reason for the Big Monday defeat.
Cmjh10 writes: Who do you think is going to the Super Bowl?
CW: Seattle and Denver. Boom.
Isuska writes: Favorite Eric Church song? And to a much lesser extent, favorite T-Swift song?
CW: Asking me my favorite Eric Church song is truly the most difficult question I have ever had to answer in this mailbag before. It's like making me choose between Oreos and Doritos. A true lose-lose situation. Gun to my head, I'd go with "Before She Does?"
I am actually going to see Eric Church this Friday as he is set to open for the KING OF MUSIC (and the world for that matter), George Strait. I can honestly call these men my two favorite artists of all-time. Should be a fun night. 
As for T-Swift, I'm off of her. She's too pop for me anymore. Na na na na, hey hey hey, good bye Taylor. And good riddance. I am glad that you are officially out of my life. Now Fanatics, will you please stop making fun of me about my former love for her? 
Questions via Twitter:
@JeffwithaREY writes: @ChrisMWilliams do you think Matt Thomas off the bench is a better decision? He looked more comfortable against KU then most the year.
CW: That is a solid question and yes, I agree with you. Having said that, Thomas still didn't appear to be confident with his shot. He uncharacteristically missed badly on a couple of threes, but Thomas did do the little things right last night. Thomas' defense was better as he somehow blocked three shots in 16 minutes. I know that Matt's play has been a bit frustrating for fans this season but the rookie still hasn't committed a turnover since the BYU game on Nov. 20. He will be fine. The guy didn't forget how to shoot. He just needs some confidence and maybe Monday helped with that. 
@clonesjer writes: @ChrisMWilliams who taught Niang the moving butt screen? I was amazed he only got called for one. Lucky with the refs I guess.  #sigh
CW: I couldn't agree more. Niang could get called for five moving screens a game. Last night's was a legitimate call that any intelligent fan saw coming from a mile away. 
@TedFlintKansas writes: @ChrisMWilliams besides Busch Light, what is your beer or choice for drinking away your sorrows after a games like the last two? #cheers
CW: My head didn't hit the pillow until 3 a.m. after Monday's game. Coffee was my drink of choice for that one! On Saturday, it was Busch Light. Although, I believe I did mix a little bit of Jack with Coke too. 
@lapoled writes: @ChrisMWilliams any thoughts on football staff hires still to come?
CW: I don't have anything on that quite yet. I don't believe that the wheels have really begun spinning at full speed quite yet. When they do, I'll have more of an opinion.