Commentary and analysis from Iowa State's 90-68 exhibition win over Augustana on Sunday night in Hilton Coliseum.
CLICK HERE to view the game's final box score. 
1 – A Kane comparison   
Obviously nuances of their games are different, but I see a lot of Curtis Stinson in DeAndre Kane.  
Iowa State's fifth-year senior transfer out of Marshall recorded 19 points and 10 rebounds (a very Stinson-like box score) in only 20 minutes of action. He is visibly a vocal leader, has a strong body and is very good but not great at most phases of the game. 
Based off of the lack of depth within Iowa State's roster (he's going to play a lot of minutes) and his 6-foot-4 frame, expect Kane to put up some crazy-good numbers this season for more reasons than one. This is where Hoiberg's obsession with mismatches will come in handy.
"I am bigger than most guards in the league so if coach sees a mismatch, he (Hoiberg) will expose it," Kane confidently said after the game.
While he didn't record an assist (which was weird), Kane did show off his much talked about flexibility. In his postgame press conference, Hoiberg noted that Iowa State's "point guard" played everywhere from the one to the four.
There is little doubt that Kane is due for a great season but at some point, he does need to show the ability to knock down a jump shot – something he did not do vs. Augustana. In his three years at Marshall, Kane's best year of 3-point shooting was in 2010-11, when he converted on 32 percent of shots from long range. Those numbers declined in years two and three, as he shot 25 percent from behind-the-arc last season.
That is nit-picky for right now though. Iowa State couldn't have asked for much more out of Kane in his first appearance inside of Hilton Coliseum. Hopefully the shooting will come with time and his increased familiarity with Iowa State basketball.
2 – Poor Georges Niang
This is the guy who will suffer the most because of Melvin Ejim's absence. Niang visibly started slow on Sunday and not having his right-hand-man in the lineup had a lot to do with it.
"All of the little things that Melvin does, I think we saw early in that game," Hoiberg said. "That contributed to our sluggish start."
This is exactly why a match-up with Michigan in two weeks scares the 'you know what' out of me – those little things.
A good team is going to relentlessly attack Niang early and the issue is that without having much frontcourt depth, Iowa State cannot afford to have him out of the game.
Niang ended the night with 10 points and seven rebounds.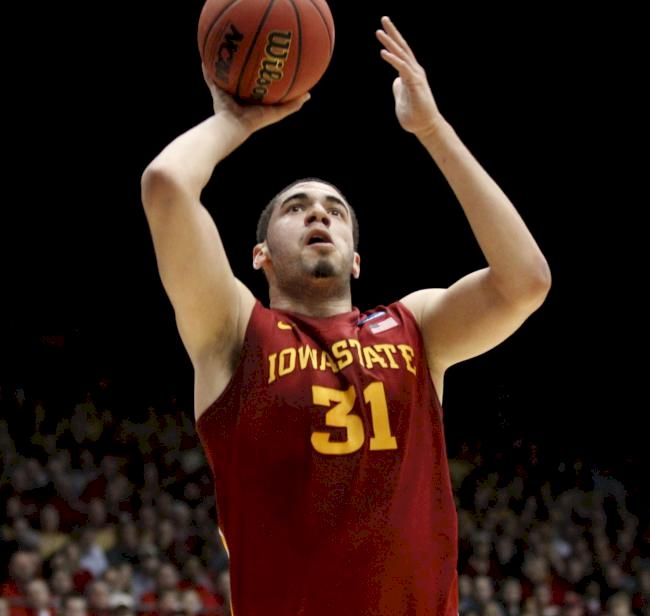 3 – The most important man?
This one might surprise the masses but with Ejim out, a case can be made for junior big man Percy Gibson being the most important man on Iowa State's roster right now.
Niang and Dustin Hogue can't, and won't be able to do it all down low for the Cyclones vs. a team with legitimate big men. Somebody has to chip in and an educated guess says that JuCo Daniel Edozie will not be that man.
Has Gibson finally figured out his role within this program?
"Percy was very active," Hoiberg said. "He is in better shape. He is getting a lot of extra work in."
Gibson, who missed a few weeks of practice due to a concussion, went 3-for-5 from the field, scored six points with three rebounds in the win.
"I think he sees and understands his role and how he can help us," Hoiberg said. "We're going to have to have him and have Daniel ready to come and give us some minutes."
Edozie played eight minutes compared to Gibson's 17.
Hoiberg noted that his frontcourt rotation will likely depend on circumstance and who the Cyclones are playing.
There were certainly moments where 'sophomore Percy Gibson' reared his head on Sunday but the Michigan native looked much more engaged with what was going on around him. That's a big positive leading into next week's season-opener vs. UNC-Wilmington.  
4 – Dustin Hogue has some real potential 
I mean this as a compliment (lots of negatives thoughts regarding football right now and understandably so), but junior Dustin Hogue reminds me a lot of Iowa State linebacker Jeremiah George – but as a basketball player.
At 6-foot-6, Hogue is a freakish, undersized athlete who is being forced to play the four because of Ejim's absence. Now granted, it was against a D-2 team, but Hogue's liveliness impressed me on Sunday night. He was the guy who we've heard about. 
Hogue's final stat-line was modest at eight and six but the potential is clearly there and he should only get better when Ejim returns and he goes back to his natural position. A frontline of Hogue, Niang and Ejim could be really good in February and March.
5 – Monte Morris has impressed everybody 
Even though he was Mr. Basketball in the state of Michigan last year and expectations were already pretty high, true freshman Monte Morris might have been the brightest of bright spots during Iowa State's "preseason."
He certainly was on Sunday. Hoiberg used the word "exceptional" to describe Morris' 11-point, five rebound, four assist debut in an Iowa State uniform.
"I really thought that he played a solid game," Hoiberg said. "He was getting his hands on all kinds of balls when we went on our run."
Morris did commit three turnovers in the win but even so, Iowa State had calming sense around the team when he was in the game. 
If Morris keeps this up, it will be hard for Hoiberg to keep him out of the starting five.
6 – The rotation
I was surprised that while trailing early, Hoiberg went eight-deep in the first seven minutes of the exhibition. 
Morris was the first to check in (for Naz Long) off of Iowa State's bench. Then, it was Gibson who spelled Hogue. Sherron Dorsey-Walker was the eighth man to check into the game, which was a surprise to me as I had K.J. Bluford ahead of Dorsey-Walker in my extremely unofficial pregame rotation.
Let's all keep it real though – a lot of experimenting was going on our there. We will all learn a lot more about Iowa State's could-be rotation next Sunday at noon.
7 – SOLID
That is true freshman sharpshooter Matt Thomas. He was quiet in the first half but went lights out and scored 12 in the second half. Thomas' final box score included at 5-of-8 performance with 16 points and four assists (while going 3-for-4 from 3-point range).
8 – This team will struggle from long range
We all knew this going into Sunday but Iowa State's 6-for-24 night from 3-point range reassured one thing for me. 
Over the last two seasons, we've seen Iowa State get down early and make up for it later on via the 3-point shot. That is going to be harder to do this season. Slow starts will be more difficult to recover from and defense needs to be played at a higher level. 
All nights won't be like Sunday though. Matt Thomas will obviously get his. Guys like Long, Bluford and Dorsey-Walker should be able to chip in as well. But don't expect the 3-point shot to be as large of a crutch in year four of the Fred Hoiberg era. 
9 – Give the "point of emphasis" some time
This new "point of emphasis" that officials are being directed to enforce (in regards to hand-checking) is going to take some time for fans (and players and coaches and media) to get used to. I got a lot of angry tweets about tick-tack fouls being called on Sunday night but we all should have seen this coming.
"We've got to change our ways," Kane accurately said. "Coach preaches to us every day about no hands. We have to get used to it. They are calling fouls so if you want to be fouled out, you will play with hands. If not, you will play without hands. You just have to slide your feet."
Iowa State was notably in the bonus at 12:50 to play in the first half.
All together, 39 fouls were called in the game.
10 – Maybe, just maybe…
Watch this video interview with Melvin Ejim that was recorded before Sunday's game.
Within it, the senior states that he hopes to be back sooner than expected from a knee injury that he suffered in practice last Wednesday. He also said that a quicker-than-return re-injury could essentially make things a lot worse.
I feel like it is a long shot, but I'm not prepared to say Ejim making it back for Michigan on Nov. 17 is impossible either.
Cross your fingers.