Today's game preview is brought to you by our good friends at Fareway. CLICK HERE for creative tailgating ideas and recipes from www.Fareway.com.

What: Iowa State (3-0, 0-0) vs. Texas Tech (3-0, 0-0)
When: Saturday, Sept. 29 at 6 p.m.
Where: Jack Trice Stadium
TV/Radio: FCS/Cyclone Radio Network
Fascinating. Confusing. Important.
All three of those words accurately describe Saturday night's showdown of Big 12 unbeatens between Iowa State and Texas Tech.
The game is fascinating because you have two programs that have only met 11 times over the course of history. Yet when you combine the fact that Iowa State has handily defeated the Red Raiders in each of the last two seasons (there are reportedly posters with the scores from those games posted all around the Texas Tech football complex to prove it) along with the teacher-pupil relationship between Tommy Tuberville and Paul Rhoads, it's almost as if a bit of a rivalry is budding here.
The game is confusing because through three games in 2012, it's nearly impossible to know much if anything about the team that Texas Tech will bring to Ames. According to college football statistician Jeff Sagarin, Tech has played the 164th toughest schedule so far this season (that's out of only 120 division one programs in America of course).
The game is important because both teams are 3-0 heading into what is guaranteed to be a grueling Big 12 conference schedule. After Texas Tech failed to play in a bowl game for the first time in 12 years a season ago, Tubberville feels that "his guys" are ready to get the Red Raider Nation back where it belongs – playing in the postseason and competing for Big 12 championships. 
And then of course there's an Iowa State team that appears to be the deepest and most talented since Paul Rhoads took the job four years ago. Iowa State started last season with a 3-0 record, only to as Rhoads recently put it, "lay an egg" and be embarrassed in a 37-14 loss to Texas – a defeat that launched the Cyclones into a four-game losing streak.
Unless you're a national title contender (which I'll assume that neither of these programs are this season) there's no such thing as a must-win in the month of September. But consider this if you're a Texas Tech fan and you're next five games are vs. Oklahoma, and West Virginia and at TCU, at Kansas State and vs. Texas. 
(Gulp)
Is this a must-win for the Cyclones? I've already stated my opinion but you can be the judge of that for yourself.
Regardless of how you feel about the must-win conversation, there's no doubt that this is a statement game for both programs that are looking to prove that they're underrated and a force to be reckoned with in the Big 12.
Texas Tech Will Win If…
…This team is for real.
The Red Raiders didn't exactly play the New England Patriots during their non-conference schedule this season. Wins over Northwestern State (a FCS program), Texas State (first year as an FBS program) and New Mexico didn't raise many eyebrows. However, there is evidence that this Texas Tech team is much better than that of a year ago when you consider the following facts…
— In 2011, Texas Tech played two of the same three opponents to start the season as it has in 2012 (Texas State and New Mexico with Nevada being the third). At this point during last season, the Red Raiders were ranked 95th in the nation in total defense and giving up 410 yards per game. After three games this season, Texas Tech is ranked first nationally giving up just over 160 yards per contest.
— After the non-conference portion of it's 2011 season, Tech was ranked 111th in rush defense, giving up just over 225 yards per game on the ground. This year, the Red Raiders are giving up only 75 yards per contest.
— Tech's numbers are better offensively too. The Red Raiders are currently ranked second in total offense at 597.6 yards per game. That's up from a 523.3 yards per game average last year.
Those are all facts but so is this: There's a big difference from the 2011 Nevada Wolfpack (that Texas Tech only beat 35-34 in its final non-conference game of the season last year) and Northwestern State. All of the statistics above came from Texas Tech's media guide for Saturday's game. The media guide fails to mention that Nevada had a pretty good offense last year – ending 2011 ranked sixth nationally. Numbers can be presented in a variety of different ways. 
What happened last year will not matter come Saturday night though.
Throw Texas Tech's strength of schedule out the window. Paul Rhoads seems impressed with what he's seen thus far from the Red Raiders regardless of whom they've played.
"They are a very explosive football team averaging over 50 points a game. Without a doubt, it is the best offense they've had since Tommy's arrival," said Rhoads. "They have their best offensive line. They have multiple players at running back that are really running the ball well. They have potentially an all-league quarterback in a league that has the best quarterbacks in the country and they have a number of receivers to spread the ball around to."
Specifically, quarterback Seth Doege has connected with 10 or more receivers in every game so far this season.
"He hardly throws any incompletions and he hardly throws any interceptions," said Rhoads. "Pretty good qualities for a quarterback to possess and with that, they are scoring 50-plus points a game and really execution very well. He's a big, big part of it. He's a good football player."
Doege, who currently owns an NCAA record for completion percentage in a single game (90.1 percent by going 40-for-44 last season vs. New Mexico), is 75-for-101 for 858 yards, 12 touchdowns and one interception so far this year.
Tech boasts one of the top receiving corps in the Big 12, a group led by Biletnikoff Award candidate Eric Ward, that combines for 48 career starts. Much like Iowa State, the Red Raiders boast a two-headed rushing attack led by Kenny Williams (80.3 yards per game) and Eric Stephens (79.33 yards per game).
"They are quick hitters. They get the ball and they go," said Rhoads. "That's what this run game is designed to do. The coordinator (Neal Brown) and Tony Franklin who I worked with at Auburn are close and follow the same philosophy. They want to wear you down. They want to get you on your heels. They want to get the ball on their backs, go north/south and gain yards fast. That's what he does and that's what this offense does."
Defensively, the Red Raiders were just atrocious a season ago. Texas Tech ended 2011 ranked 114th nationally in total defense and 117th in scoring defense, giving up an average of just over 39 points per game.
Tuberville is now on his third defensive coordinator in three seasons at Tech, with veteran Art Kaufman being that man.
"I think they are probably in a situation that Tommy is more comfortable with now, someone that he is familiar with and coaches on that side of the ball he has had under him in the past," said Rhoads, a former defensive coordinator for Tuberville at Auburn. "They are fundamentally sound. They are great technicians. They don't take a lot of risk and with that and good players you are going to play good defense."
During Rhoads' Monday press conference, he mentioned Tech "not taking many risks" defensively two times. Expect the Red Raiders to attempt to bait Iowa State's turnover-prone quarterback Steele Jantz into mistakes Saturday night. 
"That's our goal," said Tech safety D.J. Johnson. "That's something I feel like we really didn't achieve through these three games, just not getting a lot of turnovers like they should. Our whole goal is to get three turnovers a game at least. So we are really going to focus on that."
Quotable: Tuberville on his relationship with Paul Rhoads
"It's good. We have got a good relationship on and off the field. We see each other several times a year. Our wives are very close. It's a lot of fun. You get into the game and then you don't even realize who is on the other side of the field, so it makes no difference. It's your team playing against another team in another colored uniform. It's fun' it's fun to know guys in this business and I know a lot of them. Most teams that we play, every week, I've got some kind of relationship with them, because I've been at this for a while. But again, for those three, three and a half hours, it's not a very friendly relationship, obviously."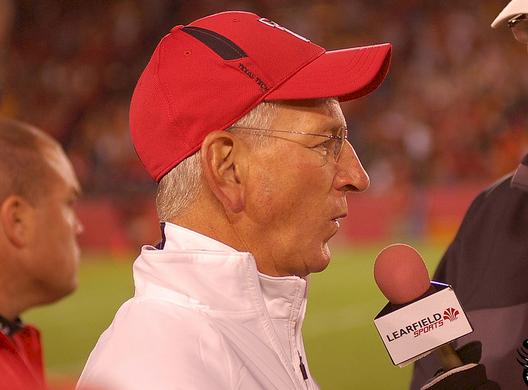 Iowa State Will Win If…
…The Cyclones are ready to take that next step as a program.
Don't get me wrong. Like I wrote earlier, I don't consider any game in September a "must-win" for either one of these football teams. It's still early. But let's just take a trip down memory lane and think back to last year's stinker vs. Texas.
"In my opinion, that Texas game crowd was the best that its been since I've been here, at the start of that game," said Rhoads. "We laid an egg weren't able to take advantage of the home crowd and playing at home. We can't do that again. We've got to come in and execute and play well and take advantage of what I think is one of the best home venues in the Big 12 Conference, Jack Trice Stadium."
That's just one of the many reasons why this game is so important to Iowa State. With a schedule like the one in front of the Cyclones (and every Big 12 team to be fair), home games against middle of the pack conference opponents are critical when it comes to qualifying for the post-season. Lose to Tech at home and all of the sudden, pulling off a road upset, a Paul Rhoads special, whatever you want to call it, becomes that much more important.
The good news is that Iowa State's program is finally to a point where it doesn't want to have to shock America to qualify for a bowl game.
"We've had three straight years of winning three Big 12 games with the eighth best finish in the Big 12," said Rhoads. "We want to accomplish more than that but it doesn't come by looking at all nine games. It doesn't come by just looking at Texas Tech. It comes by looking at Tuesday next. That's what we've got to focus on. We've got to focus on Tuesday's preparation, improvement and take it day by day."
Rhoads has publicly stated that his goal for this program is to get over that three win (in the Big 12) mark. It won't be impossible, but it's hard to imagine Iowa State doing that without a win against Tech on Saturday night. 
Quotable: Paul Rhoads recalls last year's win over the Red Raiders
"I remember going into it that they had just upset the No. 1 ranked football team in the country. They did it decisively and did it until about 4 or 5 o'clock in the morning. It's hard to start a week and go through a week that way. They had the storm. They were on the road. They got back at God knows what time to start the week. That's hard. And then having the euphoria of beating the top-ranked team in the country and bringing a team down from that. All of that was to our advantage. But we played well. We were a hungry football team that was just starting to hit our stride a little bit and play winning and good football. We did that night. But all of that has nothing to do with this game."
Key Match-Up: Iowa State's D-Line vs. TTU's O-Line
Seth Doege completed only 16-of-32 of his pass attempts against Iowa State last year. That's what happens when you get pressure on a signal caller, even one as accurate as Doege, who will enter Saturday as the eighth best quarterback (yardage) in Texas Tech history.
Tech's offensive line is big but they're also fairly inexperienced. As is pretty much always the case with Iowa State, the linebackers and secondary will likely do their jobs. But how will the Cyclones do up front in disrupting one of the best quarterbacks in the Big 12?
"Doege is going to get the ball out quick so if we can just disrupt him with his timing with his receivers early, get some pressure in his face, I think we can have the same results as last year," said Iowa State free safety Jacques Washington.
The good news is that if Iowa State continues to go 12-deep on the defensive line, that should be a major advantage against up-tempo spread offenses in the Big 12.
3 Keys to a Cyclone Victory:
Run the football – It makes the game so much easier when you can run the football effectively.
"History shows that when we run for over 200 yards, we're pretty hard to beat," said Rhoads. "That's where I'd like to see us climb to so that we can match-up with those stats. Any time that you're running the ball 200 yards or better you're holding onto it, you're wearing folks down and you're giving your defense an opportunity and in this league, you've got to do that."
The Cyclones ran for 368 yards during last year's laugher in Lubbock.
Clean it up – Something tells me that this whole lose the turnover battle yet still win the game trend won't keep up for the Cyclones against Tech.
Pressure – As is mentioned in our "key match-up" for this contest, Iowa State has to make Tech quarterback Seth Doege uncomfortable. He's proven time and time again that if he has time, he can and will pick a defense apart.
Magic Number:
This week's is nine. According to my good friend Brent Blum, Iowa State has held nine straight opponents to 30 points or less in regulation. Blum claims that is the longest active streak in the Big 12. 
Jacques Washington heavily credits Iowa State linebackers Jake Knott and A.J. Klein for that.
"I think that Jake and A.J. take the run game out and force teams to pass," said Washingon. "We've been playing well and I think we've been playing better this year. Jake and A.J. can cover the pass too so that's a plus. They can stop the run. I think we're playing more aggressive as a defensive backs unit."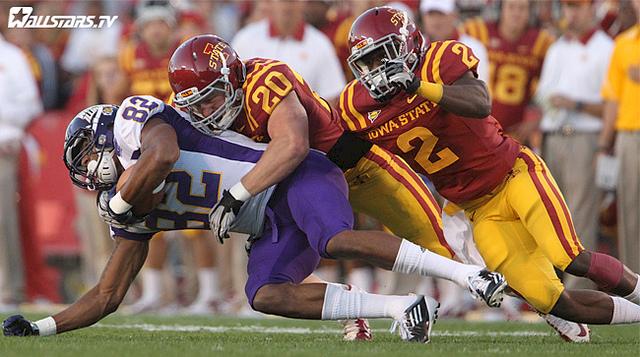 Injury Report
*** The big injury question entering Saturday for Iowa State is the status of junior running back Jeff Woody, who really hasn't been healthy all season after getting dinged up vs. Tulsa. According to Des Moines Register reporter Andrew Logue, Woody will play vs. the Red Raiders.
*** Besides Woody, the only other potential question heading into this week was around senior tight end Ricky Howard. During his press conference on Monday, Rhoads confirmed that Howard will play after undergoing a knee scope during the bye week.
*** Tech's starting cornerback Cornelius Douglas missed the New Mexico game due to an abdominal strain but is expected to play vs. the Cyclones.
*** Tubberville said on Monday that offensive guard Tony Morales will not play vs. Iowa State.
Notebook
*** The fourth largest crowd in Iowa State football history turned out to watch the Cyclones beat Western Illinois two weeks ago. Does Saturday night's attendance number have a chance to break a record?
*** Texas Tech will be the first true spread offense that Iowa State has seen this season. That means that fans will likely see more of Deon Broomfield and less of Jeremiah George on defense. Keep an eye on Iowa State's defensive sets. One can only assume that Wally Burnham's group will spend more time in the nickel vs. the Red Raiders.
*** This will mark the 11thtime in history that Iowa State and Texas Tech have met in football. The Red Raiders currently lead the series 7-3 but of course Iowa State has won two in a row.
*** Texas Tech hasn't won a game in Ames since 2006. Oh how times have changed. Then first-year quarterback Graham Harrell and coach Mike Leach led the Red Raiders to a 42-26 victory.
*** Heading into the weekend, Paul Rhoads has begun his career at Iowa State with a 21-20 record. That's the best coaching start to a career at Iowa State since Clay Stapleton's back in 1958. Stapleton was 24-17 in his fifth season in Ames in 1962.
*** Texas Tech and Iowa State are ranked first and second nationally in pass efficiency defense. The Cyclones have broken up 6.67 passes per game so far this season. That number is up from 3.69 a year ago.
*** Keep an eye on the number 24 Saturday night. Iowa State is 18-1 under Paul Rhoads when it holds the opposition under 24 points. The Cyclones are 3-19 if its opponent scores 24 or more.
PREDICTION 
After all of this, I think this all comes down to one very simple question. How good is Texas Tech? While Iowa State certainly hasn't played its best football game of the season so far, we know far more about the Cyclones than that of the Red Raiders. 
This Texas Tech team could go 11-1 for all we know. Or they could go 4-8. Who knows?
I'm not really sure but here's what I think. This is a better Texas Tech team than the one Iowa State blew out last season. Iowa State also won't have what turned out to be an advantage, Tech coming off of an emotional road upset over top-ranked Oklahoma the week before.
But all we've heard all week are about the gaudy rankings that the Red Raiders have racked up in wins over Northwestern State, Texas State and New Mexico. It's hard to believe that Tech is that much better than they were a season ago. But the Red Radiers are clearly better.
My guess is that the end result will be somewhere in the middle.
I'm picking the Cyclones to win this game by double digits and I'm banking on the fact that Iowa State learned from its bad bye week before the Texas game a year ago.
The Cyclones are the most underrated team in the Big 12 and I'm predicting that they'll prove it on Saturday night.
THE PICK
Iowa State 34, Texas Tech 24