Yesterday, I teamed up with my friend Kyle Porter, publisher of PistolsFiringBlog.com to preview tomorrow's Iowa State – Oklahoma State game. Get a Cowboy guy's perspective on the game via this read. Also, for any/all Oklahoma State information as you prepare for the big game, check him out on Twitter @PistolsGuy. 
—————————————————————————————————————————————–
CW: Hello Kyle. We meet again.
You know, the last time that we did one of these was in 2011. I've told you time and time again that Oklahoma State is my second favorite Big 12 school and I swear (to all of your readers), I'm not just sucking up. So because of that, my apologies go out to all of you for Iowa State's ruining of your chance to play for a National Championship. I am also sorry for bringing that up again in a year in which that game is totally irrelevant.
But you have to understand that as I write this, Iowa State fans don't have a lot to feel good about right now. The Cyclones are 1-5 and just got throttled by 64 points by freaking Baylor (everybody's once ugly step sister who is all of the sudden looking sort of hot now that she's all grown up).
To write that Cyclone fans are anxiously awaiting basketball season would be a massive understatement.
Still, Paul Rhoads always seems to surprise you once or twice a season. I feel like there is a glimmer of hope that this weekend could be one of those games. But then again, a depleted offensive line and really the lack of being able to do anything on offense two weeks in a row makes an Iowa State win over the Cowboys seem like a bit of a pipe dream.
Here's my take on Oklahoma State as I've watched them from afar a few times this season. This is a football team that truly is a 5-1 football team, but is better than what the "style points" they've accumulated since September would indicate (if that makes any sense). I mean, if you talk to pretty much anybody (outside of Stillwater) about who is going to win the Big 12, the Cowboys aren't even being mentioned anymore, which is ridiculous in my opinion.
Is my read on Oklahoma State accurate? What is the feel that you currently have in regards to the Cyclones?
KP: Thanks for throwing the saltshaker in our still-gaping wound from 2011. We could lose 293-3 on Saturday and it wouldn't begin to approach how awful that night was. 
As for Baylor, I mean they're kind of like Pam from the Office/Jenna Fisher, no? You see Pam and you're like "mehhhh, no" but she still makes you laugh and provides some (sometimes) unintentional humor. But then you see Jenna Fisher in real life on some late night show in a short dress and you're like "doooo wut?" That's what this Baylor season has been like.
I don't know how to feel about OSU right now. It seems silly to complain to you (fan of a 1-5 team) that my team is 5-1 but "it hasn't been pretty" and yet I feel like the first half of the season has been a harbinger of things to come. If OSU plays in its last six games exactly how it did in its first six games, it will probably end up going 7-5.
I'm just not sure I can handle another defeat in Ames. I had a buddy about a month ago text me because he was in Ames for business or something. The text said something like "I drove to Jack Trice, I'm just sitting in my car staring at it."
That's where we're at as a fan base. This is what you've done to us. We'll never be the same. OSU could beat Iowa State 97 times in a row in football and we would still not have recovered.
Here's my question — with as bad as Iowa State's record is I feel like they've still done some good things (Baylor game notwithstanding). If Iowa State ______________ on Saturday, they will definitely beat Oklahoma State…?
CW: Kyle, I'd love to give a direct answer to your very fair question but here's the thing – in order for Iowa State to win on Saturday, that blank needs to get a heck of a lot bigger. A lot of different things need to happen.
You're right. The 1-5 record is kind of deceiving. Kind of.
Consider that before the Baylor game, Iowa State's four losses were by a combined 22 points. We all know that the Clones go jobbed vs. Texas. But the other three losses (UNI, Iowa and at Texas Tech) were not fluky. Special teams and decent defense kept the scoreboard relatively close but the Cyclones were beaten badly up front.
My best attempt to answer that question would be to get something, anything from what's left out of its offensive line. That's where all of Iowa State's issues start.
From an Iowa State perspective, here is the most important stat that you will read before Saturday's 11 a.m. kick. This will be Iowa State's seventh football game of the season. This will be the seventh different offensive line combination that the Cyclones will roll out this season. Think about that for a moment…
First off, it is a group that cannot stay healthy and second of all, nobody is really sure how good it was going to be back in August to begin with. Create a hole or two for a running back. Give Sam Richardson a few seconds to throw the football. That is the key for Iowa State. As you well know, everything else should improve from there if the offense (that somehow only mustered up nine skimpy first downs last week against flipping Baylor) can move the chains more regularly. It wasn't able to do that against Texas Tech or Baylor and the defense paid the price.
It's the same scenario heading into Saturday against an offense that plays at the same insane tempo as those two, which leads me to a question I have about Oklahoma State.
I watched every play of the TCU game and know that I am a great admirer of that Horned Frog defense. It is legit. But Oklahoma State turned the football over four times. From where you sit, was that an Oklahoma State issue, TCU just being really good on that side of the ball or perhaps a little bit of both?
Why is this group struggling? Is it the quarterback? Is it the new coordinator? Who do Oklahoma State fans hope starts at quarterback on Saturday?
From a distance; your quarterback situation has a weird Steele Jantz/Jared Barnett feel to it.
KP:Oklahoma State fans hope that Brandon Weeden starts at quarterback on Saturday.
But since that's not happening I think most fans don't really care anymore. There were two pretty clear camps of "I love JW Walsh because HE'S A GAMER AND MAKES TOUGH FOOTBALL PLAYS AND HE'S FROM TEXAS FOR HEAVEN'S SAKE!" and "Clint Chelf averaged 50 a game last year, he should probably keep starting." 
I was in the latter initially but since the start of the year those two have kind of merged into "when does basketball start?" for everyone.
The offensive line and offensive coordinator have been less than stellar thus far. The former because of injuries and the latter because, I think, he's so scared of turning the ball over that he won't stretch the field which, you know, is kind of important in an air raid offense. 
This is a very average offense that can actually be above average if it can figure out how to score inside the red zone. It took six trips against TCU in which it didn't score. Six! Six times OSU was inside the 20 against TCU and did not score a single point! 
I wrote earlier this week that you can look at that one of two ways but I think most of our fans are looking at like "my gosh is this the Big 10?" kind of way.
Question I just thought of: Paul Rhoads is great, I love him, rank the Big 12 coaches in order for me of who you most want running your program to who you're least comfortable handing it over to.
CW: If Oklahoma State gets Brandon Weeden, Iowa State gets Seneca Wallace. Deal? That certainly would make what appears to be a rather vanilla game quite interesting.
My order of Big 12 coaches (who I'd like to see in Ames) goes like this…
1 – Art Briles – Think about what he has done in Waco, Texas Kyle. THINK ABOUT IT. I know, I know. The Bears haven't played anybody. Blah, blah, blah, blah. But if this guy can win in Waco, something tells me that this guy can win in Ames.  
2 – Mike Gundy – In my opinion, the second-best pure coach in the Big 12 behind Gary Patterson but Gundy is a better recruiter. Also, the situation in Stillwater is similar to the one in Ames (fan base, stadium size, another monster in-state school to compete with etc.). He's shown he can turn a non-destination school a pretty damn impressive football program.
3 – Bill Snyder (20 years ago please) – (see comments about Art Briles, replace Waco with Manhattan, Kan.)
4 – Bob Stoops – The guy has won a national title and he's semi-familiar with the state of Iowa based off of his days of being a Hawkeye. But coaching in Ames is a heck of a lot different than it is in Norman. 
5 – Gary Patterson – In my opinion, Patterson is the best pure coach in the league. His defenses are always nasty, but TCU has yet to prove that it is a legitimate Big 12 program in the long run. How well would he recruit in Ames though? That is the question here. 
6 – Kliff Kingsbury – I truly believe he is the real deal, but that is in Lubbock. He is the perfect fit there. Would all of that translate to the Big 12's northernmost school where he has hardly any ties?
7 – Dana Holgerson – I always have been and still am very lukewarm on Holgerson. A brilliant offensive mind but appears to be a poor leader of men. I'd put all of my chips in the middle of the table to get this guy on board as an OC though.
8 – Mack Brown – After coaching that level of talent over all of these years (which he hasn't won with in years), really, how well could Brown do in Ames?
9 – Chuck Weis – No analysis needed.
So Kyle – let's hypothetically say that Mike Gundy bolts from Stillwater this spring. Give me your rankings to become the next Oklahoma State head coach.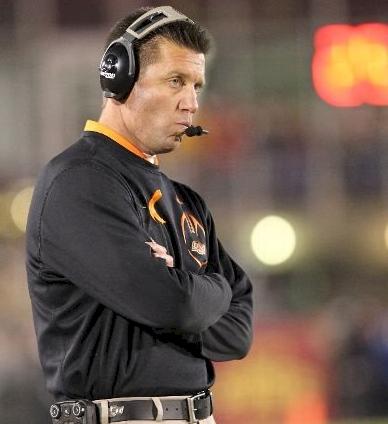 KP:Hooooo boy. 
I've actually been saying for 2-3 years that Gundy would end up at Texas as its next head coach. I'm not totally sure I believe that as much now as I did when I first started saying it but I wouldn't be shocked (I'm not sure why more people don't talk about it, actually). Btw, you're overrating him as a football coach and probably underrating him as a leader. He's hired some damn good coordinators (especially on offense) so he could step back and take care of the program, which he's done pretty much perfectly. People point to Boone and say "he did all this" which is fine, but somebody can give you and I $4 billion and 85 dudes and we'd go 0-12. 
Here's who I would want (this is off the top of my head):
1. Todd Monken — He's a blogger's dream. And, I think, a great coach. There might be a little too much Holgorsen in him though.
2. Glenn Spencer — He's been so impressive in his first year as our DC, plus he'd lead the nation in encouraging tweets sent per dollar made in salary.
3. Mike Leach — He wouldn't do it but hey, OSU is a step up from WSU right now and he'd be a pefect fit to continue the "how do I get $3.5 million to do this job" look Gundy has perfected.
4. Nobody named DeForest
5. Brandon Weeden and Zac Robinson as co-coaches — WHY NOT?
How did we get on the topic of coaches?
Let's wrap this baby up, give me a score prediction and how you see the game going on Saturday morning.
CW: I think that will see a spirited Iowa State team show up but at the same time, I just don't see any way that this offense pulls itself together enough for the Cyclones to actually win. The line is too depleted. The offense has been too anemic. I need to see more before I can even think about picking an upset here. Give me the Cowboys with a backdoor cover. Oklahoma State 31, Iowa State 17.
Where are you? 
KP: I think OSU wins something like 31-21. Before the season I predicted this team wouldn't score fewer than 35 points in any game and not I'm starting to wonder if it will score more than that again this season. The defense is terrific though and as we all know, defense wins two things: Championship and "I know it's been 24 months but it still stings so much, I might have to do my entire recap of the game via the radio because I don't know if these eyes can even look at Jack Trice Stadium for longer than 20 seconds" revenge games.