DISCLAIMER: I met Kyle Porter from PistolsFiringBlog.com on Twitter a few years ago. He's a quality, quality guy. He's appeared on our Cyclone Fanatic radio programs before and is my go-to guy for discussing anything that has to do with the Cowboys. So enjoy our joint preview for Saturday's contest between the Cyclones and the Cowboys. 
KP: We meet again…Tell me this: Since that fateful Friday night last November, how much has Iowa State improved as a football program?
CW: A fateful Friday night…A chilly evening that you all still have nightmares about…A chilly November night that the Cyclone Nation calls its greatest of all-time. I'm glad that we're still friends Kyle. I really am. 
Iowa State is a much deeper football team than it was a season ago, specifically on defense. There's been a lot of debate on our boards this season as to which Iowa State defense was better – this one or 2005's bunch. I was on the fence for a while but now believe this one gets the nod. 2005's line was probably better but this one goes 10 deep. I'm sure you're aware of All Big 12 linebackers Jake Knott and A.J. Klein. The secondary hasn't dropped off a bit since last season. The emergence of a true middle linebacker in Jeremiah George has given Iowa State some much-needed flexibility to play a 4-3 base effectively against the Kansas State's and Iowa's of the world too. Quality depth is where Iowa State is better off in 2012. 
I want to ask you about the 2012 Cowboys eventually but I'm very curious as to the type of reaction Iowa State will receive on Saturday morning. The Cyclones are saying that last year is history and that it won't play a difference this weekend but I find it really hard to believe that Oklahoma State will do the same thing. 
How much is revenge on the mind of this team and its fan base? How do you think that will impact Saturday's game?
KP: Hah hah, [more nervous laughter], yeah.
OSU isn't downplaying last November at all. Gundy has said it's on everybody's mind and it'sbeenon everybody's mind since then. The homecoming crowd, while probably a bit subdued by the 11 a.m. kick, will be out for blood from the opening kick. 
For the fans, it's actually not an Iowa State thing at all though. If OU was the lone blemish last year or Texas or even Baylor, then it would be a much more emotional sort of revenge. We like Iowa State though so it's more of a mechanical "look, you guys did this thing to us and these are going to be the consequences of you doing this thing. Afterwards we can still have a good relationship." 
Except that I'm not sure we're even good enough to have that attitude anymore. We scored 20 points on a pathetic Kansas team last week and are wallowing in injuries on the offensive side. Our QB1 is getting the Tom Brady "oh he's probable" treatment from Gundy for the rest of the season and the defense has been anything but opportunistic.  
That having been said, I expect no less than 40 in (hopefully) Wes Lunt's return. Do you think ISU can hang offensively again like they did last season?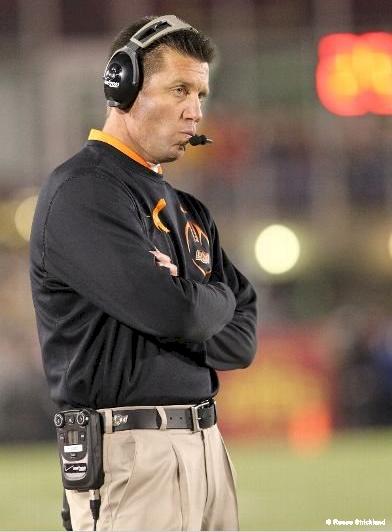 CW: That my friend (I sound like Joe Biden) is the big question with Iowa State right now. 
Offense.
In Iowa State's two losses this season, the Cyclones have been pathetic on that side of the ball. Iowa State only mustered up 189 yards of total offense in the loss to Texas Tech. That number was only at 231 last week against Kansas State. Having said that, Iowa State has seen three of the Big 12's top defenses in its first three league games (Tech, TCU & K-State) so it's really hard to know how the Cyclones will respond in the coming weeks. All I know is this: Iowa State averaged 2.4 yards per carry against Kansas State and quarterback Jared Barnett completed only 16-of-36 of his pass attempts. 
Can Iowa State's offense keep up? I have no clue. I don't think it is as bad as what we've seen recently and I don't think it is as good as what happened down in Fort Worth two weeks ago. Probably somewhere in the middle. 
Iowa State's defense is the strength here and what's why I think your 40-plus point prediction might be a little aggressive. Consider this Kyle: Iowa State has gone 12 straight games of holding its opponent to 30 points or less in regulation. That's the longest streak in the Big 12. This is an elite defense in this league and maybe one of the best in the country.
I'll be honest with you. I'm a big Mike Gundy fan. I'm a big fan of your program in general. I'm not a believer in the 3-2 record. I think OSU is better than that. I watched a replay of your game with Kansas on Saturday and the Cowboys are better than that performance too. With all of that talent, they have to be right?  
I'm just confused on what to expect from Oklahoma State on Saturday. The Cowboys are ranked first nationally in total offense – and that's with both quarterbacks in the mix. Does this year's Oklahoma State program have an elite offense that could snap Iowa State's defensive streak that I told you about a little bit ago?
KP: Honestly I'm a bit confused as well. OSU has scored 40+ in 18 of its last 30 games (since the beginning of 2010) and 30+ in 28 of those 30 (Kansas and Kansas State held us under that mark strangely enough). You're right though, Iowa State's defense is strong and it held a better offense last year to only 31 in OT so my 40+ prediction might have been a little hasty.
Here's the strange thing though: OSU is running plays at a faster clip than last year (81.4 a game this year vs. 76 a game last year) but is scoring fewer points per play (.64 last year vs. .60 this year). And Iowa State is definitely slowing things down (78.5 plays a game last season vs. 70 plays a games this season). Has than been a noticeable part of Rhoades' strategy or has Iowa State just played slow teams? 
All that to say I do think OSU could score 40 on Iowa State but I'm not as convinced of it as I was 20 minutes ago. I think OSU fans sometimes get flippant with this offense: "oh sure, we average 48 a game, we'll definitely hang 40 on ISU" instead of remembering "wait, our freshman QB's combined are barely older than our QB from last year, there's going to be a growing period."
After you answer that Rhoads question, rank for me Iowa State's units from best to worst (ie: 1 – LBs, 2 – QBs, etc.) so OSU fans can know what to expect on Saturday morning.
CW: Yeah. Iowa State hasn't played a ton of jet-tempo teams so far this season. That's a big reason for the play statistics that you showed. Iowa State played the majority of its non-conference season (Tulsa, @ Iowa, Western Illinois) in its 4-3 base defense, which it uses against more traditional offenses. You all will see Iowa State's nickel package for sure on Saturday morning in Stillwater. 
As far as unit rankings go, here's my best shot. 
1 – LB (probably the best in the Big 12) 
2 – DB (an underrated group that has played well in 2012)
3 – RB (has underperformed so far this season but I don't blame the running backs – entire offense has been sketchy)
4 – DL (Jake McDonough is playing at an All-Big 12 level at DT)
5 – OL (been a big disappointment so far this season IMO)
6 – WR (group hasn't played well but hasn't had many chances either due to lack of a rushing game/quarterback inconsistency)
7 – TE (junior Ernst Brun has been a nice addition to the passing game)
8 – QB (no fun putting this position here but the way they have performed up to now, I have no choice.)  
As far as the quarterback situation goes, Iowa State started the season with Steele Jantz at the helm. He led the Cyclones to a 3-0 mark in the Big 12 but then turned the ball over four times in the loss to Tech. Rhoads went to Barnett, who looked solid in the TCU win but not so much last week against Kansas State. 
Who knows what to expect on Saturday? I sure don't. 
I ranked the quarterbacks last but Iowa State's offensive struggles are far from a one-unit problem. The Cyclones haven't been able to run the ball. The offensive line has struggled. It's an offensive issue, not a quarterback issue.
I'm up in the air about Oklahoma State's quarterback situation. You've got Walsh and Lunt. They both look like solid players to me. Who should Iowa State fans expect to see on Saturday? What's the difference between the two? Also if you don't mind, I'd be interested in your position ranking for Oklahoma State too. 
KP: Lunt is the future. He's got one of the best arms in the Big 12 and couldn't be more perfect for this offense. Walsh is a great backup who has looked good-good-poor in his three games. He's not in Lunt's stratosphere. As for who plays, who knows? Belichick Gundy is isn't talking injuries anymore but I have a feeling we're going to see Lunt running the first team again on Saturday. Onto those rankings… 
1 – RB (so deep…good thing too since two of the three are injured right now)
2 – QB (tough to bench a top 15 QB in passer rating but OSU is about to do it)
3 – OL (played badly against KU but has only allowed two sacks for 11 yards all year)
4 – LB (run defense has been terrific – 3.26 yards per rush)
5 – DL (see above)
6 –  WR (they're deep but there's no go to guy…disappointing so far)
8 – DB (giving up the same number of yards per pass (6.6) as last year but 3 INT after 24 last year is unacceptable)
We don't much use tight ends.
OK, we've bloviated enough, brass tacks and such — who's winning on Saturday?
CW: Wait, wait, wait my Cowboy brother. I haven't had a chance to ask about Oklahoma State's defense yet. After all, that might be the unit that dictates the outcome of this game. We've covered Iowa State's offensive struggles so my question is, what kind of group will the Cyclones go up against on that side of the football? You noted a stout rush defense so that's certainly not what Cyclone fans want to hear. Anything else you can add?
Oklahoma State knows more than anybody not to ever count Paul Rhoads out of any competition. Iowa State will be game on Saturday. The 13-point line seems a little much to me. I think that Iowa State's defense will force some turnovers but it's all going to come down to that offense. Will the Cyclones snap out of that funk we saw them in last week and look more like the team that beat TCU or are these offensive issues here to stay?
 As for a prediction, objectively, you have to give the home team the edge here, especially one as talented as the Cowboys. Oklahoma State has plenty to play for with what happened last year. Gundy is a great coach. He'll use that to his advantage but for some reason, this Iowa State team plays very well on the road. Iowa State will ready to play. There's no doubt in my mind about that. Give me the Cowboys by a touchdown but if this one goes the other way, I won't be surprised at all either. 
Okay Kyle. It's time for you to call your shot. 
KP: Agh, I was trying to roll out without having to discuss the defense….
I realized the other day that this year's defense misses Markelle Martin as much as any defense in the country misses any single player. The yards per play numbers are the same as last year (or better) for both the run and the pass but there's zero pizzaz when this year's version trots onto the field. They haven't found their swagger yet and even though they're probably more talented than last season's unit nobody has as much confidence that they're going to get a big play when they need it.
As for a prediction. I agree the 13-point line (or 14-point line at some books) is absurd but I'll stick with my original statement that OSU will put up 40. I'll go 40-30 Pokes in a fun, hard-fought Big 12 affair. Then we can get back to rooting for each other the rest of the season…
…until we roll into Hilton.