AMES — The numbers tell the translucent story of Saturday night's 27-21 Iowa beat down of Iowa State. 
The Hawkeyes ran 83 plays to Iowa State's 63.
The Hawkeyes ran the football for 218 yards to Iowa State's 59.
Iowa ran the football 60 times, while attempting only 23 passes. Iowa State threw 39 passes, compared to only 24 rushes.
Iowa held onto the football for 38 minutes and three seconds. The Cyclones possessed it for 21 minutes and 57 seconds.
Iowa worked its way into Iowa State's redzone five times. The Cyclones found their way inside of Iowa's 20 once.
You didn't even have to have watched the game. Those numbers do all of the talking. Iowa State was dominated up front by its in-state rival. Most importantly though, a tattered Cyclone offensive line was respectable while protecting its quarterback but failed miserably at creating any sort of room for its running backs to gallop. Two games into the season, and Iowa State's running game is non-existent. Zero rushing touchdowns. Iowa State's top running back at this point in the season is James White, who has tallied 60 yards. 
From the press box (the scheme, the play calling, all of that jazz) to the line of scrimmage (blocking, execution, etc.), a stale Iowa State offense forced an improving defense to be on the field almost twice as much as the opposition's. 
Like a broken record, Iowa fans have complained about vanilla play calling time and time again over the last few seasons. But handing the ball off to big Mark Weisman 35 times was really all that the doctor ordered in this one for the Hawkeyes. With as big of a mismatch as this game was up front, Iowa would had to have gotten creative to somehow lose 2013's battle for the Cy-Hawk Trophy.
THREE UP
Irving/Bundrage – Looking for a positive to take away from Saturday's loss? Iowa State fans saw two play-makers emerge, one on each side of the football.
It was junior defensive tackle David Irving on defense. Irving played the best game of his career (by far) collecting five tackles and a sack. On offense, wide receiver Quenton Bundrage proved why he was hyped so much during the preseason by catching seven passes for 146 yards and three touchdowns.
On both sides of the football, these are good places to start when trying to pick up the pieces to an 0-2 start.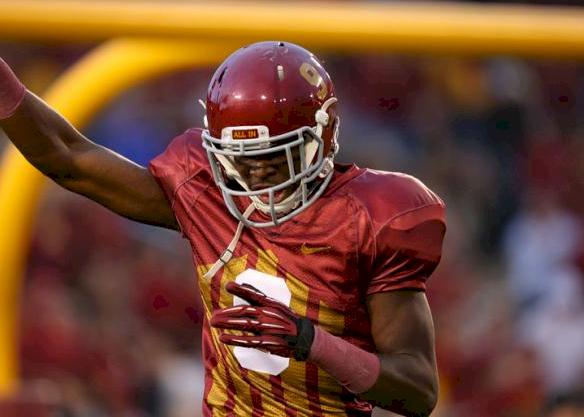 Defense – That looked a lot more like a Wally Burnham defense than what we all saw in week one, did it not? Granted, there is some obvious room to grow. The defensive line is clearly a work in progress and the group as a whole is as green as a John Deere tractor. But Iowa State's defense was head and shoulders better than the effort it put together against UNI. It was just on the field way too much.
Another bye – If a week two by was a good or bad thing for this team is still up for dispute. However, there's no debating that the Cyclones are banged up in a bad way and not having to play for 12 days is a major plus for this team. The Cyclones will next travel to Tulsa for a Thursday night date with the Golden Hurricane on Sept. 26. Tulsa (1-2) notably lost to Oklahoma 51-20 on Saturday.
THREE DOWN 
Not flukes – The most troubling thing about Iowa State's two losses this season is that neither one of them were fluky. For the most part, turnovers and penalties haven't been an issue for Paul Rhoads' program. Iowa State has played reasonably clean football from that standpoint. It's the whole being overmatched by two unexceptional teams aspect of the game that has been the real dagger.
Injuries – When redshirt freshman Jamison Lalk was forced to leave the game with a knee injury on the second series of the game, Iowa State was forced to do battle with its third string center. For an offense struggling to find its identity without the injuries, that hardly helped the situation.
Iowa State played much of the game with two third string offensive linemen in at one time vs. a formidable defensive front-seven. When that happens, you're not doomed, but you're severely limited.
Of course, Lalk was playing the position in place of Tom Farniok, who was injured during the season opener against UNI. Senior guard Ethan Tuftee was roughed up for a while in the second half. How this group can be this banged up this early in the season is beyond me, but it's an unfortunate fact.
And then there's quarterback Sam Richardson, who completed only 22 of his 39 pass attempts in the loss. Richardson was visibly hobbled throughout the game. From a running standpoint, he was a shade of the guy that Cyclone fans saw in week one against UNI, running for only 12 yards on eight carries in the defeat.
Tight ends – Iowa State's tight ends combined to catch three balls for 14 yards on Saturday night. On the season, Cyclone tight ends have caught seven passes for 24 yards. Wasn't this supposed to be a focal point of the offense coming into the season?