AMES — When the best news you receive on the opening night is that your starting center didn't tear his ACL and will in fact play again this season, that is one incalculably bad night.
This is the Iowa State football program's reality one game into the 2013 season after an unacceptable 28-20 loss to the Northern Iowa Panthers on Saturday night.
"We got outplayed," Iowa State's well-spoken running back Jeff Woody said after the game. "That's the bottom line. End of the story."
That analysis could not be more accurate.
There's no need to put lipstick on a pig here folks. You all are too smart of a fan base for that. 
The Northern Iowa Panthers showed up and played with a true "nothing to lose" attitude, style and game plan in front of a sold out Jack Trice Stadium and ran roughshod all over Paul Rhoads' squad. That David Johnson guy (he's an Iowa native you know?), well, he is a dude.
So give the Panthers get their credit. It was an imposing performance to state the obvious. But right now, I'll write what every single one of you out there are thinking.
With all due respect, Iowa State should never, ever, lose to Northern Iowa.  
STORY OF THE GAME
When Iowa State went into halftime trailing the Panthers 21-14, there was hope that after being shredded on the ground in the first half, the Cyclones would make some key defensive adjustments to slow UNI down in the third quarter. That is exactly what happened.
However, after compiling 297 yards of offense in the first half, Iowa State's offense stalled out and had to settle for two field goals after entering the redzone in the third quarter alone. Cole Netten converted on both (which was refreshing to say the least), but UNI never lost its lead. Should Iowa State have punched even one of those in for a touchdown (specifically after forcing a UNI turnover), this game could have unfolded differently. 
Could have, should have…
The cold, hard, fact is that Iowa State left 20 points on the field Saturday night. Across the board, there were shortcomings all over the field and yes, the defense had its issues. But the inability to capitalize was the story of this game. 
GAME BALL
Sam Richardson – Some good news…
Iowa State has a quarterback. This is one question that was surprisingly answered in the loss. I thought that sophomore Sam Richardson was great. Okay, maybe not great, but good. His decision-making was superb (zero interceptions). Richardson completed 69 percent of his passes. He ran for 110 yards. The only critique you can fairly make towards Richardson is that he might have held onto the ball a little too long a few times but by that time, Iowa State's offensive line was having a hard time getting in front of the UNI defenders. 
It's hard to imagine a quarterback controversy surfacing in Ames this year but even so, Grant Rohach needs to be ready regardless. Richardson took hard hits and got up limping a few times. If Richardson keeps running like that, it's hard to imagine an injury-free season.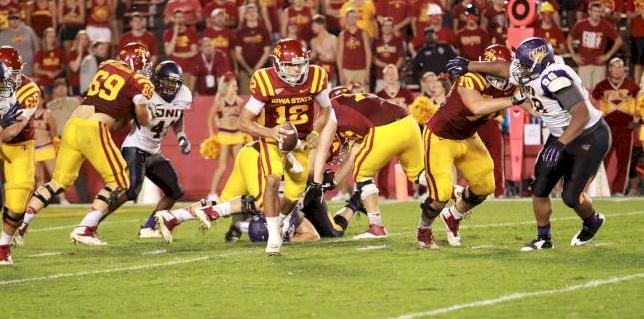 THREE UP
Justin Coleman – How great of a story is this guy? The former walk-on from Nebraska-Omaha led the Cyclones with 103 receiving yards including a 59-yard touchdown on the first reception of his career. 
Luke Knott – The redshirt freshman linebacker relieved junior Jevohn Miller of his duties halfway through the second quarter and recorded six tackles in his debut as a Cyclone. After watching that display, it's hard not to wonder how he didn't win the job outright coming out of camp.
Cole Netten – The redshirt freshman kicker went 2-for-2 on field goals from 23 and 38 yards. Still, it's hard to get too high on an Iowa State kicker this early in the season. Something tells me that both Netten and Edwin Arceo will be streaky all season long (don't hate the messenger.)
THREE DOWN
How they lost – Iowa State didn't turn the football over in this game. That's usually a good thing, but I'd almost feel better about the loss if the Cyclones would have lost the turnover battle by three or four. Something fluky you know? UNI flat-out beat the Cyclones up at the line-of-scrimmage, which is beyond concerning. If Iowa State's tackles couldn't protect Sam Richardson from those defensive linemen, what will Devonte Fields do when TCU comes to town?
Tom Farniok – As noted above, Iowa State's junior center left the game early with a knee injury but the good news is that it is not his ACL. Even so, we all saw just how important Farniok is to that offensive line. Rhoads said that Farniok "could" be available for the Iowa game in two weeks. 
Defensive front-seven –Brandon Jensen, David Irving and Rodney Coe combined for four tackles in this game. In addition to that, Jeremiah George only accounted for two (and he had to have missed more than that).
It's all about tackling. Iowa State's secondary had to do a lot of it, which is never a good thing.
FINAL THOUGHT
Misery loves company right? If it makes you feel any better, which it shouldn't, Iowa State isn't alone. Kansas State lost to the team that Iowa State will open up its 2014 season against on Friday night, an FCS foe in North Dakota State. Heck, West Virginia nearly lost to William & Mary (FCS) on Saturday too. 
Traditionally, losses like this don't equal the end of a season. They can mean that, but they don't always. Usually, it is all about how teams bounce back from these types of early-season struggles. Some respond well and use the setback as a wake-up call. Others curl up in the fetal position and start looking ahead to 2014. 
Over the last four years, the M.O. of this program has been that it bounces back when things get really down. Will the 2013 Cyclones be the same?
Stay tuned and we'll all find out together on Sept. 14.