What: Iowa State (0-2) @ Tulsa (1-2)
When: Thursday, Sept. 26 at 6:30 p.m.
Where: H.A. Chapman Stadium
TV: Fox Sports 1
This game preview/prediction is as always, brought to us by our good friends at Fareway Food Stores. Click on the ad below for creative tailgating ideas and recipes. 

In athletics, there are multiple ways that rivalries can evolve over time.
There is the bad-blood rivalry. An example: Not that there wasn't already tension between the Boston Red Sox and the New Yankees, but Pedro Martinez chucking a frail 72-year old Don Zimmer to the ground sure did spice things up a bit back in the day. 
There is also a semi-rivalry, like Iowa State and Tulsa in football. I wouldn't say that there is any "bad blood" between these two programs but at some point, human nature has to take its course. On Thursday night, these two football programs will meet for the third time in 13 months. That is an asinine fact for two programs that aren't in the same conference that don't even share the same state.
Are Iowa State and Tulsa football rivals? That is probably a stretch. But at the very least, they are acquaintances. Tell me that the familiarity factor between these two teams won't come into play on Thursday and I am going to call you a liar.
"It's not like I'm pounding the whistle at the end of every practice saying, 'We owe these guys one.' I'm sure that the Tulsa players took care of that in preparation for the bowl game in anticipation of that rematch," Paul Rhoads said earlier this week. "I would expect that the same is true with our guys at the training table and the locker room and so forth getting back to playing for a third time."
Last September, the Cyclones comfortably took care of Tulsa in the season opener. Last December, the Golden Hurricane embarrassed Iowa State in the Liberty Bowl.
For the past week and a half, Paul Rhoads and his players have shied away from the revenge aspect of this game but these are real human beings that we are talking about here – competitive ones at that. It isn't like Iowa State needs any extra motivation heading into game three of the season. For gosh sake, the Cyclones are 0-2 and by all means, in total desperation mode before the calendar has even turned to October.  
But it is human nature to want to punk somebody who made you look as bad as Tulsa did Iowa State last December on national television. My guess is that despite a combined 1-4 record between these two teams so far this season, things might just get a little bit chippy on Thursday night.

The Golden Hurricane will win if…
…Iowa State still hasn't found a way to move the ball consistently on offense.
The numbers do not lie here. Up until now, Tulsa has not been a good football team. The Golden Hurricane enter Thursday night's tussle ranked 105th in total offense and 88th in total defense.
Bill Blankenship's roster has been decimated by injuries while at the same time, was gutted inside the trenches by graduation. The Cody Greens and the Trey Watts' of the world might be back for Tulsa but up front, this is an entirely different team than the one that bruised Iowa State up in the Liberty Bowl.
Having said that, I really don't care what kind of a team that Tulsa has this season. If Iowa State hasn't figured something (anything) out on offense, the Cyclones will not win this football game. Period. 
Is that too strong of a take? Perhaps, but 35 first downs in two football games simply will not cut the mustard against anybody in the Big 12, or anybody on the road. Iowa State's young offense has yet to find any sort of a rhythm and as a result, the green defense has been on the field way too much.
Besides Iowa State's recent issues, Tulsa hasn't exactly been the Oregon Ducks this season offensively. The Golden Hurricane have turned the football over six times in three games. Quarterback Cody Green is completing only 52 percent of his passes and the Golden Hurricane's once potent rushing attack is currently ranked 95th in the country.
Note: Tulsa's top wide receiver, Keyarris Garrett, is out for the season with a broken left leg that he suffered in game two against Colorado State.
*** LINK: Tulsa's depth chart for Thursday night ***
Quotable
Iowa State LB Jeremiah George on Tulsa QB Cody Green…
"He is a big guy so when they do run the quarterback power, he gets into his blockers and he isn't looking to make anybody miss. He is looking to pick up the yards that he needs for the first down. When he drops back and throws, he has a very strong arm and he has some talented receivers."
The Cyclones will win if…
…The offense can move the football, but we've already established that.
How this will actually occur is the big question. Well, Iowa State currently boasts America's 50th ranked passing offense. Considering the fact that Tulsa will be playing without a man who is arguably one of the best cornerbacks in the country, Demarco Nelson (academics), (that and Tulsa is playing without three of its four starting defensive backs from last season), the Cyclones should have ample opportunities to throw the ball down the field successfully. After all, Oklahoma's Blake Bell, who is known as a running quarterback, threw for four touchdowns (and over 400 yards) two weeks ago against the Golden Hurricane. The pass game should be there for Iowa State.
But it all comes back to running the football, something that Tulsa's opposition has been able to do at ease so far this season. Bowling Green ran for 233 yards against Tulsa in week 1. The Sooners accumulated 607 total yards (413 through the air and 194 on the ground) in week three. 
Tulsa's defense appears to be a bit of a hot mess right now when it comes to stopping the run, or the pass for that matter. On paper, this looks like a great opportunity for Iowa State's offense to finally come to life and without question, that is the key to getting off the schneid. 
Quotable
Iowa State WR Justin Coleman on the return of Tom Farniok…
"He is a huge leader for us. He gets everybody going in the right direction. He has control of all five linemen. He is like having another quarterback out there."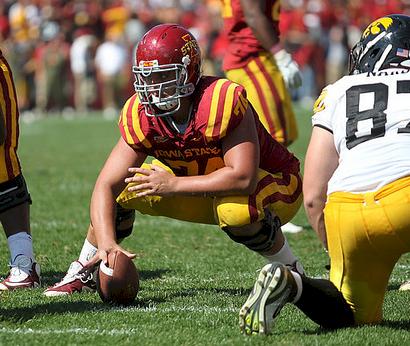 More on Iowa State's running game…
The Cyclones still haven't scored a rushing touchdown this season. In fact, the Cyclones have only run for 227 yards on the year. 
One common conversation regarding Iowa State's running game this fall has been the fact that carries have been so spread out amongst a large stable of running backs. How is anybody supposed to get hot? Rhoads' response to that criticism…
"We haven't had a hand, elbow or foot hot yet as far as that goes. We haven't been able to put that philosophy in play. It does and it doesn't. I'll let you know when we get something warmed up."
For Iowa State's sake, hopefully the temperature rises when the Cyclones head south.
Three key storylines to watch for…
Richardson/Farniok health status – The obvious go-to storyline heading into this game is Iowa State's offense and how it can finally get on track. That might be difficult of two of its key players, quarterback Sam Richardson and center Tom Farniok, are not healthy. According to Rhoads, both are feeling better and ready to go. Come kick time, we will find out just how healthy this important duo really is.
Quenton Bundrage – The sophomore wide receiver caught three touchdown passes vs. Iowa. How will Tulsa defend him? How many targets will he receive? Is this truly Iowa State's new play-maker on offense or was the Iowa game a flash in the pan?
Containing Trey Watts – He is the seventh best rusher in Tulsa history and is averaging 5.5 yards per carry so far this season. Trey Watts is the same man who gashed Iowa State for 149 yards in the 2012 Liberty Bowl, while catching four passes along the way.
"He is going to return kicks. He is going to catch the ball. He is going to spread out. He is going to run the ball out of the backfield," Rhoads said. "They forced Oklahoma to punt one time and the next thing you know he was about 70 or 80 yards down the field with a lot of great athletes trying to make a play on him. He is a guy who our defensive players will always be aware of where he is located."
Opposing running backs have not been kind to the Cyclones so far this season. Containing Trey Watts will be a challenge, and a major key to an Iowa State victory. 
Quotable
Tulsa head coach Bill Blankenship on playing ISU on a Thursday night…
"Monday Night Football has been around for a long time, and I think if you ask NFL guys, they still get a little jazzed up to play on Monday Night Football. At our level, that's the same kind of thing that you get. If you know you've got a night game – in a prime-time window, with national exposure – I think we get jazzed up about that."
Prediction
When I break down Iowa State and Tulsa, I see two very similar football teams. 
Both offenses currently lack an identity. Both defenses are young and have struggled at times as well.   
Compared to last year, Tulsa is down. There is really no question about that.
Here is what scares me about this game. Bill Blankenship is a great football coach. Despite the loss to Iowa, we all saw the Cyclones improve quite a bit from game one to game two in 2013. I fully expect to see that kind of improvement in Tulsa from the last time they took the field until now, largely in part thanks to its head coach and a bye week to work on fixing a few things. 
No doubt about it, I see Iowa State getting Tulsa's best shot in this one.
Over decades of watching Iowa State football, the Cyclones have gone on the road and lost games similar to this one time and time again. Northern Illinois and Toledo from the McCarney and Chizik years immediately come to mind. Talent wise, Iowa State has probably been better than those teams but in times, almost invented ways to lose.
Other than UNI this season, that hasn't really been the case under Paul Rhoads. For the most part, Rhoads' teams have beaten the teams that they were supposed to beat. UConn in 2010 is a good example. Last year's season opener vs. Tulsa is as well. 
To me, this is one of those games. Tulsa enters the contest as a 3-point favorite, meaning that the odds makers slightly like Iowa State on a neutral field. A week ago, I thought that Iowa State was going to win this game by two touchdowns. Now, I'm picking Iowa State to win mainly because of Tulsa's injuries and obvious issues up front.
But Iowa State is far from a lock right here. It's a game that could truly go either way. If Iowa State's offense can come to life, I like Iowa State by two touchdowns. If it doesn't, then the Cyclones very well could start 2013 with an 0-3 mark.
I see something in between going down on Thursday night but ultimately like Iowa State to win a game that by all means, it should. 
The pick
Iowa State 27, Tulsa 24