What: Iowa State (0-0) vs. Tulsa (0-0)
When: Saturday, Sept. 1 at 2:30 p.m.
Where: Jack Trice Stadium in Ames
TV/RADIO: Fox Sports Net – Cyclone Radio Network 
Tune into the Cyclone Fanatic/Wilson Toyota Iowa State Football Pregame Show presnted by Channel Seed on 1460 KXNO this Saturday from 11-12:30. Tron Smith and Chris Williams will broadcast from the Wilson Toyota Stage just north of Jack Trice Stadium. Brent Blum, John Walters, Bret Culbertson and Austen Arnaud will be guests. Or you can stream the program right here on Cyclone Fanatic. 
—————————————————————————————————————————————–
Underestimate Paul Rhoads at your own risk. Don't take my word for it though. Just ask the lord of college football predictions – Mr. Phil Steele. 
Year after year, Steele goes on radio shows all across America promoting his "college football Bible" to fanatics and media members alike. The man is rarely stumped once. It hardly ever happens twice. Three times? Not possible.
That is unless the subject is a Paul Rhoads coached Iowa State football team. I recently heard Steele publicly admit (on 1460 KXNO's Murph and Andy Show)  that Rhoads has his number. For three years in a row now, Steele has underestimated Iowa State.
Surely Steele would learn for 2012 right? Unlike a season ago, Iowa State has experience at quarterback. The Cyclones are as deep as all get out at the running back position. By all means, the passing game should be better in 2012. Oh yeah…Those linebackers, on what will likely be Iowa State's best defense since 2005, are ridiculous. 
It doesn't matter. He was reluctant to do so but for the fourth year in a row, Steele has picked Iowa State to exit the season with a losing record.
And now finally, that season is here. With a roster that Paul Rhoads calls his best team since arriving in Ames, the Cyclones are underdogs at home against a Conference USA opponent. Don't get me wrong. Tulsa is no slouch. The Golden Hurricane went 8-4 against the 20th toughest schedule in America in 2011.  
But Big 12 teams that go to bowl games should never be home dogs to a Conference USA foe.
Will Iowa State upset the odds or are the Phil Steele's of the world correct in saying that this brutal schedule (heard that before?) will just be too much for the Cyclones.
Here's your preview for the 2012 season opener.
Tulsa Will Win If…
…Its quarterback can emerge as a legitimate passing threat.  
Tulsa returns 2,124 rushing yards from its 2011 squad. That's 85 percent from last year for those keeping track at home. In addition to that, Tulsa's top four receivers from last season are back as well. That group accounted for 177 receptions, 2,351 yards and 20 touchdowns.
Last season, the Golden Hurricane averaged just over 33 points per game. Tulsa's offensive line consists of 70 career starts. Every aspect of this offense is proven, except for the quarterback. That quarterback is none other than former Nebraska Cornhusker Cody Green, who is 1-0 as a starter at Jack Trice Stadium.
"We don't know how much he has improved since he left Nebraska," said Iowa State defensive coordinator Wally Burnham. "All we can do is watch Nebraska tape and show our kids his throwing motions and running style, those kinds of things."
Green gets credit as the starting quarterback for that 31-30 overtime win (sorry to bring that one up Cyclone Nation) over the Cyclones but if you remember, he wasn't much of a factor in the game–only 79 passing yards, 19 rushing yards and zero touchdowns.
Still, when you become the starting quarterback at Nebraska as a freshman, you obviously have some talent. But Green has some big shoes to fill at Tulsa in 2012.   
Last year, Tulsa's quarterback G.J. Kinne passed for 3,090 yards and 28 touchdowns with a completion percentage of 63.3. In his two seasons at Nebraska, Green never threw for over 80 yards in a single game with a completion percentage of 54 in 2010.
With proven running backs Trey Watts and Willie Carter in the mix, what is Iowa State expecting to see from the Golden Hurricane on Saturday? 
"I expect they are going to do what they did last year. I don't think they are going to change the scheme," said Burnham. "I think they are going to take the same approach. It's fast-tempo. It's a lot of different personnel groupings. They run the same plays. I don't know what this quarterback can do or can't do."
Tulsa was a balanced offensive football team last season, running for 192 and passing for 249 yards per game. If Tulsa head coach Bill Blankenship indeed does stay with the same scheme as Burnham has predicted, that means that Green will have to be a threat with his arm. 
Tulsa's offense brings pretty much everybody back from a year ago. Therefore, placing an abundance of weight for not only this game, but also much of the season on Cody Green's back is not out of line.
Cody Green will be Tulsa's x-factor on Saturday and perhaps all of 2012.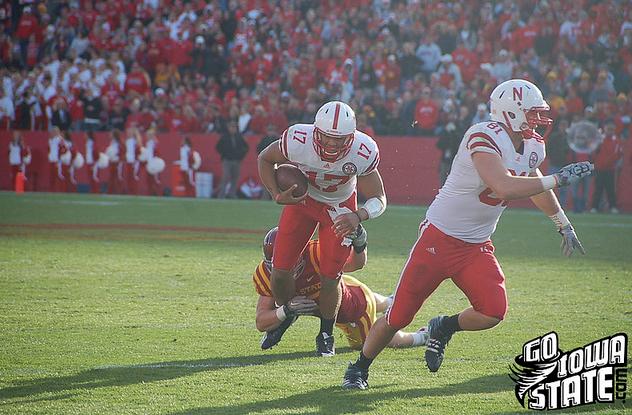 QUOTABLE: Paul Rhoads on Tulsa quarterback Cody Green…
"You don't prepare for Cody Green as much as you prepare for the offense and what the quarterback position brings to the offense. Obviously he is 1-0 in this stadium and I think any time that you lead a team to victory anywhere you gain confidence from that occurrence. The system is different. You've got to defend against the high-quality receiving core that they have, two different running backs that run the ball extremely well and a quarterback that will be involved in the run game. Prior knowledge of who he is and what he can do doesn't really change that."
Paul Rhoads on Tulsa halfback Willie Carter…
"You better know where he is at. They are going to move him around. They are going to line him up in different locations but you better know where he is at when they do that. He is a very dangerous player, a high quality player and he is a big component of our game plan against them."
NOTE: Carter led Tulsa in receptions last season with 61, while tallying 868 yards and seven touchdowns through the air. The 6-foot, 232-pound senior is a preseason C-USA all-conference pick by the league's coaches.
Iowa State Will Win If…
…The Cyclones hold Tulsa to under 24 points. The evidence supporting this claim is staggering. Since Paul Rhoads got to town, Iowa State is 15-1 when hold opponents under 24 points. That record jumps to 3-19 when the opposition clears that 24-point mark.
How will Iowa State hold Tulsa, a team that averaged just over 33 points per game in 2011, under that 24-point barrier? By letting the strength of its team do its thing: letting the linebackers crowd the line-of-scrimmage, blitz from time-to-time and wreak havoc on Tulsa's running game.
Of course that's assuming that Green hasn't turned into Tom Brady after not playing last season.
Key Match-Up: Iowa State's O-Line vs. Tulsa's D-Line
When it comes to skill players and running the football, Iowa State is in good shape for 2012. A four-pack of quality running backs makes Iowa State's crew as deep as any in the Big 12. Add two running quarterbacks to the mix and the potential to run for 200 yards a game doesn't seem silly at all.
But Paul Rhoads has given Tulsa's defensive line, led by junior defensive end Cory Dorris (he's started 37 of 38 career games) high praise. 
"They really do a nice job of getting off on the ball, getting into the opponent's backfield and really creating a lot of disruptment as far as the offensive scheme goes," said Rhoads. "They play it a little bit different than other teams do as far as trying to straighten things out or wait on things. They are going to come attack you with those defensive ends and that causes us concern right now."
Tulsa's defense ended 2011 ranked 33rd nationally against the run. Iowa State's quarterbacks completed less than 50 percent of their passes in the same campaign. Running the football sets up a team's ability to pass. For a team that is still uncertain with its quarterback position, making life easier on Jantz only makes sense. 
If Iowa State's experienced, yet somewhat unproven offensive line can dominate in the trenches, this Cyclone roster has the skill players to score early and often against Tulsa's linebackers and secondary.
3 Keys to a Cyclone Victory:
Stop the run – As you read about earlier…Can Cody Green really beat you with his arm? Stay tuned.
Don't beat yourself –This will be a key all season long. Iowa State ended 2011 ranked 112th nationally in turnover margin at -11 yet somehow still went to a bowl game.
Solid special teams play – Often times, openers tend to get ugly on special teams. Iowa State is going to have a hard enough time beating Tulsa on offense and defense. Giving up a kickoff or punt return for a touchdown simply can't happen.
More Cyclone Storylines:
*** Who in the world is going to kick the football for Iowa State? As of now, this is still a mystery. Junior Edwin Arceo will handle kickoffs but field goals and PAT's will be a game-time decision.
*** The play of junior linebacker Jeremiah George is one of the most intriguing aspects of Saturday's game. Since this spring, all we've heard from Iowa State's coaching staff is how much better Jeremiah George is.
"I expect us to be more of a base defense with three linebackers on the field than we have been in the past," Paul Rhoads said earlier this week. "There are certain situations down and distance wise, offensive personnel, situations schematically wise that we'll go to a nickel set. But if we don't have the opportunity to substitute and get the nickel on the field and end up with our base defense out there, it's not going to cause us great concern with the way that Jeremiah has been filling in there with A.J. and Jake there flanking him."
My guess against a Tulsa offense with an unproven passing attack, Burnham will choose to make life awfully uncomfortable for Cody Green. With two All-Americans beside him, why not turn the most athletic linebacker on Iowa State's roster (George) loose?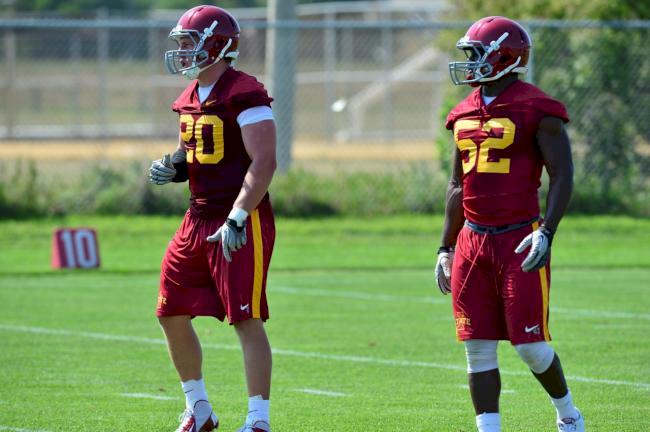 *** After a long offseason of competition, how sharp will Iowa State's quarterbacks look? After completing under 50 percent of their passes a season ago, how accurate are they? Jantz will get the nod on Saturday…
"His underneath and intermediate game of throwing the football I think are really improved," said Rhoads. "When we recruited him, I thought the best thing he did was throw the deep ball. He still is doing that but he understands the urgency with the delivery of the quick passing game. He understands I think now the touch of certain passes vs. putting some zing on it with other passes and I think that shows up daily on the practice field."
*** Let's say that Jantz's accuracy has improved since last season. If that's the case, can any of these Iowa State wide receivers do anything special with the football?
*** How will running backs coach Ken Pope disperse carries among Iowa State's deep group of running backs? Will one of these men stand out at the end of the day?
*** This week's magic number is 500. If Iowa State does indeed defeat the Golden Hurricane on Saturday, it will mark the 500thwin in program history.
NOTEBOOK
*** Iowa State is 85-31-4 in season openers. The Cyclones have won eight of their last nine to start the season. Meanwhile, Tulsa 65-46-1 in season openers. The Golden Hurricane are 73-98-8 against current members of the Big 12.
*** Tulsa and Iowa State have only played one time in history. That was back on Nov. 18, 1961. Iowa State won that game by a 27-6 final in Tulsa. Another nugget from that contest from Iowa State's media notes: Iowa State's John Cooper was a team captain in that game and later went on to become the head coach for Tulsa from 1977-1984.
*** In last season's opening game against Northern Iowa, Iowa State linebacker A.J. Klein recorded a "pick six." Klein is currently tied with Brent Curvey at the top of Iowa State's record books with three interceptions returned for a touchdown in his career. One more and he'll be all alone at the top.
*** Tulsa is 1-17 on the road vs. BCS schools since 1997. That won win came in 2010 over Notre Dame.
*** Keep an eye on Tulsa safety Dexter McCoil. He enters the 2012 season tied for the school record in career interceptions at 13.
*** If Cole Netten kicks for Iowa State on Saturday, he won't be the only true freshman on the field. Daniel Schwarz is a true freshman who will be heading up the kicking duties for Tulsa this season.
PREDICTION
I think everybody in attendance will see a very entertaining football game on Saturday afternoon. I'm predicting a low scoring game full of unfortunate mistakes and a lot of running the football. A pretty typical season opener…
I like Tulsa a lot. In fact the more I study this team, the scarier it gets from an Iowa State perspective. But I believe Paul Rhoads when he calls this the best team he's had at Iowa State. It's the deepest one for sure. I just can't see it losing at home in week one to a Conference USA opponent.
THE PICK
Iowa State 28, Tulsa 20