Black Saturday was two days ago. I trust that you've somewhat defragged by now?
Or not. 
Regardless, the time is now for this hack blogger to muse and luckily for each and every one of you, I plan on venturing off and touching a handful of topics unrelated to Saturday night's debacle inside of Jack Trice Stadium within today's column.
Having said that, football season is here and this is CycloneFanatic.com after all so putting a bow on week one is my civil (or uncivil) duty to you all today.
Let's roll.
On Iowa State football…
*** When I first took at look at Iowa State's peculiar 2013 football schedule, I hated it. Two bye weeks in the first four weeks of the season? That's horrible. For any other team, yeah, that is accurate. For this team, this year though? Well, it is exactly what the doctor ordered.
Say what you want about Saturday night. It is what it is. Iowa State lost to an FCS program in its season-opener and everybody from Paul Rhoads to that obnoxious drunk guy in the south end zone to Cyclone Jerry left Jack Trice Stadium angry.
You've had nearly 48 hours to be mad. You're fans. That's what you do. But at some point, you do have to move on. Trust me, the team already has.
So now, let's consider what the next two weeks are going to be like for Paul Rhoads' youthful Cyclones. One can only imagine that they will not be pleasant. Rhoads, Courney Messingham and Wally Burnham have more film from Saturday to teach with than we can even comprehend. 
Rhoads' teams bounce back. They always do and they will again. Losing to UNI does not necessarily mean that Iowa State will go 2-10 this season. Now don't get me wrong. Saturday night was far from encouraging. It was deflating. But considering how young this team is and how much talent is on it, these Cyclones have more room to grow than any group I've covered at Iowa State.
When it comes to teaching and developing, I'd label that a strength of Rhoads' staff so there's your feel-good thought of the day.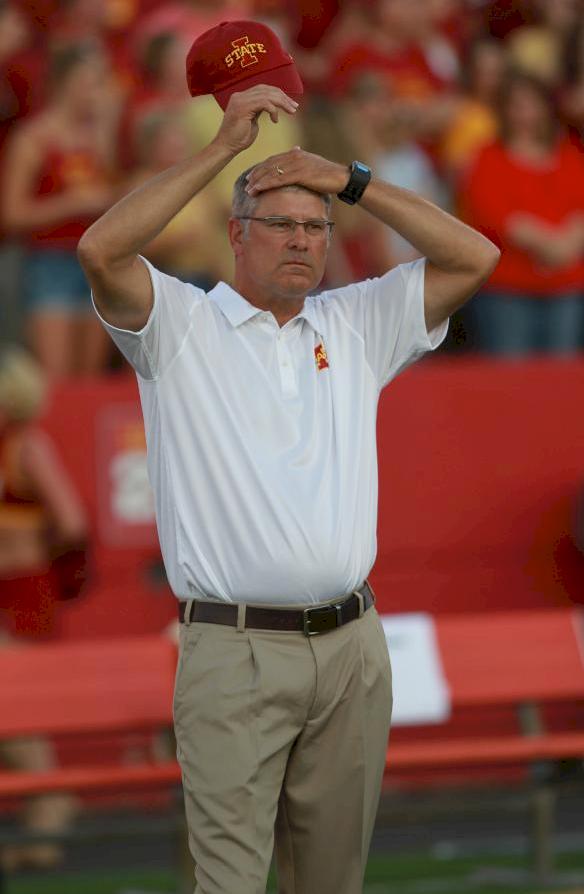 *** And the talent is there. There isn't a doubt in my mind about that. It's just unverified talent that got smacked in the face repeatedly in week one by its little cousin that wears purple. How will this talent bounce back from that? The answer to that question will dictate how 2013 plays out for the Cyclones.
*** I absolutely loved UNI's game plan on Saturday night. Mark Farley's team played like a team that had nothing to lose. Running the Wildcat formation deep in your own territory late in the game? Throwing the football up eight with two minutes to go? 
The Panthers feared nothing and that's one of the many reasons why UNI beat Iowa State on Saturday. UNI's approach reminded me a lot of some of those surprising wins early in the Rhoads era actually.
*** On Sunday morning, I broke news to a friend that Iowa State's 2014 season-opener is scheduled to be against North Dakota State, the two-time defending FCS champs who knocked off Kansas State on Friday night. My friend dropped his phone in disgust.
*** I've seen a lot of chatter on the boards about Iowa State's "conservative" offensive approach on Saturday night. I get it. In fact, I can't remember one Cyclone pass farther than seven or eight yards down the field in the second half from that game.
But I watched Kansas State lose to NDSU. I also watched the majority of West Virginia's nail biter with William and Mary. Those teams both had the same problem and I assume, fans in Manhattan and Morgantown are griping about the same thing today.
It makes me wonder if the Big 12 team (in these scenarios) doesn't automatically go into this "play not to lose" mode when the FCS teams come to town. That shouldn't be the case, but the trend is obviously there. Seven FCS teams knocked off FBS opponents this weekend. No. 25 Oregon State lost at home to Eastern Washington.
I'm just thinking out loud on this one, but I expect a much more aggressive Iowa State game plan when Iowa comes to town in two weeks.
*** Come on Willie Scott. A senior can't commit that personal foul in that situation.
*** A very telling stat: UNI's David Johnson ran for a CAREER HIGH 199 yards on Saturday night. A running back on an FCS team should never, ever, run for a career high against a Big 12 program. Ever.
*** You won't read a better quote all season long than this one from Iowa State senior running back Jeff Woody: "We have to find the safety on the gun that shot our foot off."
On the weekend that was in college football…
*** In general, writing about a topic like Johnny Manziel on CF is something that I try to shy away from. Everywhere you look, this guy is being covered. CF doesn't need to be about that. But today, I just can't help myself.
Just think about how difficult of a situation this has to be for Texas A&M head coach Kevin Sumlin to deal with.
Kid wins the Heisman. Kid goes a little loco in the offseason. The whole NCAA/autograph thing breaks. A half-game suspension? Kid finally plays. Kid plays well. Kid acts like a total jackass. You bench him and do the right thing. When you bench him, the kid makes you look as weak as a wet paper towel on national television. Alabama is on your schedule in two weeks. 
Sumlin, who handled Saturday as well as anybody could have expected him to, is in an impossible situation. Manziel is  responsible for Sumlin's fat, new contract in College Station and the problem is, Manziel knows this. 
"Johnny Football" is now much more than a football player. He's an antagonist. Want to do the right thing and bench him? That's all fine and dandy against Rice coach. What are you going to do when the kid goes bonkers in two weeks against the Tide? Gonna take him out then? If you do, your fan base will lose it. If you don't, you'll get killed elsewhere.
"Johnny Football?" It's more like "Johnny Franchise." The problem is, kid knows it all too well.
(Noticed I never once referred to Manziel as a man. As ESPN's Mark May accurately put it, Manziel acted like a 6-year old at Toys 'R Us on Saturday afternoon.)
*** Johnny Manziel obviously needs to run with a better crowd. He should consider befriending Louisville quarterback Teddy Bridgewater. That's a young man who is easy to root for. 
*** Urban Meyer represents everything that is wrong with college football. Going for two twice in the first quarter against Buffalo? Really?
Urb makes it really hard for me to cheer on my guy Tom Herman.
*** It isn't hard to root for an absolute class act, former Iowa State WR/TE coach Luke Wells, who is now the offensive coordinator at Utah State. I kid you not; the Williams house was all Aggie on Thursday night while watching the Wells boys attempt to steal one vs. rival Utah.
*** My favorite show on all of television is ESPN's College Football Final. The Rece Davis/Dr. Lou Holtz/Mark May combo rarely disappoints me.
*** Some quick hits on other Big 12 outcomes… 
— TCU might have lost to LSU but after watching that game (on DVR) on Sunday afternoon, I'm now even more confident that Gary Patterson's squad will seriously compete for a Big 12 championship.
— Texas Tech, Oklahoma and Oklahoma State all looked better than I thought they would. Oklahoma State's defense played surprisingly well against a middle of the pack SEC squad. Go Mike Gundy go.
— Baylor and Texas were who I thought they were and for the record, Northern Iowa would beat both Wofford and New Mexico State with ease.
— Kansas State and Iowa State were both worse than I thought they would be.
— In July, I picked West Virginia to finish last in the Big 12. Saturday's squeaker vs. William and Mary made me feel better about going out on that limb. 
Have a fantastic Labor Day Fanatics. We'll be back on Tuesday with a Brent Blum column, reaction to the new Bubu Palo news and much more at CycloneFanatic.com.