Why Sam Richardson keeps gutting it out…
Props to one of my favorite posters on Cyclone Fanatic, Al_4_State for recently coming up with the term "JanNett," to describe the last two years of quarterbacking at Iowa State that seemed to last longer than an insufferable Katherine Heigl flick.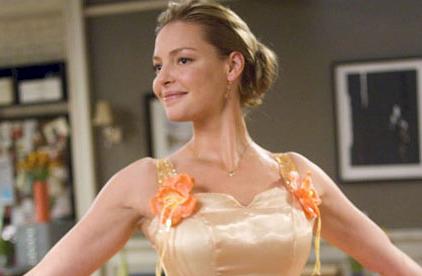 The Steele Jantz vs. Jared Barnett "competition" was excruciating for Iowa State fans because while both men experienced some very high "ups" in Ames, their "downs" made those good moments easy to forget. To sum that "JanNett" era up in a simple manner, neither quarterback could ever consistently hold onto his job. As a result, Iowa State's 2012 season was mediocre, while 8-4 was very realistic (give me some quality quarterback play and Iowa State likely would have beaten Texas Tech and Kansas State last season).
Fast forward to the present day. Why not shut a tattered Sam Richardson down and allow his plethora of injuries to heal? This has been a popular question from fans and media alike as of late, a fair one at that. 
Behind a beaten offensive line, Richardson completed a measly 38 percent of his passes in last weekend's 42-35 loss to Texas Tech. Lord knows it wasn't all on him but the combination of bad line play and an immobile quarterback rarely results in anything positive.
As Paul Rhoads put it on Tuesday night – the conversation to shut Richardson down for a few weeks has been held in a coaches meetings but up until now, a sluggish Sam has given Iowa State a better chance to win than a green Grant (Rohach). That is the opinion of the coaching staff at least – the only opinion that matters. 
Put yourself in Richardson's shoes for a moment. He had a front row seat when Barnett spelled Jantz and took over the reigns for the rest of the 2011 season. Richardson was barley a part of the early season conversation in 2012 but found himself being the "man" in a lopsided win against Kansas last November.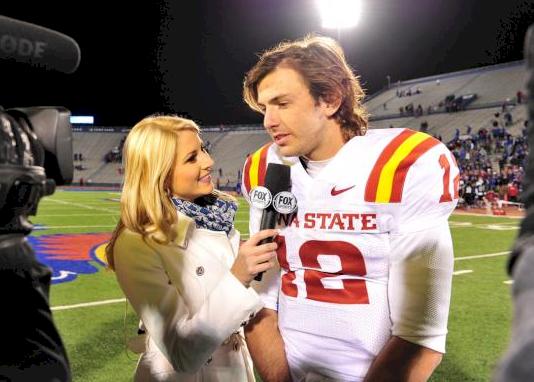 Above: Richardson being interviewed after his ISU debut in Lawrence in 2012. 
So what if Sam sits (his choice or not) on Saturday and Rohach leads Iowa State's offense in a positive direction? Would this program then be right back in the middle of another quarterback controversy? Perhaps.
Even so, the talk about Richardson giving the team a better chance to win until now isn't coach speak in my opinion. I write that mainly because it is consistent with how Rhoads used Richardson a year ago. It is very similar actually. 
Before last season's 35-21 win over Baylor (that will forever be known as the "Jake Knott/Chuck Norris game"), I heard time and time again that the staff was basically begging for Richardson to jump up and grab the job in practice but the then-redshirt freshman never proved that he was ready. That is almost exactly how Rhoads described Grant Rhoach's situation (before this year's Iowa game) to the media on Tuesday night. 
My best educated guess on what exactly is going on here is that Sam is their "guy," but Sam has to be able to do the things that make him "guy" to keep his job for much longer (until he gets healthy). But don't misunderstand what is going on here. This is very different when compared to last year's situation. For the most part (other than the Jantz to Richardson move against Kansas that was made due to injury), those moves were made because of production. That's why even if Grant Rohach plays on Saturday, I'm not ready to call this a "quarterback controversy." One of those is the last thing that Paul Rhoads wants/needs right now.
But if Rohach would throw six touchdowns on Saturday…
The Big 12's RPI…
I've been preparing for next week's Big 12 basketball media day and got to thinking about the state of the league earlier this week.
There's Kansas and Oklahoma State. There's Baylor. There's Iowa State. Kansas State and Oklahoma in a group together. And then, there's everybody else, none of whom will likely be very good this season. 
Top to bottom, this is a down league (that is very top-heavy). I don't see any realistic soul out there denying that either. But because of how bad 7-10 could possibly be recently got me thinking about the league's RPI as a whole.
Could the Big 12 be a four-bid league this season?
Obviously a lot of different variables play into that and we've yet to see a game be played, but the above scenario is very possible.
That is why Baylor, Iowa State, Kansas State and Oklahoma fans (possible bubble teams in the league this season) should root like heck for the bottom four in their respective non-conference slates. This league needs to get as many wins possible as early as possible.
Of course, it's same story every year. True. But I don't believe that the league has ever been this down on the back end. Hence, why those non-conference games just might be even more important in 2013-14.
Weekend Big 12 predictions…
Iowa State @ Baylor – I'll start on my preview/prediction column for this game right after I get this blog completed. I like Baylor to win, but not by 33 points. Wally Burnham will completely sell out here with Iowa State's "keep everyone in front of you" mentality. The Bears might rack up 700 yards, but Iowa State will keep them out of the end-zone more than most this season. Stay tuned for my official prediction. 
Oklahoma @ Kansas – It will be interesting to see how the Sooners respond to last week's butt whopping that Texas handed them. Normally, I'd put them on upset alert after what happened last week but Oklahoma doesn't lose to Kansas – especially this Kansas team. Even so, I'll take KU to cover the 23.5-point spread.  
TCU @ Oklahoma State – You all know my thoughts on TCU. I picked them to win the league in July but injuries have depleted Gary Patterson's roster. Something tells me that OSU could win this one by two or three touchdowns.
Texas Tech @ West Virginia – The unbeaten Red Raiders opened as a 9.5-point favorite and the line is already down to six. Do you people really have that much faith in West Virginia? Interesting. I'll take Tech by 10 in this one.