David Irving emerges as a playmaker
It was Iowa State's first defensive play last Saturday against the University of Iowa. That's when David Irving's "light" came on. Irving, an irregularly tall, 6-foot-7 defensive tackle, blew up Iowa's line and hit Hawkeye quarterback Jake Rudock almost immediately after the snap.
"It was a big surprise. I wasn't really expecting that myself," Irving said. "It was a tackle that boosted the crowd and everything so it was a pretty good feeling."
Irving didn't let up from there, as the California native tallied five tackles and a sack on the game. It was the former defensive end's second game of playing the position.
For all of the negatives surrounding Iowa State football right now due to an 0-2 start, Irving's game vs. the Hawkeyes is a vibrant positive heading into next week's road trip to Tulsa. Maybe, just maybe, the Cyclones have found a legitimate playmaker at the defensive tackle position.
"Definitely a playmaker emerged on a more consistent basis," Paul Rhoads said of Irving's effort. "He had sacks as a freshman. He had the touchdown last year against TCU. But he's never done it consistently like he did on Saturday night against Iowa. I think yeah, that was possibly a changing moment for him."
Irving's big game carried over to Iowa State's first practice after the loss on Tuesday night.
"Cory Morrissey made a great play on a ball, he batted it down and David intercepted it and ended up in the endzone," Rhoads said. "Sometimes those things snowball like that."
Speed was the big difference between game one and game two for Irving, who visibly struggled vs. UNI. Less thinking, more reacting.
"I feel like instead of playing faster, I just played with better technique. It just takes a while," Irving said. I'm not used to playing down low but when I play down low and take to coaching, I feel like I get more opportunities." 
And most importantly, Irving is finally having fun playing football at Iowa State.
"He's got more twitch than we thought he would going inside. You've got to have twitch in there. You have got to be the aggressor," defensive coordinator Wally Burnham said. "He knocked some people back on Saturday when we went back and watched the tape. He just knocked that offensive guard back. I think he is enjoying playing maybe since the first time he has been here. He practices that way."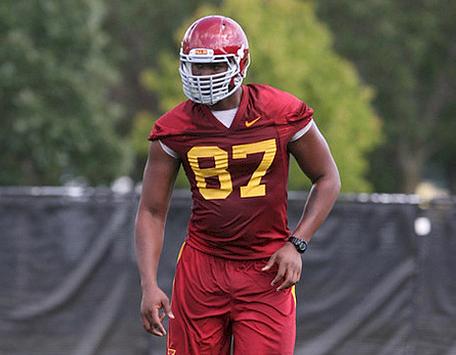 Rohach time?
Well, this is certainly an interesting twist.
According to the Des Moines Register, Iowa State quarterback Sam Richardson nearly got benched at halftime of Saturday's 27-21 loss to Iowa.
Richardson, who was clearly hobbled by a bum ankle all game long, wasn't sharp in game No. 2. In fact, it was in all probability the worst game of his young Iowa State career. 
Having said that, these quotes from offensive coordinator Courtney Messingham are troubling.
I'm a reporter. I appreciate it when coaches are honest with the media. But at this point, I feel like Iowa State would have been better off to never let this get out. For the record, apparently Paul Rhoads mentioned this on his Monday night radio show too.
It is important to point out that the reason Richardson would have been benched on Saturday night is because of the injury that was clearly affecting his play. He wasn't himself and at 100 percent, there is little doubt that Sam Richardson is Iowa State's top quarterback.
But even so, what are the chances that Richardson will be 100 percent a week from today at Tulsa? He should be healthier than he was against the Hawkeyes, but 100 percent? Stay tuned. 
For Iowa State, hopefully Richardson plays well enough to not have to look over his back. But after an 0-2 start with a fan base that is losing patience, any sort of a quarterback controversy, real or not, is the last thing that the Cyclones need right now.
Weekend Big 12 picks
Let's prepare for what is perhaps the worst weekend of college football games in years…
Kansas State @ Texas – The SnyderCats have won five in a row vs. Texas. Despite their recent struggles, the Longhorns are still a 5.5-point favorite (the game actually opened at 7) in this one. Don't take the bate. Kansas State 31, Texas 30
Louisiana Tech @ Kansas – Coming off of a loss to Rice, the lowly Jayhawks are a 10-point favorite in this one. Vegas must know something that we don't know. La. Tech is 0-3 against the spread this season. Kansas 24, Louisiana Tech 13
West Virginia @ Maryland – A crucial swing game for the Mountaineers, who have a little bit of momentum after filling up on a cupcake last weekend. Maryland 31, West Virginia 24
Louisiana-Monroe @ Baylor – The Bears will keep on rolling. Baylor 49, La. Monroe 10
Texas State @ Texas Tech – A possible letdown here by the Red Raiders. Texas Tech 35, Texas State 21