The second take of a new weekly column here at CycloneFanatic.com. "Three Thoughts on Thursday" features the same concept as Monday Musings. It's simply three opinions on hot stories that are relevant within Iowa State and Big 12 athletics. Enjoy!
Which true freshmen will play?
Hopefully none of them.
Now, don't get me wrong. The fact that Nigel Tribune came into his first fall camp and actually pushed veterans like Kenneth Lynn and Sam Richardson at the cornerback position (in the two-deeps of course as Charlie Rogers has been named the starter) is a good thing. That clearly hints that Tribune will be a future impact guy within the program. But if he isn't without question better than those guys right now, why waste a year if he's only going to play sparingly?
If Iowa State will win more games with Tribune on the field compared to if he sits out, then I'm all for playing the rookie. After all…
But if it will eventually be a special teams only type of deal that includes some mop-up minutes in the fourth quarter, then sit him out and give him that year to grow. 
The same goes with linebacker Alton Meeks. The way I understand it, Meeks, who arrived on Iowa State's campus for the second semester of the last school year, is simply showing up on the two-deep because there aren't any other options. He is clearly going to be a solid linebacker in the future but think about how nice it would have been to give the names Knott, Klein, George, Miller and Brackens that extra year?
Kane Seeley's emergence
Just two weeks ago, it seemed all but certain that Meeks would play as a true freshman. But then at his Monday press conference, Paul Rhoads said that he hadn't make up his mind yet, which leads me to this quote…
"Kane Seeley is probably our most improved player from practice one to practice 25 in training camp and where we were at the end of spring practice."
After hearing it, I couldn't help but wonder if that is why all of the sudden, Meeks playing isn't a sure thing. While it is true that Meeks is listed as an SLB and Seeley is a MLB, Rhoads now has one more guy in that group of linebackers that he can apparently count on.
It sounds like Meeks would be fine against the run but could struggle against the pass. In the SLB spot, let's say hypothetically that something happens to Jared Brackens down the road. Couldn't Luke Knott move over? Heck, what about Charlie Rogers? Maybe move Deon Broomfield up and play Darian Cotton at SS?
Iowa State might have more options at the backup SLB spot than most people think. On Saturday night, keep an eye on Meeks, No. 44. For the sake of the future, it will likely be better for everybody if he doesn't have to play.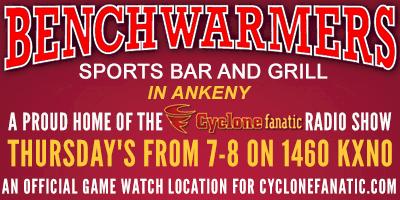 Quenton Bundrage on kick return
This depth chart decision sparked quite the debate on our message board.
It's a move that did surprise me. I wasn't surprised to see a premier player on Iowa State's offense like Quenton Bundrage listed. I just never knew that Bundrage was even in the running to win the job.
And this is why assuming is rarely a good thing.
It's fascinating that Shontrelle Johnson and Jarvis West are two of the top 10 kick returners in Iowa State history (average yards per return) and neither won this job over the month of August. But for the most part, Johnson and West are side-to-side guys. They juke. They jive. They are quick. But fast?
Bundrage is fast. He's more of a north-south guy and according to special teams coordinator Shane Burnham, that's why he won the job.
I'm fine with that too. I'm all for putting your best guys out on special teams (within reason of course), regardless of how important they are to you somewhere else on the field. If Bundrage is clearly that much better than any other option, if he gives you that much more of a chance to break one open, if it is that easy of a decision, then go for it. That is exactly the decision that Iowa State made. How long will it last? Stay tuned.