AMES — The thought of a guy like Alton Meeks seeing the field as a true freshman for Iowa State this fall makes a lot of sense. Meeks, a linebacker, just happens to play the weakest position on Iowa State's roster from the standpoint of depth.
But after Thursday night's practice, Iowa State secondary coach Troy Douglas dropped one of the more surprising nuggets of fall camp when he said that true freshman cornerback Nigel Tribune just might see the field this season as well. 
"He's going to be a great player when he grows up," Douglas said. "He might have to grow up sooner rather than later so we'll see."
Sooner rather than later….Like, this season?
"He might," Douglas said. "I don't know but he's got a lot of talent. He's a really good player so we'll see."
Iowa State's head coach Paul Rhoads then confirmed that Tribune, a 6-foot-1, 175-pound cornerback/nickel hybrid, is in the mix.
"He's battling on the two-deep right now," Rhoads said. "He still plays with freshman urgency at times which is not quite hard enough or fast enough and starts in the mind and goes to the feet. But he is a playmaker."
Rhoads backed Douglas' comments by saying that a decision regarding Tribune in 2013 still has not been made at this time. 
"He's got outstanding cornerback skills and we're practicing him with the varsity squad right now and decisions will be made by next Saturday whether we are going to put him out there no matter what or we are just going to hold off and see how we play and our health," Rhoads said.
Analysis on Tribune…
This news regarding Nigel Tribune is especially surprising for two reasons.
The first is that he plays cornerback, a fairly deep position on Iowa State's roster.
The second is because time and time again, Rhoads has talked about how much he values a redshirt season. He doesn't like to play guys as true freshmen unless he absolutely has to. Tribune really has to have stood out for him to even be in this conversation. 
"He made plays on the ball and interceptions as well as broken up passes," Rhoads said. "He showed the necessary toughness to be able to tackle. Offenses in this league will make cornerbacks tackle and he's shown the ability to do that."
The Cyclones are healthy 
There's been a lot of speculation floating around regarding injuries as of late. According to Rhoads, his football team is "dang healthy" at the end of fall camp.
"There is nobody right now that has anything that I see keeping them out of the opener," Rhoads said. "We've got bumps, everything from tight backs to body cramps to sore feet. Everything that you are precautionary about." 
And what about junior running back Aaron Wimberly?
"He did everything that everybody else did today," Rhoads said.
There you have it.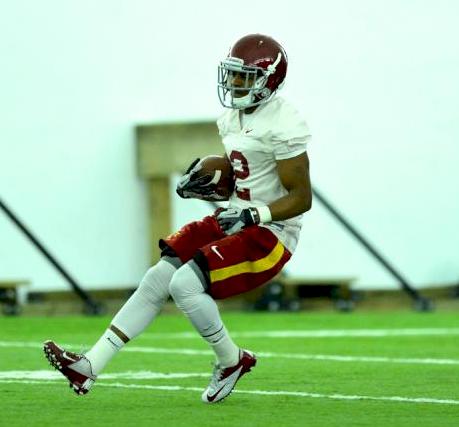 Position battle updates
— While redshirt freshman Charlie Rogers currently appears as Iowa State's No. 1 cornerback opposite of Jansen Watson, sophomore Sam Richardson is pushing him.
"He's played better the last couple of weeks," Douglas said. "He's played with more intensity and more focus."
I asked Douglas if he has made up his mind as to who will start against UNI a week from Saturday?
"Not really," Douglas said. "We've got another week or so of practice before the first game. But he (Richardson) has played well and he's played well really the whole camp. Everybody has had a shot at it. It's been an open door and who wants the job? He's played well, as have the other guys."
— Look for junior offensive lineman Jacob Gannon to line up at tackle vs. the Panthers.
"They have left Jacob at tackle and part of that is my own push and urge because Jacob played really well at tackle in the bowl game against Tulsa," Rhoads said. "It's a more natural position for him. It allows us to work other guys that are guards. They are not multi-players. I'm not opposed to three tackles playing in a game. I'm not opposed to three guards playing in a game. If that's what we need to do, we'll do it." 
Oni Omoile,Jamison Lalk and Daniel Burton all appear to be in the mix to start at that final guard position.
— It wouldn't be fall camp in Ames without a kicking competition. Rhoads said that he still hasn't made a decision as to whether Edwin Arceo or Cole Netten will be his guy next week. And who knows? You might see both of them.
"The competitions are independent," Rhoads said. "The kickoff job or PAT/field goal job are independent of each other. We don't have a short and long guy. They are both capable of hitting from whatever distance that I would choose to attempt."
What's next?
The Cyclones began preparing for Northern Iowa on Thursday. Fall camp officially ends on Friday. Rhoads said that he will give his team the entire day off on Saturday. 
"They have earned their bodies and minds being off for a full, complete day on Saturday," Rhoads said. "We will wrap up camp practices so to speak tomorrow (Friday) and come back to work on Sunday with a lot on the plate – with fan fest and game week meetings and we will start the next day with having a Tuesday type of practice."
Quote of the day 
Troy Douglas on the weather…
"I'm not going to sit here and say it's hot because really, it's been like Alaska."
JOTTINGS
— Douglas was asked if his group had been forcing many turnovers in camp. His answer has to be encouraging regarding Iowa State's offense…
"To be honest with you, I think offensively they haven't turned the ball over as much in camp this year," Douglas said. "Sam has done a good job of throwing the ball to the open guys and the check-downs when he didn't have guys open. He hasn't forced the issue as much so we haven't had as many picks as we normally have. The quarterbacks are putting the ball in the right spot."
— Paul Rhoads on recruiting bigger wide receivers…
"We've tried to group our receiver group through recruiting here over the last couple of years and think we are doing a pretty good job of it. Bryan Ajumobi, I don't know if you stood next to him at media day or not but that's a good looking cat in pads. Brandon Harris is not a bad looking guy either. Dondre Daley, Quenton Bundrage and D'Vario (Montgomery) is a very impressive looking wide receiver. This league has big, strong receivers that play the game physical. We'd like to join that party."