AMES — Day one of Iowa State's fall camp is in the books.
Iowa State will host the Northern Iowa Panthers in exactly 25 days and obviously, the Cyclones have loads of work to do before then. From starters all the way down to the two and three-deeps on the depth chart, the defensive line will be a major focus.
"I think everywhere across the defensive line is wide-open," Iowa State head coach Paul Rhoads said after Monday's practice. "Who will be the game day starters? We're going to play a bunch but who gets to start I think is up for grabs."
Senior Willie Scott and junior Cory Morrissey are currently listed as the two starters at defensive end. In the middle is where things get tricky. One would think that junior Brandon Jensen has a leg up on the rest at defensive tackle but Walter Woods' spot at nose guard appears to be more at risk. That's where Rodney Coe, a junior college transfer from Iowa Western, comes into play.
"I'm excited from what I've seen in one day," defensive coordinator Wally Burnham said. "I'm not watching him in particular, but he just catches your eye. That is very, very encouraging."
Burnham wasn't too quick to jump on the Rodney Coe hype-train but after day one, it's safe to say that the junior didn't hurt his stock. 
"He's quick off the ball. He never stops on the pass rush. He's always moving so he's got feet and that enables him to stay active," Burnham said. "He has great hands. He's always moving those hands and countering blocks and things like that. To some people, it just comes natural, those kind of things. I think he has some natural ability."
Overall regarding the defensive line, Rhoads reiterated statements that he made about this group two weeks ago at the Big 12's media day in Dallas. He seems cautiously optimistic about the group. 
"We saw marked improvement amongst our younger players in the offseason. I'm talking about from January on," Rhoads said. "The biggest physical gains happened in the summer program. I saw big athletes become better football players from the end of spring practice to the start of fall camp based off of the work that they put in. That's encouraging because guys like Devlyn Cousin and Pierre Aka and that crew are going to have to step on the field and I saw guys who already looked like better football players today on day one."
More competition 
The defensive line isn't the only spot on Iowa State's roster with a stout amount of competition that will occur during camp. Rhoads said that in addition to the defensive line, one cornerback spot is currently being competed for. Redshirt freshman Charlie Rogers currently holds onto the title as starter with sophomores Sam Richardson and Kenneth Lynn breathing down his neck.
"Probably a couple of wide receiver spots are up for grabs and maybe an offensive line spot is up for grabs," Rhoads added. "With the stable of tailbacks we've got, I don't know who will be the first one, two or three guys out there for the first snap."
And don't forget about the kickers.
"It will be charted every day," Rhoads said of senior Edwin Arceo and freshman Cole Netten. "If one guy consistently pulls away, he will obviously be the guy. If it is close, then it will probably come down to this guy's (his) gut."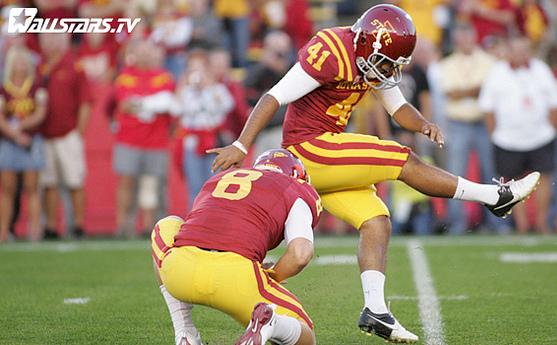 Richardson shows poise
Sophomore quarterback Sam Richardson had a good first day as Iowa State's starter. Rhoads said that he saw "poise" from his signal-caller. 
"He threw a lot of easy balls – a lot of completions and stuff underneath," Rhoads said. "A gauge on a guy who is getting himself started off right and not trying to force balls down the field or throw the number one route that is called for a pattern. A lot of things were open to him and he completed those things that were open to him."
The highlight of the practice was a deep ball that Richardson connected to sophomore wide receiver Quenton Bundrage that went for a touchdown.
"It was a ball thrown on time," Rhoads said. "It was a catch made to look easy and Quenton strided that thing out to finish it."
Richardson wasn't perfect though. 
"There was another one earlier that Sam threw and he under threw," Rhoads said. "That's a piece that has got to get more consistent."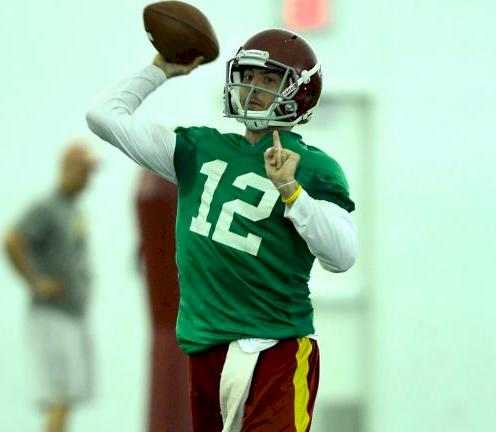 Shontrelle is back
Senior running back Shontrelle Johnson practiced for the first time on Monday since tearing his ACL during Liberty Bowl preparations in December. 
How'd he look?
"Really, really good," offensive coordinator Courtney Messingham said. "You get nervous about that as, I'm not saying I'm old, but when ACL's happened when I was in college, you certainly weren't back to the rate that he is already back to and you didn't make the cuts that he already made today on a knee that was just injured in bowl practices. When I was growing up, it was a whole year and the following season is when you saw some things happen. I was very happy with Shontrelle today."
Quote of the day
I asked Burnham what he saw from true freshman linebacker Alton Meeks that made him place the rookie at No. 2 on the depth chart behind Jared Brackens at SLB. 
"We don't have anyone else (laughter). You know really, we don't have anyone else as far as a SLB linebacker. It's one of those cases where we would love to redshirt him. There's no doubt about that but I don't know how we are going to be able to at this point. Fortunately, we play a lot of Nickel. In this league, we can do that. He will be all right against the run. He's not ready to play a lot of pass defense but we have to work through that and see how it works out. But he is the next one right now."
JOTTINGS
*** The theme regarding the program as a whole during day one of camp was fairly simple. Iowa State has a lot more speed within its roster than it did when Paul Rhoads took the job five years ago. 
"On both sides of the ball, completely improved," Rhoads said. "We have got a lot of youth and inexperience everywhere and as I said in Dallas, we have the least amount of starters returning of any Big 12 squad. But I'd rather start with athleticism and speed and then try to bring along that inexperience as we go than be slow and plow our way there. That's not going to happen in this league." 
*** For the most part, the "Pistol" was installed to its completion this spring in Ames so that won't take up much of the offense's time this August. 
"It's just now the running backs and quarterbacks continuing to get more comfortable because there are nuances to the Pistol compared to the offset back," Messingham said.
*** Sam Richardson on junior running back Aaron Wimberly…
"You'll see him all over. Just get him the ball. He's pretty electric." 
*** Richardson noted that one of the big keys to his offseason was putting on weight due to the amount of running that he did last season. He said that there aren't any plans for him to run less in 2013. 
"Anytime that a situation comes up, I'm not one to shy away from it," Richardson said.
*** Messingham was asked if he'd be surprised if Shontrelle Johnson would lead the Cyclones in rushing this season. 
"Not surprised at all," said the OC.
*** Senior running back, and captain James White called a team meeting on Sunday.
"He addressed the team about being positive and lending encouragement to everybody out there and what they are trying to accomplish," Rhoads said.
Iowa State will be back at it on Tuesday with day two of fall camp, 2013. As always, CycloneFanatic.com will be there to cover it.