AMES — The Iowa State football program held its first scrimmage of fall camp on Saturday night and turned around to host its annual media day on Sunday afternoon. 
Below are nuggets from the scrimmage and a media day notebook as well. Be sure to check out the site in the coming days for more columns, videos, photos and more from media day, 2013. 
*** Media Day Photo Gallery ***
Offense shines in scrimmage
This was to be expected.
According to head coach Paul Rhoads, Iowa State's offense was the bright spot in Saturday evening's scrimmage. That's a good thing too. If Iowa State's youthful defense is dominating the offense at this point, that would be a major concern. 
Rhoads said that the running game really clicked yesterday. 
"I thought that we had the mindset clearly from the first snap that we were going to go out there and run the ball," Rhoads said. "I think that showed. A number of running backs carried the ball with productive results."
Rhoads noted that the play of his starting quarterback, sophomore Sam Richardson, was a bright spot too.  
"Much is said in our league about the lack of returning quarterbacks, that's where we do have a leg up," Rhoads said. We've got one and he played like it."
In a Sunday morning staff meeting, Rhoads asked offensive coordinator Courtney Messingham to compared Richardson right now to Iowa State's situation at quarterback at this point leading up to the last four seasons.
"We truly believe we are ahead at that position," Rhoads said. "Sam is a smart football player. He is throwing the ball with good accuracy at that point and his running ability isn't to be overshadowed."
That's a positive answer for Iowa State football.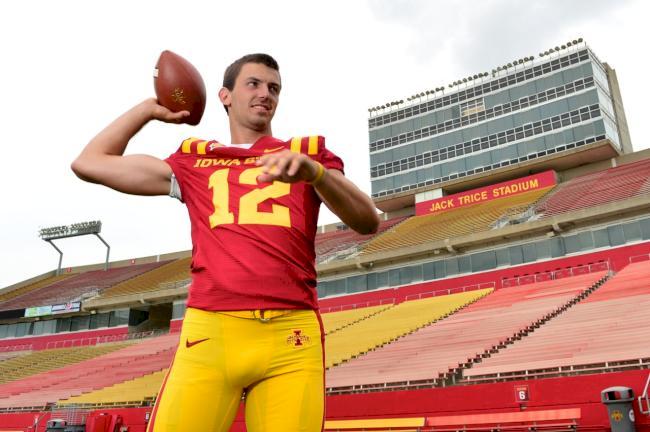 Two competitions
— An update on two important competitions going on in camp…
Redshirt freshman Charlie Rogers is listed as Iowa State's No. 1 left cornerback but the rookie hasn't won the job. In fact, Rhoads made it very clear that this position is wide-open one week into camp.
"It's like a top 25. The top 25 before the season begins, it is a waste," Rhoads said about preseason depth charts. "It is foolish and a depth chart with a young football team is too."
Regarding Rogers' first week of camp…
"I think there is a lot of pressure that has been put on Charlie's shoulders because I'm fielding a lot of questions about it so I know that he's being asked about that too," Rhoads said. "We have a number of corners who are vying for that spot. Charlie is one of them and he is working hard daily to improve his skill set and be in a position where he can be that guy. He has had an okay week. A fair amount of good. A fair amount of bad."
Rhoads noted Kenneth Lynn and Sam Richardson as Rogers' top competition. 
— What about kicker?
As we learned last week, it's an open competition between Edwin Arceo and Cole Netten. No news which guy has a leg up on the other, but both look better than they did a year ago.
"Much more consistent work out of both of those guys right now," Rhoads said. "That will probably be a game-week call."
Housekeeping
— In addition to offensive lineman Bob Graham (disc), tight end Pierce Richardson has not participated in camp due to injury. Rhoads did not declare what the injury is or how long he will be out.
Only one "did not make it to camp" to report.
— According to Rhoads, D.A. Williams, a cornerback out of St. Augustine, Fla. and was a member of Iowa State's 2013 recruiting class, did not qualify academically. 
— Senior defensive endWillie Scott was arrested and suspended indefinitely after a possession of a controlled substance charge in April.
"Just because of the calendar, we have not got that resolved as an athletic department yet," Rhoads said. "As we do, I will let you know his status."
Notable individuals
Some hot names throughout the first week of fall camp…
— Redshirt freshman wide receiver Dondre Daley…
"Daley is a guy that has really shined in the last three practices," Rhoads said. "Strength, size and speed are starting to show up. He's catching balls over the tops of defensive backs and really snatched them as he's done that."
— Three defensive ends…
"I think Willie Scott, Cory Morrissey and David Irving are all guys that I have noticed playing well at defensive end," Rhoads said. "As much as the front seven lacks behind, that defensive end position is out front."
— Senior linebacker Jeremiah George, who led all vote-getters in becoming team captain a week ago.
"He is responding that way," Rhoads said. "He is practicing as a leader. He is practicing with great intensity and productivity on the field."
— Another linebacker, Jared Brackens…
"I thought that he was one of those guys last night who stood out from a playing standpoint," Rhoads said.
A concern
Every backup linebacker on Iowa State's depth chart is a freshman. Rhoads admitted to this being a concern, but did have good things to say about the youngsters.
"I think Luke Knott in the last three days has really improved," Rhoads said. "I'm not saying the light is really burning bright but he has really improved." 
Knott is currently serving as the backup to junior Jevohn Miller at WLB.
How about Kane Seeley at MLB?
"I think Kane Seeley has come on as well at the MIKE linebacker," Rhoads said. "I think it helps that he has settled in at the MIKE and not playing the MIKE and SAM both."
Finally, there's true freshman Alton Meeks, No. 2 at SLB…
"Alton Meeks is probably going to be pressed into service in that two-deep chart and probably won't redshirt," Rhoads said.
So there's that.