AMES — David Irving is now a defensive tackle. Iowa State head coach Paul Rhoads confirmed this position change for the 6-foot-7, 272-pound defensive lineman after Tuesday's practice.
What is the reasoning behind this significant position change?Well according to Rhoads and defensive tackles coach Shane Burnham, depth is the key here. 
"We've got six scholarship ends that are upperclassmen and guys who can all play," Rhoads said. "Right now, we are down in numbers at the tackle position. We are inexperienced at that tackle position with a couple of redshirt freshmen. We saw the need and David has excelled, to no surprise in three practices."
Shane Burnham said that three interior lineman are currently dinged up and missing time for the Cyclones. Those men are Walter Woods, Austin Krick and Devlyn Cousin.
"We've had some guys with nothing that is going to keep them out for an extended time but it was a good time where if we were ever going to look at it, it made sense to do it now because we are down bodies," Burnham said.
And that's the thing about this somewhat surprising position change. It isn't surprising that it happened. It's the timing, the fact that the season is 17 days away, that might cause some folks to raise an eyebrow or two.
"We've always kind of though, an if he ever got big enough kind of deal, that he might move inside," Burnham said. "He's got long, long levers, which is good and bad. The bad part is when he doesn't keep his chest down, it's easy to give up leverage. The fact that he is long that when he does play up and down leverage he can keep guys off of his body."
As of Tuesday, Irving is working alongside junior college transfer Rodney Coe playing the three-technique but Burnham cautioned the media not to read too much into anything at this point.
"It's a fluid situation inside right now," Burnham said. "We're just trying to find the right combination and trying to be patient."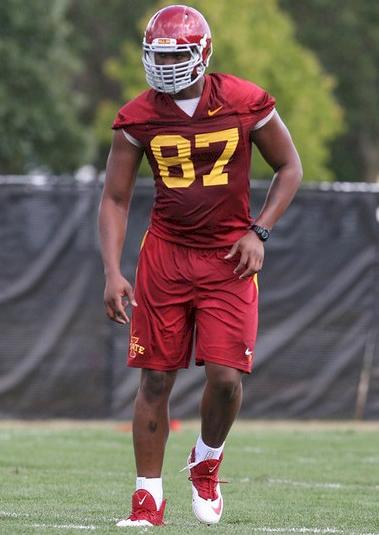 Irving's transition
According to Rhoads, it all begins with mindset.
"A lot of ends don't ever want to be told they are going inside because they are taking on that double team," said Rhoads. "He was very open to it and with that mindset and knowing what his abilities are, he has done a nice job of just taking off and going and allowing himself to be coached."
About that double-team that Rhoads mentioned…
"More double-teams are the biggest part of the transition that you have to get used to," said Rhoads. "Where you get fatigued before because you take on one 300-pounder and doing what you're asked to do, now you're taking on 600 pounds a lot of snaps. I could tell that very first padded practice that he was tired sooner. I had to explain to him why that was happening."
For the most part, Irving seems to be taking the move in stride. He said all of the right things in an evening media session on Tuesday and besides that, Irving's first two seasons at defensive end have been less than spectacular as he tallied only combined 25 tackles.
"I feel like it's a good switch," said Irving. "Really, anything I can do to help the team I am going to go ahead and do. If the coaches feel like I need to go ahead and move, I am going to go ahead and do it."
Irving has already experienced a little bit of success at the position too, so that is helping his confidence early on in this transition. 
"Actually, now that I'm at defensive tackle I've gotten more sacks this camp than I have at defensive end," Irving said. "I feel like I'm closer to the quarterback now and I don't have to stand as far."
Remember this quote?
…Burnham is hoping that Iowa State will be able to do something that it has never been able to do during the Rhoads era. That's play what Burnham refers to as a "pass-rush crew," meaning Iowa State would put three defensive ends on the field at the same time.
"We've gotten bigger with Cory Morrissey and those kind of cats that are a little bit bigger," Burnham said. "They can go inside and rush. That's something we will look at this fall that we haven't done in the past."
Oh they are looking at it indeed…
Knott stands out
The deeper Iowa State gets into camp, the more Luke Knott's name is being brought up. According to Rhoads, the redshirt freshman linebacker had a big day on Tuesday.
"He had an interception today. That's one thing so that evidently runs in the family," Rhoads said. "I think Luke has really come along fast in the second half of this training camp."
Tuesday marked practice No. 11 for the Cyclones.
"As I've always told you all, the light goes on sooner with some," Rhoads said. "The light is going on with him right now and when that happens, you start playing faster. We're seeing that. He is a guy who will definitely be on the field for us this year, there's no question about it. Whether if it is a rotation with Jevohn (Miller) or playing the hot hand there just like you do at running back, we'll see."
Quote of the day
Shane Burnham on defensive tackles and toughness…
"No matter what Yancy (McKnight) does and I love our weight facility and I love our program, but no matter what he does, you cannot simulate every snap of pushing that 300 pound guy backwards or fighting that 300 pound man. No matter what he does, we can't simulate it. It takes time to get into game shape and practice shape and we're still trying to work out way into it to be honest with you."
JOTTINGS
— Rhoads talked about depth at defensive end that impacted Irving's move inside. 
"You've got Mitchell Meyers, who in time I think is going to be a really good player. Right now, you see him being green but he has come along fast," Rhoads said. "Devin Lemke is a guy that we have been waiting on because of health reasons for a long time. He sits back there at about five or six and now moves up where he is the fourth or fifth guy on the field."
— At Sunday's media day, Rhoads discussed an impressive display of running the football by the offense in Saturday's scrimmage. I asked him why that group was able to do so well. Here is his response:
"I think it is a combination of three things. I think the line is blocking well and I think we're blocking well. That's one of the things. It's not just the five linemen. You've got the tight end in there and a fullback in there and a second tight end. You've got a number of people blocking well. I think the scheme is helping things in that regard. Our defensive coaches, there is a lot of movement that takes place every snap that you've got to answer based on responsibility and still do your job as a ball carrier. I think yeah, they are doing a nice job of adding their piece of it. That's running hard and making the proper cuts and helping to make people miss."
— How Irving found out he was changing positions…
"One day I walked in and it was like, 'Hey, go in this meeting room.' So I went. It was all good."