AMES — Within the Iowa State football program, it is no secret that tight end Ernst Brun wasn't much of a blocker the day that he stepped on campus at 215 pounds (soaking wet).
"I had never blocked a soul," Brun admitted. "I hated it."
Back in junior college, the 6-foot-3, 251-pound tight end didn't take weight lifting or conditioning seriously. In fact, Brun will tell you that he barley lifted at all during his two years at Mt. San Antonio C.C. Everything that he did at that level was based off of raw talent alone.
In the Big 12, raw talent only gets a guy so far, regardless of how talented he might be. 
When arrived in Ames as a part of Iowa State's 2011 recruiting class, Bruns simply wasn't coachable.
"Coach Rhoads will tell you that," Brun said. "I had a bubble around me and I didn't want to be coached because I thought I was that guy." 
That all changed after the first series of Brun's first game as a Cyclone, a 38-23 Iowa State defeat of Tulsa to kick off last season. Brun caught a touchdown pass in the victory but one play stood out to the then-junior. That one play changed his mindset as a football player forever.
"That first touchdown that Steele (Jantz) threw to Josh Lenz, I got whooped pretty bad," Brun said. "People really don't see it because there was a touchdown but the guy drove me all the way back to Steele. I don't like being embarrassed like that."
And that was it.
Brun, who along with Lenz led Iowa State in touchdown receptions last season with six, rededicated himself to becoming a more complete tight end – not just a big wide receiver with his hand on the ground.
"After that, I just said to myself, 'I have to do something to get better every day with hip progression and getting in the weight room. I need to be as strong as I can be and get out there and block,'" Brun said.   
Entering 2013, Brun will without question be a focal point of Iowa State's offense, but he's also one of the key leaders within Paul Rhoads' program. As Rhoads put it during his media day press conference on Sunday, Brun has a natural born ability to lead others.
"He has always been recognized out of the weight room by our strength staff as a guy who players will follow," Rhoads said. "Here's a guy who is very vocal. He says the right things in both encouragement and critical type of ways and then goes out there and works in the summer and through training camp, he was one of the first guys who was up encouraging Alex Leslie, a tight end, to be doing things right and so forth."
Here's another sign of good things to come for No. 84. According to Rhoads, tight ends coach Bill Bleil has been tracking dropped passes so far this fall camp. Brun only has one to his name.
Ernst Brun had a good junior season. With what on paper is a more complete offense surrounding him, he could be great as a senior. 
"I'm more of a complete tight end. I can block. I'm physical," Brun said. "I catch the ball. I'm also teaching others behind me what I did wrong and am learning from my mistakes."   
Expect a two-tight end set
While there are still dozens of questions surrounding the 2013 Cyclones, Paul Rhoads made one thing very clear during his media day press conference on Sunday when I asked him about junior college tight end E.J. Bibbs' (pictured below) production so far through camp.
"There's no question that you'll see multiple tight ends on the field with our offense," Rhoads said. "Do we use that in conjunction with two backs and two wide receivers? Three wide receivers and so forth? We'll see as the year goes along."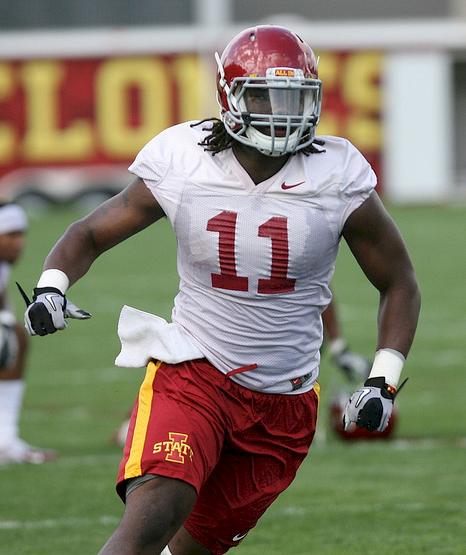 Obviously, there is Brun. But then, there's Bibbs, who possesses almost the exact same body as Brun. Both men are listed on Iowa State's current depth chart at 6-foot-3. The only difference is that Brun weighs a pound more, at 251 compared to Bibbs' 250. Still, they are very different players.
"He's more of a possession type of tight end," Brun said of Bibbs. "He can get up field. I'm more of a playing downfield type of guy. I'm more of a physical tight end." 
And don't forget about walk-on Ben Boesen.
"If anything, I think me and Boesen are the same type of player," Brun said. "He's just a lot lighter than I am."
Rhoads made that point very clear as well. 
"Don't leave out a guy by the name of Ben Boesen playing for us out of West Des Moines Dowling Catholic, who is having a nice camp himself," Rhoads said. "He blocks his tail off and catches the ball well. I think we have three guys that you will see as the season rolls along."
After Collin Franklin departed the program, 2011 was a poor year for tight ends in Ames. Calling the position irrelevant within Iowa State's offense wouldn't be an understatement for that season, as the tight ends only caught one touchdown pass as a whole, with under 25 receptions to boot. But 2012 was much better and all signs currently point to 2013 as a great year for the position. It's a good group and one that a young quarterback in Sam Richardson will likely be thankful he has come December.