Page through any national pre-season magazine or blog post and not much is said about Iowa State. This tends to happen when the player receiving the most accolades in the summer is the punter. The hot topic coming into camp was not a quarterback battle, or a fancy hotshot coordinator, it was the offensive line coach and the new specialized treadmills in the football facility. Iowa State had probably the most boring off-season a BCS level program could have. This has to please Paul Rhoads. The foundation is finally settled.
It is hard to fathom we are entering year five of the Paul Rhoads regime at Iowa State. The founding fathers of the ALL IN era of Cyclone football have come and gone. Names like Knott, Klein, Reeves, McDonough, Lenz and yes, even STEELE JANTZ have all exited the stage. They leave behind them legacies and question marks. There is a void of recognizable names on the Iowa State roster and this is by design. A program is built in the trenches, not in the headlines.
There is a palpable confidence within the Bergstrom Football Facility that four years of development is destined to pay off. Year after year the recruiting classes have gotten better, the redshirt years have piled up and although there isn't copious amounts of game experience at several positions, there is talent and speed. Plenty of speed.
Who is ready to take center stage? This is the number one question facing Courtney Messingham's offense this season. Iowa State has several men who have served well in supporting roles, but is looking for their Denzel Washington.  
For Iowa State to make a fourth bowl game in five years, they HAVE to score more points this season. It is remarkable really that the Cyclones have made three bowl games with their lack of firepower under Rhoads.
In 2009, the Cyclones were 103rd in the nation in scoring offense at 20.54 points a game, the worst offensive production of any BCS level program that made a bowl.
In 2011, Iowa State bumped their average to 22.69 (90th in nation), but that was still 3rd worst of any bowl participating squad. (Those numbers were also aided by the overtime outbursts against Iowa and Oklahoma State.)
Last year, the production increased to 24.54 (85th), a total that would have placed Iowa State near the middle of the B1G, but it was second to last in the Big 12. Only Washington, Rutgers and Michigan State won more games with less offense.
Iowa State can only battle the other Big 12 schools with a nerf gun when the other clubs have howitzers for so long. Seven of the 10 Big 12 schools averaged 35 or more points last season. Iowa State has never averaged 35 points…in its history.
There isn't an expectation that this offense can keep up with the tricked up machines of Oklahoma State and Baylor, but getting to thirty points per game would give this team a chance. Thirty is the number to circle and it is entirely achievable.
This offense is due for a break-through in 2013.
The Cyclones have been battered with upheaval and incongruity on offense for the better part of a decade. Bret Meyer dealt with three different offensive coordinators and two head coaches. Austen Arnaud one up'd him with three offensive coordinators and three head coaches.
Steele Jantz and Jared Barnett had a mere two offensive coordinators, but they endured the never-ending musical chair song and dance with each other. It is no wonder the offense in recent years has struggled to find its footing.
Finally, FINALLY, there is no quarterback battle in Story County. Quarterback Sam Richardson has a firm grasp on the position. Yes he was originally recruited by Tom Herman, but Richardson has had a solid two years to get on the same page as Messingham (who has been on the staff in some capacity since Rhoads arrived).  Consistency leads to explosiveness.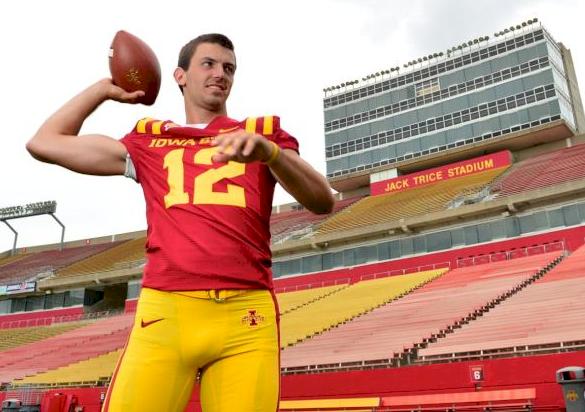 Plain and simple, the most important position in football is quarterback and Iowa State's play at that position has been spotty at best and downright deplorable at worst. (The wide receivers haven't exactly helped the cause.)
The Cyclones have not been accurate enough passing the ball under Rhoads and that has been the biggest Jenga piece that has unraveled the entire operation. The target number for an average quarterback is 60 percent completion. Seventy-three of the 120 starting quarterbacks in Division one averaged 60 percent or better on their throws in 2012. The nation's leader was at 73 percent. Iowa State quarterbacks combined to complete 58 percent a year ago. During the Rhoads regime, the Cyclone quarterbacks have never completed 60 percent or better.
The fits and starts in the passing game become even more accentuated when looking at individual games: Iowa State was 6-0 when their quarterbacks completed 60 percent or better in 2012, 0-7 when they didn't reach that number.   
If Richardson can be on time and target this year (and the noise out of camp is he has been) that alone can cause a nice jump in production.
The growing murmurs amongst those in the know is that Iowa State's run game has been quite impressive in the pre-season. The addition of offensive line coach Chris Klenakis and his Pistol concept, a more physical offensive line, Ernst Brun's dedication to run blocking and a five-headed running back are reasons for legit optimism in the ground and pound.
In 2012, Iowa State was able to churn out three to four yards on most carries, but lacked a real homerun threat in the run game. James White's 54-yard gallop against Western Illinois was the outlier in a pretty methodical and ordinary season. This led to some arduous 12 and 14 play drives where hiccups are inevitable.
On just six percent of Iowa State's drives did they average 10 or more yards per play, this put the Cyclones 117th in the entire country in "explosive drives."
The porous accuracy from the quarterbacks and lack of explosion in the run and bubble screen game produced a high volume of three and outs — over 40 percent of drives during the season. Yuck.  For comparison, Baylor went three and out just 17 percent of the time.
The Cyclones don't lack options with James White, Shontrelle Johnson, DeVondrick Nealy, Aaron Wimberly and Jeff Woody, but one of these men could help the offense immensely by making something happen when they do get in the open field. We need more pyro in our lives, fellas!
Iowa State doesn't need to reinvent the wheel on offense. The tweak in increased use of the Pistol should provide a wrinkle to the arsenal, but more than anything Sam Richardson needs to complete passes and someone, anyone HAS to make plays happen when they tote the pigskin. Do this and the offense can approach 30 points per game, where half of the college football world lives.  Who wants to be the playmaker? The spotlight awaits.
Looking at Iowa State's defensive front seven on paper may cause one to break out in hives. There is Jeremiah George, Willie Scott and a whole lot of nerves. It is frightening at first blush. However, beneath the uncertainty there is a heaping of potential and the calming effects of Paul Rhoads and Wally Burnham.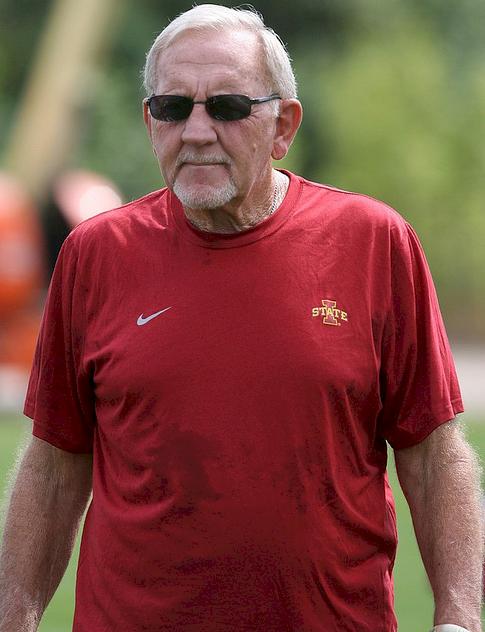 When Rhoads and Burnham arrived on the scene they inherited a defense that was best described as undersized and well, terrible. Yes, terrible fits best. In the last nine games of 2008 (Chizik's last year) Iowa State gave up an average of 41 points per game and an astronomical seven yards per play. Bascially, Iowa State was creating a Heisman trophy winner on every play. The Wayne Bolt experience was not pleasurable. 
Needless to say, Rhoads and Burnham had their work cut out for them. Iowa State's starting defensive line for most of 2009 was Rosie Magitt, Austin Alburtis, Nate Frere and Chris Lyle. Those four averaged 255 pounds and although they were very serviceable, they weren't elite Big 12 athletes by any means.
The 2009 starting linebackers were Jesse Smith, Fred Garrin and Josh Raven with the back-ups being Derec Schmidgall and two young true freshman named Jake Knott and A.J. Klein. Talk about alarming! Yet, this 2009 group which was decimated the previous year and featured a couple walk-ons and no size allowed a stellar 22 points per game and led the Cyclones to seven wins and a bowl victory.
Wally Burnham is a wizard. Don't forget this.
This year's potential front four in Brandon Jensen, Rodney Coe, Cory Morrissey and Willie Scott average 270 pounds and they have large bodied Walter Woods, David Irving, Pierre Aka and Devlyn Cousin as potential pieces to fill gaps inside. Size does matter.
The Big 12 is an exceedingly difficult league to get sacks due to the quick release nature of the offenses. Under Rhoads, only one Cyclone has recorded five or more sacks in a season: Chris Lyle in 2009. Maybe this is the year one of the defensive linemen wreaks havoc consistently.
The secondary has always been solid in Rhoads' tenure and I wouldn't expect anything else this season. People may not realize Rhoads takes an active role in the secondary along with secondary coach Troy Douglas. Rhoads once tutored a cover corner by the name of Darelle Revis when he coached at Pitt. Revis turned out OK. The Cyclones have a slew of fast athletes in the secondary and veterans Jacques Washington, Deon Broomfield and Jansen Watson should be a steady presence on the back-end. One area that could see an uptick is interceptions by the cornerbacks — Jeremy Reeves' pick-six in the bowl game was the only interception by a corner all season in 2012.
It has been three paragraphs but a friendly reminder: Wally Burnham is a wizard.
The Big 12 is full of high-octane machines that can be catastrophic to defend. Yet, Iowa State hasn't given up 36 or more points in regulation since October 2011 when Mizzou put up a 50 spot. That is a remarkable streak of 20 straight games — the 5th best such streak in the nation. The schools with longer streaks: 1. Alabama  2. LSU 3. Cincinnati 4. Florida.
Wally.
So how has the defense stayed afloat in the beast infested waters of the Big 12? They create turnovers. In the four years of the Rhoads/Burnham regime, the Cyclones have procured 23 or more turnovers every year. The only two BCS schools who have also done that in the last four  years are Oregon and North Carolina.
At this point, the turnover creation trend is not a fad or an anomaly. There is a method to the madness. This defense keeps fighting to the whistle. Expect more of the same in 2013.
If this defense can bow up and stop the run with the young size inside, get a shade more pressure on the perimeter and continue to force turnovers, there is no reason to expect a significant drop-off defensively. Keep calm and Wally on.
Like clockwork, Iowa State has been picked to finish near the basement of the Big 12. Vegas thinks getting to another bowl game will be a stretch, pre-season prognosticators are throwing out the standard 4 and 5 wins. Pretty boring and unoriginal, nobody is giving Iowa State a second glance.
As we have learned the last few years, the unexpected attack is always the most dangerous.
Paul Rhoads has 24 wins at Iowa State, the Cyclones have been underdogs in 12 of those wins. Underestimate the man at your own peril.