What a process this was…
Here's how it all began.
About three weeks ago, I had the idea to write a column in which I'd rank the 2012 Iowa State Cyclones position-by-position. This was of course (inevitably) going to be a very subjective but I wanted some meat within the process as well. My goal was to avoid a simple "I think that the running backs are better than the wide receivers" type of column.
That's when I called up "The Professor" Brent Blum. Together, we came up with three categories in which we'd rank Iowa State's position groups on a scale of 1 to 8 (because we ranked eight position groups). Those categories were: Talent, Depth and Experience.
At the end of this process, we tallied up the points and that's where the final rankings would come from.
I think I can speak for Blum when I write as to how difficult this actually was. When it comes to the 2012 Cyclones, you have linebacker and running back. After that, it really is a crap shoot.
Without any further ado, here are the Williams/Blum 2012 Iowa State Football position rankings. While reading, keep in mind that the two of us DID NOT compare rankings at any point during the process. Enjoy.
Williams Rankings
1. Running Backs – Experience (7), Depth (8), Talent (7) = 22
The news that Shontrelle Johnson has been cleared to play in 2012 was huge for me as far as Iowa State's running backs are concerned. Without him, this group would have still been high on experience and depth but SJ's presence really lifted Ken Pope's boys quite a bit from a talent standpoint. Without Johnson in the mix, this group probably would have dropped to the 4-5 range on the talent scale. That would have been the difference between running back and linebacker at the top of my rankings.
According to Pope, he was ready to go four-deep even without Shontrelle this season. With him, that obviously makes five as freshmen DeVondrick Nealy and Rob Standard will be very capable of contributing as freshmen. James White is a Doak Walker candidate. Jeff Woody is as good at what he does (a short-yardage bulldozer) as anybody in the Big 12.
Running back is very deservingly Iowa State's No. 1 position group heading into fall camp.
2. Linebacker – Experience (8), Depth (3), Talent (8) = 19
It's crazy to think that a group consisting of two All-American candidates isn't No. 1 but proven-depth got in the way of Iowa State's linebackers. Jeremiah George (who will back-up A.J. Klein at MLB) is entering his third year as a Cyclone but other than listening to Paul Rhoads rave about how great of a spring the junior had, we've literally seen nothing from George in two years on campus. Chances are that he'll be ready if needed in 2012. But in my mind, Jeremiah George is a still a question mark as we're a month away from kickoff. The same goes for true sophomore Jevohn Miller as Jake Knott'sback-up at WLB.
Iowa State is set with Deon Broomfield and C.J. Morgan at SLB. Both will play and both will be adequate pieces to Wally Burnham's defensive puzzle.
Write: /upl/wp-content/uploads/2012/07/Jake-KnottKlein-INT-408×350.jpg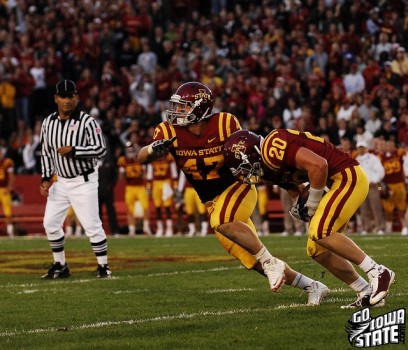 3. Offensive Line – Experience (6), Depth (6), Talent (6) = 18
I very well could have given this group a seven in "depth."
The key to Iowa State's offensive line in 2012 is that the five listed starters on the pre-camp depth chart (Carter Bykowski at LT, Ethan Tuftee at LG, Tom Farniok at C, Kyle Litchenberg or Jacob Gannon at RG and Brayden Burris at RT) all have starting experience from last season. That's six guys who have started games before. During his press conference at the Big 12's media day in Dallas, Paul Rhoads stated that during his first year on campus, he only had six offensive linemen in the program who were capable of playing in the Big 12!
This position group has come a long, long way since 2009.
Last year's injuries on the offensive line (that allowed guys like Gannon, Litchenberg and Bykowski to see so many reps) will undoubtedly make Iowa State's 2012 group much stronger than it would have been.
4. Defensive Back – Experience (4), Depth (7), Talent (5) = 16
I went defensive back over offensive line in the depth category simply because it's easier for a young guy to play in the secondary than it is in the trenches. Two starters return in the secondary for the Cyclones in Jeremy Reeves (CB) and Jacques Washington(FS).
Don't forget about how much playing time a guy like Jansen Watson (CB) has seen over the years on special teams. Rhoads and new secondary coach Troy Douglas can legitimatley go six-deep at cornerback this season as redshirt freshmen Sam Richardson and Kenneth Lynn have been more than impressive over the last 365 days. Matthew Thomas is entering his third fall with the program and Cliff Stokes' 6-foot-1 frame will be used for specific match-ups.
Talent is high at at strong safety position that lacks experience while Jacques Washington looks to be one of the top free safeties in the Big 12 this season.
5. Quarterback – Experience (5), Depth (5), Talent (3) = 13
With two returning starters in Steele Jantz and Jared Barnett, Iowa State's quarterbacks rated fairly high in experience and depth.
But Iowa State ranked 111th (out of 120) in passing efficiency with those same guys leading the show last season. In fact, Jantz and Barnett ended 2011 ranked 108 and 112 in individual quarterback rating completing just over 51 percent of their passes.
If Iowa State wants to go bowling in 2012, those numbers have to dramatically improve.
Write: /upl/wp-content/uploads/2012/07/JB-takes-snap.jpg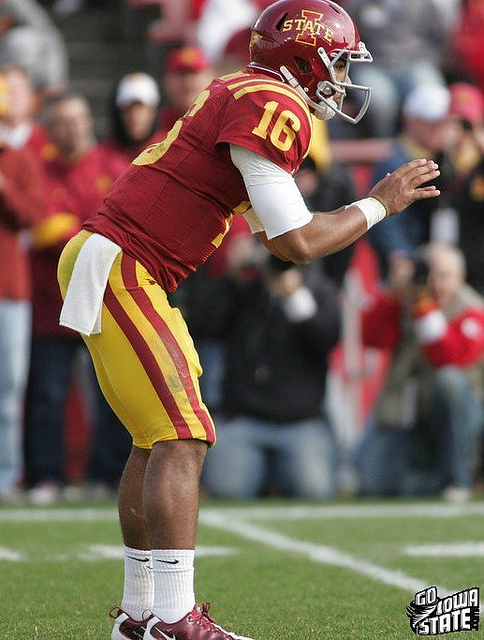 6. Wide Receiver – Experience (2), Depth (4), Talent (4) = 10
Sure, Josh Lenz is a quality senior who's seen a lot of action. But after that, Jarvis West, Albert Gary, Chris Young and Aaron Horne are the only Iowa State wide receivers (on the current depth chart) who have seen any action at the Big 12 level. All of those men are very capable but when you consider that of those three, only Horne caught more than 30 passes last season (with 38), this is a very unproven group from a playmaking standpoint (which is what new offensive coordinator Courtney Messinghamis looking for).
That's the bad news. The good news is that redshirt freshmen Quenton Bundrage, Ja'Quarius Daniels and Tad Ecby will immediately add much-needed talent to this group. After having one of the best springs on the team, former quarterback Jerome Tiller will likely be a factor as well.
Without question, this is the most talented and deepest group of wide receivers that Paul Rhoads has ever coached at Iowa State.
7. Defensive Line – Experience (3), Depth (2), Talent (2) = 7
It's a position group that has plagued Iowa State football ever since Jason Berryman was given the boot.
Don't get too down on the defensive line being ranked so low though. Talent isn't the most important category for the defensive line. While I ranked this group second-to-last on the team in depth, I actually should have labeled that "proven depth." A lot of the guys who you'll see take snaps on Iowa State's defensive front four in 2012 haven't had much opportunity in the past. Devin Lemke, Brandon Jensen, Henry Simon, Walter Woods and Nick Kron are all examples.
I know that Willie Scott, David Irving, Cleyon Laing, Jake McDonough and Roosevelt Maggitt can play Big 12 football. They just need some help. Iowa State has numbers at defensive line. Iowa State's defensive line played well late in 2011 because of its ability to go 8, 9 and 10 deep in certain circumstances. If that depth develops (the addition of transfer Ben Durbin helps at NG) in 2012, we might all be pleasantly surprised by this group.
8. Tight End – Experience (1), Depth (1), Talent (1) = 3
After being ranked last in all three categories, this group can only prove me wrong in 2012.
Senior Kurt Hammerschmidt caught 13 passes for the Cyclones in 2011. The addition of junior Ernst Brun (who redshirted last year) might potentially be an additional threat to the Iowa State passing attack in 2012. Stay tuned. If that happens, life will be a heck of a lot easier on whoever is Iowa State's quarterback this fall.
Blum Rankings
By Brent Blum, CycloneFanatic.com Columnist 
Ranking Iowa State's positional groups is like being asked to to pick your favorite beer. Not an easy task and completely subjective in a lot of ways. Plus like beer, all of these groups have their strengths.
1. Running Backs – Experience (6), Depth (8,) Talent (6) = 20
It may be startling to some that Iowa State's linebackers are not at the top of this list. While depth is the concern for the linebackers, it is the biggest plus for Iowa State's running backs – or as they were called last year, "The Wolfpack." The Cyclones return three running backs in James White, Jeff Woody and Shontrelle Johnson that combined to rush for almost 1,400 yards and each averaged more than four yards per carry. Throw in redshirt freshman DeVondrick Nealy and Rob Standard and this is the deepest unit on the team. They are pretty talented as well.
Write: /upl/wp-content/uploads/2012/07/Jeff-Woody-vs-KU-2011-524×350.jpg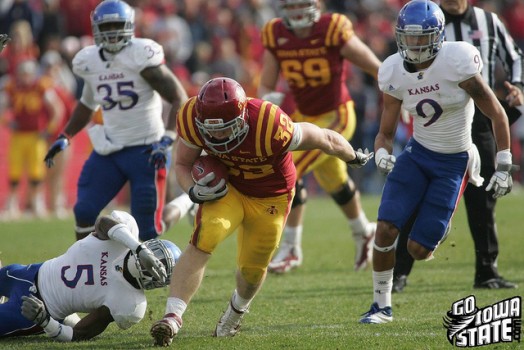 2. Linebackers – Experience (8), Depth (2), Talent (8) = 18
What more needs to be said about Jake Knott and A.J. Klein? It seems like they have been in Ames since the Jim Walden days. And to think they both played as true freshman. But the one knock on the linebackers is depth. Deon Broomfield and C.J. Morgan have proven to be a capable at the third linebacker/hybrid position, but  there is some serious unknowns behind these fellas in the two deep. Jeremiah George and Jevohn Miller have shown flashes of being Big 12 caliber players, but some serious question marks remain with the rest of the depth at LB.
3. Defensive Backs – Experience (3), Depth (6), Talent (7) = 16
I think this group is very underrated entering fall camp. To quote Jon Gruden, "I like these guys." Jeremy Reeves is a steady performer at one corner, he gets grief because of his size, but he was a better cover corner than Leonard Johnson was at times last season. Jacques Washington and Durrell Givens give the safety position some presence and both are battle tested. And I am a card-carrying member of the Jansen Watson fan-club. That dude seemingly made every tackle on special teams last year. And there is some quality depth with Deon Broomfield, Sam Richardson, Ken Lynn and T.J. Mutcherson – Mutcherson can be a big-time hitter, I anxiously await John Walters first call, "That was a T.J. Mutcher-chop!"
4. Offensive Line – Experience (4), Depth (7), Talent (5) = 16
This is a pretty steady bunch of guys. No more Kelichi Osemele or Hayworth Hicks, but there is a legitimate 10 or 11 men who could suitably play snaps on the line. Tom Farniok, Ethan Tuftee and Brayden Burris are grade-one tough guys who can get the job done. And the two new starters are likely Carter Bykowski and Kyle Lichtenberg who have been in the program a long time. O-Line coach Bill Bleil has built himself a nice stable of big fellas- or as my man Ben Bruns says, "Guys that make their own gravy."
5. Quarterbacks – Experience (7), Depth (5), Talent (3) = 15
Oh the quarterbacks, haven't heard much about them this off-season. Good news is the Cyclones have two men who each had flashes of brilliance and carried the offense on their backs. Bad news is neither was consistent at all. Completion percentage HAS to get better, the Cyclone QB's were a combined 52 percent in 2011. Of the teams that made a bowl game last year, only Georgia Tech and Penn State had a lower completion percentage from their QB's.
6. Defensive Line – Experience (5), Depth (1), Talent (4) = 10
This is an area that has befuddled Iowa State forever. Coaches always say it is the hardest position to recruit. Iowa State has been 100th or below in sacks per game every year for the past three years. Here's a stat: Iowa State has had 44 sacks during the Paul Rhoads era. Four teams in the FBS had more than 44 in 2011 alone. The rush defense hasn't been much better. But the Cyclones do bring back Jake McDonough, Cleyon Laing and Rosie Magitt – all guys who have played a lot of snaps in the Cardinal and Gold. Unfortunately there still isn't much depth. Hopefully Wyoming transfer Ben Durbin and JUCO transfer Cory Morrissey add some depth and big Henry Simon can be more than just a stop gap this season.
7. Wide Receivers – Experience (2), Depth (4), Talent (2) = 8
Josh Lenz's first three years have been incredibly consistent. The Dubuque native has put together a great career. Aaron Horne and Albert Gary also showed that they can be capable possession receivers. But this group lacks a known big-bodied playmaker. Maybe that is Quenton Bundrage? The Florida native has had glimpses of being the threat Iowa State so sorely needs. Same can be said with Tad Ecby and Ja'Quarius Daniels. But we will wait and see. Get this: Iowa State hasn't had a WR drafted in the NFL since 1981. Wide-receiver has been a sore spot for many years, a turnaround would be a welcome sight.
8. Tight Ends – Experience (1), Depth (3), Talent (1) = 5
There are some obvious question marks about the tight-ends. Kurt Hammerschmidt is a very solid player and a reliable blocker. But there is almost no known commodities other than him. JUCO Ernst Brun has a bunch of talent to be a down-field threat a la Collin Franklin. But can he grasp the concepts and be a consistent player? If so, he could become a key weapon for the offense.